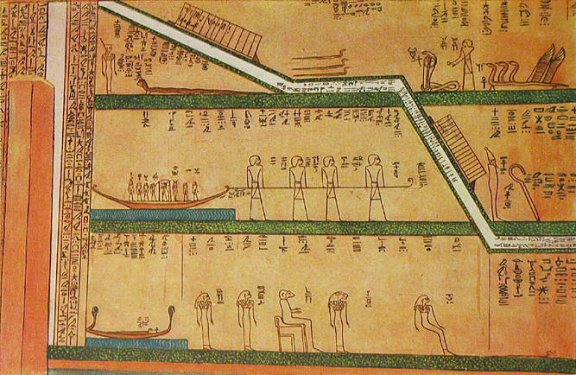 Plan of action from the walls of the tomb of Amenhotep II in Thebes.
The Tomb of Ra-aa-Kheperu Amenhotep-neter-heq.an, the second successor of Thothmes IIIrd (B.C. 1448-1420) Amenhotep IInd.
The funeral chamber where the plan of representing the mummy of the king in his sarcophagus is shown as it is slipped down to the tomb, and three small snakes are opening the way in the dark places of the underworld.
The big cobra -- "Apap" with the statue of the god guarding the doors. The sarcophagus, passing the dangerous places, arrives safely. The mummy of the king is represented with the crown on his head coming out of his sarcophagus, and before him the sign of domination is illustrated.
Then the procession of the Sacred Boat of the Sun-God is seen traveling in the sky, and the cobra in the sacred boat to open the way in dark places, as the ancient Egyptians always turned to the cobra for protecting their dead in the dim places of the underworld.
The last part in the picture is the fifth chapter from the Book of the Dead.