Born: Mahomet II, 1430, Adrianople; Henry Benedict, Cardinal York, 1725, Rome.
Died: Haroun-al-Raschid, twenty-fifth Caliph, 809; Pope Nicholas V, 1455; Elizabeth, Queen of England, 1603, Sheen (Richmond); Dr. Daniel Whitby, celebrated divine, 1726, Salisbury; Philip, Earl of Chesterfield, author of the celebrated Letters, 1773, Chesterfield House, May Fair; John Harrison, maker of 'The Longitude Watch,' 1776, Red Lion-square, London; Mrs. Mary Tighe, classic poetess, 1810, Woodstock, Ireland; Bertel Thorvaldsen, Danish sculptor, 1844; Rev. Thomas Gisborne, miscellaneous writer, 1846.
Feast Day: St. Irenssus, Bishop of Sirmium, martyr, 304. St. William, martyr at Norwich (aged eleven years), 1137. St. Simon (an infant), martyr at Trent, 1472.
MAUNDY THURSDAY
The day before Good Friday has been marked from an early age of the church by acts of humility, in imitation of that of Christ in washing the feet of his disciples on the eve of his passion. Ecclesiastics small and great, laymen of eminence, not excepting sovereign princes, have thought it fitting, in the spirit of their religion, to lay by personal dignity on this occasion, and condescend to the menial act of washing the feet of paupers. It is in consequence of an associated not of charity, the distribution of food in baskets, or maundy, that the day has come to be distinguished in England as Maundy Thursday. In Rome, however, and throughout Catholic Europe generally, the day is known as Holy Thursday. Another popular old name of the day in England is Shere Thursday, from the custom of shearing the hair which the priesthood used to observe.
The observance of Maundy Thursday among the religious of old is duly described by Neogeorgus in his Popish Kingdom, as thus translated by Googe:
And here the monks their maundies make with sundry solemn rites,
And signs of great humility, and wondrous pleasant sights.
Each one the other's feet cloth wash, and wipe thorn clean and dry,
With hateful mind and secret fraud, that in their hearts doth lie;
As if that Christ with his examples did these things require,
And not to help our brethren here with zeal and free desire;
Each one supplying other's want, in all things that they may,
As he himself a servant made, to serve us every way.
Then straight the loaves do walk, and pots in every place they skink,
Wherewith the holy fathers oft to pleasant damsels drink.

Cardinal Wolsey, at Peterborough Abbey, in 1530, 'made his maund in our lady's chapel, having fifty-nine poor men whose feet he washed and kissed; and after he had wiped them, he gave every of the said poor men twelve pence in money, three ells of good canvas to make them shirts, a pair of new shoes, a cast of red herrings, and three white herrings; and one of these had two shillings '-the number of the poor men being probably in correspondence with the years of his age. About the same period, the Earl of Northumberland, on Maundy Thursday, gave to each of as many poor men as he was years old, and one over, a gown with a hood, a linen shirt, a platter with meat, an ashen cup filled with wine, and a leathern purse containing as many pennies as he was years old, and one over; besides miscellaneous gifts to be distributed in like manner in name of his lady and his sons.
The king of England was formerly accustomed on Maundy Thursday to have brought before him as many poor men as he was years old, whose feet he washed with his own hands, after which his majesty's maunds, consisting of meat, clothes, and money, were distributed amongst them. Queen Elizabeth, when in her thirty-ninth year, performed this ceremony at her palace of Greenwich, on which occasion she was attended by thirty-nine ladies and gentlewomen. Thirty-nine poor persons being assembled, their feet were first washed by the yeomen of the laundry with warm water and sweet herbs, afterwards by the sub-almoner, and finally by the queen herself, kneeling; these various persons, the yeomen, the sub-almoner, and the queen, after washing each foot, marked it with the sign of the cross above the toes, and then kissed it. Clothes, victuals, and money were then distributed. This strange ceremonial, in which the highest was for a moment brought beneath the lowest, was last performed in its full extent by James II.
King William left the washing to his almoner; and such was the arrangement for many years afterwards. 'Thursday, April 15 [1731.], being Maundy Thursday, there was distributed at the Banqueting House, Whitehall, to forty-eight poor men and forty-eight poor women (the king George II's age being forty-eight), boiled beef and shoulders of mutton, and small bowls of ale, which is called dinner; after that large wooden platters of fish and loaves, viz. undressed, one large old ling, and one large dried cod; twelve red herrings and twelve white herrings, and four half-quarter loaves. Each person had one platter of this provision; after which were distributed to them shoes, stockings, linen and woollen cloth, and leather bags, with one penny, two-penny, threepenny, and fourpenny pieces of silver and shillings; to each about four pounds in value. His Grace the Lord Archbishop of York, Lord High Almoner, performed the annual ceremony of washing the feet of a certain number of poor in the Royal Chapel, Whitehall, which was formerly done by the kings themselves, in imitation of our Saviour's pattern of humility.' For a considerable number of years, the washing of the feet has been entirely given up; and since the beginning of the reign of Queen Victoria, an additional sum of money has been given in lieu of provisions. Some examples of the Maundy money recently used by English royalty are here represented.
In Austria, the old rite of the Fusswaschung is still kept up by the Emperor, under circumstances of great ceremony.
The ceremonies of Holy Thursday at Rome call for being described in detail.
At Rome, on the evening of this day, the shops of sausage-makers, candle-makers, and pork-dealers are decorated and illuminated in a fantastic way. The most prominent object in each is a picture of the Virgin and Child, enshrined amidst flowers and candles, as on a sort of altar. Festoons of flowers and evergreens are otherwise stuck about, and there is a profusion of patches of divers colours on the pork, candles, and other articles on the shelves: These grotesque illuminations draw crowds of strangers and others to witness them; the shops so lighted up doing apparently a little more business than usual.
FACSIMILES OF INEDITED AUTOGRAPHS QUEEN ELIZABETH
Elizabeth was born at Greenwich, September', 1533, and died March 24th, 1602-3, in her seventieth year. This is one of her earliest autographs, being the signature of a letter (Cott. MSS. Vesp. F. III.) written in 1558, the year of her accession to the throne. Her hand changed much for the worse in her latter years. The present autograph is, however, slightly injured, in consequence of the edges of the letter having been burnt away.
DEATH OF QUEEN ELIZABETH
A variety of relations and reports of the circumstances of the death of this great queen are current; but that which appears deserving of most credit has been least noticed. It is found in the manuscript diary of a contemporary, a barrister named Maningham, which is preserved among the Harleian manuscripts in the British Museum (No. 5353).
Maningham was acquainted with men at court well situated to give him correct information, especially with the queen's chaplain, Dr. Parry, and, anxious to ascertain the real condition of the queen, he went to Richmond, where the court was then established, on the 23rd of March 1603. He has entered in considerable detail the facts of this visit:
March 23. I was at the court at Richmond to heare Dr. Parry, one of her majesties chaplens, preache, and be assured whether the queane were living or dead. I heard him, and was assured shee was then living.' After the service, he dined with the preacher, and gathered from him the following interesting information:
'I dyned with Dr. Parry in the privy chamber, and understood by him, the Bishop of Chichester, the Deane of Canterbury, the Deane of Windsore, &c., that her majestic hath bin by fits troubled with melancholy some three or four moneths; but for this fortnight extreame oppressed with it, in soe much that she refused to eate anything, to receive any phisicke, or admit any rest in bedd, till within these two or three dayes. Klee hath bin in a manner speachlesse for two dayes; very pensive and silent since Shrovetides, sitting some-tymes with her eye fixed upon one object many houses togither; yet she alwayes had her perfect senses and memory, and yesterday signified by the lifting up of her hand and eyes to heven, a signe which Dr. Parry entreated of hir, that shee beleeved that fayth which she had caused to be professed, and looked faythfully to be saved by Christ's merits and mercy onely, and no other meanes. She tooke great delight in hearing prayers, would often at the name of Jesus lift up hir hands and eyes to heaven. She would not heare the archbishop speake of hope of hir longer lyfe, but when he prayed, or spake of heaven and those joyes, she would hug his hand, &c. It seems she might have lived yf she would have used meanes, but shee would not be persuaded, and princes must not be forced. Hir physicians sayd she had a body of a firme and perfect constitution, likely to have lived many yeares. A royal majesty is not privilege against death.'

Next day, Maningham was again at Richmond, probably he had remained all night, and he added the following entry in his diary:
March 24. This morning about three at clocke, her majestic departed this lyfe, mildly like a lambe, easely like a ripe apple from the tree; cum levi quadam febre, absque gemitu. Dr. Parry told me that he was present, and sent his prayers before hir Soule; and I doubt not but shoe is amongst the royall saints in heaven in eternall joyes.'

It will be seen that our diarist makes no allusions to the manner in which Elizabeth was rumoured to have signified her wish that James of Scotland should be her successor on the English throne; but a few days later we find the following curious entry:
April 4. Dr Parry told me the Countess Kildare assured him that the queane caused the ring wherewith shee was wedded to the crowne to be cutt from hir finger some six weekes before hir death; but wore a ring which the Earl of Essex gave hir unto the day of hir death.

THE OLD MANOR-HOUSE AT STOKE POGIS, BUCKINGHAMSHIRE
This venerable mansion was built, or begun to be built by George Hastings, first Earl of Huntingdon, who died on the 24th of March 1544, and was buried in Stoke church. Like many other manor-houses of the same, or of an earlier period, that of Stoke was invested with considerable interest from its association with persons who were remarkable in their generation, if not of historic fame. This interest in Stoke manor-house has been preserved and enhanced by Gray, who, in his amusing poem of 'A Long Story,' has thus described it:
In Britain's isle, no matter where,
An ancient pile of building stands,
The Huutingdons and Hattons there
Employed the power of fairy hands
To raise the building's fretted height,
Each panel in achievement clothing,
Rich windows that exclude the light,
And passages that lead to nothing.
Full oft within the spacious walls,
When he had fifty winters o'er him,
My grave Lord Keeper led the brawls;
The seal and maces danced before him.
His bushy beard, and shoe-strings green,
His high-crowned hat, and satin doublet,
Moved the stout heart of England's Queen,
Though Pope and Spaniard could not trouble it.

This 'grave Lord Keeper' was Sir Christopher Hatton, who, it must be remarked, was never the owner or occupier of this old mansion, although generally supposed to have been so by topographers, and by commentators on Gray's Poems. The old manor-house, indeed, was not completely finished till it came into the possession of Henry, the third Earl of Iuntingdon, who, although it might have been burdened by a mortgage, certainly retained possession of it till his death.
One of his letters now in existence is dated at Stoke, on 13th December 1592, and among the payments after his funeral, occurs this item:
'Charges about the vendition of my Lord's goods in the county of Bucks, ₤8.'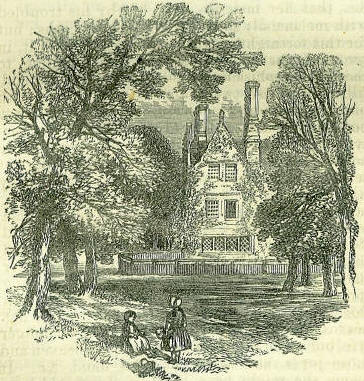 This most probably refers to the sale of his property at Stoke. Now Sir Christopher Hatton died in November 1591, a year before the date of the Earl's letter from Stoke, and four years before his death, which occurred in 1595. But we have more conclusive evidence to the same effect. Sir Christopher has left numerous letters from which his proceedings during the latter years of his life-the only time in which he could have been at Stoke-may be traced from month to month, almost from day to day, and not one of these letters affords the slightest indication of his connection with Stoke. Nor is such connexion noticed in any parish record at Stoke. The idea rests solely on tradition, and can easily be accounted for.
On the death of the third Earl of Huntingdon, Sir Edward Coke, the great lawyer, purchased the manor and resided at Stoke; and soon after, in 1598, married for his second wife, Lady Hatton, widow of Sir William Hatton, nephew and heir of the 'Lord Keeper.' This lady was sufficiently conspicuous to stamp the name of Hatton on the traditions of Stoke. She was a daughter of Lord Burleigh, and while priding herself on her 'gentle blood,' was imperious, officious, and vindictive. From her first husband she received a rich jointure, and retained his three places of residence in her own hands. She also retained his name after her marriage with Sir Edward Coke, who was old enough to have been her father, and towards whom she always affected great contempt. She stipulated that her marriage should be secretly performed in a private house, late in the evening, and without banns or license. For this irregular marriage the 'great oracle of the law,' his bride, her father Lord Burleigh, and the officiating minister, were cited into the ecclesiastical court.
Thus commenced 'the honeymoon of the happy pair.' Lady Hatton next forbade her spouse to enter her house in Holborn except by a back door. For many years the stern lawyer submitted to be henpecked in silence. At length he was driven to have recourse to law; for while he was professionally engaged in London, his faithful wife was at Stoke dismantling his house. She collected all his plate, and other valuable moveables, and carried them off to one of her own houses.
She is also supposed to have influenced Lord Bacon and others to prejudice the King against him, by casting discredit on his official proceedings. Certain it is that about this time he lost the King's favour; was deprived of his office as Lord Chief Justice, and advised to 'live privately at home, and take into consideration and review his book of Reports, wherein, as his Majesty is informed, be many extravagant and exorbitant opinions set down and published for positive and good law.'
Poor Sir Edward!-' to live privately at home,' in a dismantled house, with a sullied reputation, and his wife entertaining his enemies with his property, and at the expense of his character. This was too much to bear.
The lion was roused; and he who was such a stickler for the law set the law at defiance, and, forcibly entering Lady Hatton's houses in search of his property, not only carried off his own, but some of hers also. This led to legal proceedings against each other. Sir Edward accused his lady of having 'embezzled all his gilt and silver plate and vessell, and instead thereof foisted in alkumy of the same sorte, fashion, and use, with the illusion to have cheated him of the other.'
Lady Hatton, on her part, alleged that 'Sir Edward broke into Hatton House, seased upon my coach and coach horses, nay, my apparel, which he detains; thrast all my servants out of doors without wages, sent down his men to Corfe Castle [another of her ladyship's residences] to inventory, seize, ship, and carry away all the goods, which being refused him by the castle-keeper, he threats to bring your lordship's warrant for the performance thereof. Stop, then, his high tyrannical courses; for I have suffered beyond the measure of any wife, mother, nay, of any ordinary woman in this kingdom, without respect to my father, my birth, my fortunes, with which I have so highly raised him.' Judgment was given in favour of Lady Hatton; and a reconciliation took place, for Sir Edward 'flattered himself she would still prove a very good wife.'
In the following year these domestic broils took another course. Sir Edward Coke and Lady Hatton had one child, a daughter, and when she was about fourteen years old, her father negotiated for her marriage with Sir John Villiers, brother of Buckingham, the King's favourite, hoping through this alliance to regain the King's favour. The proposal was graciously received, and Sir Edward was delighted with the prospect of success. It is true that his wife and daughter, who were then residing with him at Stoke, did not relish his scheme; but this did not much trouble him, as he considered that his daughter, in such a case, was bound to obey her father's mandate. Highly gratified with this prospect, he retired to rest, and enjoyed a quiet, undisturbed slumber. But the first intelligence of the morning was that Lady Hatton and her daughter had left Stoke at midnight, and no one knew where they were gone. Here was a blow to his promising scheme. Day after day passed, and yet he could learn no tidings of the fugitives. At last he ascertained that they were concealed at Oatlands, a house then rented by a cousin of Lady Hatton.
Without waiting for a warrant, Sir Edward, accompanied by a dozen sturdy men, all well armed, hastened to Oatlands, and, after two hours' resistance, took the house by assault and battery. This curious piece of family warfare is admirably described by Lady Hatton herself as 'Sir Edward Cook's most notorious riot, committed at my Lord of Arguyl's house, when, without constable or warrant, associated with a dozen fellows well weaponed, without cause being beforehand offered, to have what he would, he took down the doors of the gate-house and of the house itself, and tore the daughter in that barbarous manner from the mother, and would not suffer the mother to come near her.'
Having thus gained possession of his daughter, he carried her off to Stoke, locked her up in an upper chamber, and kept the key of the door in his pocket. Lady Hatton made an attempt to recover her daughter by forcible means; but to her astonishment, for this attempt, and her other proceedings, her husband, now fortified by the King's favour, succeeded in throwing her into prison. Thus with his wife incarcerated in a public prison, and his daughter safely locked up in his own house, the great lawyer, to use his own expression, 'had got upon his wings again,' and forced both his wife and daughter to promise a legal consent to the marriage. Lady Hatton was even induced by the severities of prison to write to the king and promise to settle her lands on her daughter and Sir John Villiers.
Thus Sir Edward Coke effected his object. His daughter and Sir John Villiers were married in 1617, at Hampton Court, in the presence of the King and Queen and all the chief nobility of England. The bridal banquet was most splendid, and a masque was performed in the evening; but Lady Hatton was still in confinement. Shortly afterwards she was liberated, and gave a magnificent entertainment at Hatton House, which was honoured by the presence of the King and Queen, but Sir Edward Coke and all his servants were peremptorily excluded.
Two years afterwards Sir John Villiers was raised to the peerage, as Viscount Purbeck and Baron Villiers of Stoke Pogis. But the sequel of these family broils was melancholy. Lady Purbeck deserted her husband, and lived with Sir Robert Howard, which rapidly brought on her degradation, imprisonment, and an early death. Lady Hatton pursued her husband with rancorous hatred, and openly avowed her impatience for his death. A report of his death having one day reached her, she immediately left London for Stoke to take possession of his mansion, but on reaching Colnbrook, she met one of his physicians, who informed her of his amendment. On hearing this she returned to London in evident disappointment.
Sir Edward, in his solitary old age, must have viewed the fruits of his own scheme with bitter compunction. When eighty years of age, we are told, he 'felt himself alone on the earth, was suspected by his king, deserted by his friends, and detested by his wife.' His only domestic solace, during the last two years of his life, was the company of his daughter, Lady Purbeck, who, much to her credit, left her paramour to watch over the last hours of her aged father.
Three days before his death, being suspected of possessing seditious writings, his peace was disturbed by Sir Francis Windebank, who came with an order of Council to search his papers, and who carried off more than fifty manuscripts, including his will, which were not returned to the family till 1641. Sir Edward Coke died on the 3rd of September 1634, in his eighty-fourth year. Lady Purbeck then left Stoke, and soon after was imprisoned in the Gatehouse at Lambeth.
Lady Hatton now took possession of the old manor-house, and occasionally resided in it till her death in 1644. From her, who must have long been the subject of local gossip, the name of Hatton might well be mixed up with the traditions of Stoke; and Gray, by poetic license, or from want of better information, applied it to the Lord Keeper, who certainly never possessed the old manor-house, or 'led the brawls' in it. It was, however, honoured by the presence of his royal mistress. Queen Elizabeth, in 1601, paid a visit at Stoke to Sir Edward Coke, who entertained her very sumptuously, and presented her on the occasion with jewels worth from ten to twelve hundred pounds.
In 1647, the old manor-house was for some days the residence of Charles I, when a prisoner in the custody of the parliamentary army. It would have been visited by another of our monarchs had not its then owner refused to admit him. This was Sir Robert Gayer, who, by the bequest of his brother, came into possession of the manor in 1657. At the coronation of Charles II this eccentric gentleman was made a knight of the Bath, which so strengthened his previous attachment to the House of Stuart that he never would be reconciled to any other dynasty. Soon after William III had ascended the throne, he visited Stoke, and signified his desire to see the old manor-house. But the irascible old knight burst into a violent rage, vehemently declaring that the king should never come under his roof. 'He has already,' said he, 'got possession of another man's house-he is an usurper-tell him to go back again!' Lady Gayer expostulated; she entreated; she even fell on her knees, and besought her husband to admit the king, who was then actually waiting at the gate. All her efforts were useless. The obstinate knight only became more furious, vociferating An English-man's house is his castle. I shall open and close my door to whom I please. The king, I say, shall not come within these walls!' So his majesty returned as he came,-a stranger to the inside of the mansion, and the old knight gloried in his triumph.
Thus the old manor-house at Stoke was possessed by some very remarkable characters; it entertained one sovereign in all the state and magnificence of royalty; it received another as a prisoner in the custody of his own subjects; it closed its doors against a third, and dismissed him as though he had been an insignificant intruder, and after having thus witnessed the strange and changing scenes of two centuries and a half, it was itself pulled down, with the exception of one wing, in 1789, by its then owner, Granville Penn, Esq., a descendant of the celebrated William Penn, the founder of Pennsylvania. The existing wing of the old house, though only a portion of an inferior part of the mansion, affords a specimen of Tudor architecture, and conveys some idea of the internal arrangement of the aristocratic residences of that period. W. H. K.