Died: James Earl of Moray, Regent of Scotland, 1570; William Pitt, statesman, 1806; Sir Francis Burdett, political character, 1844; Archdeacon Hare, 1855
Feast Day: St. Emerantia, virgin, martyr, about 304. St. Clement of Ancyra, martyr, 304. St. Agathangelus, 304. St. Eusebius, abbot in Assyria, 4th century, Ildefonsus, archbishop of Toledo, 667. St. John the Almoner, patriarch of Alexandria, about 7th century. St. Raymond of Pennafort, 1275.
ST. EUSEBIUS
St. Eusebius 'took nourishment only once in four days, but would not allow any of his monks to pass above two days without eating.'-Butler. The intervals were rather long, but, on Eusebius's part, the proportions were generous.
ST. RAYMON
Raymond of Pennafort was a Spanish saint, who derived his fame from having been one of the earliest and most devoted of the order of St. Dominick. By wonderful exertions as a missionary preacher, he restored large portions of his country to Christianity, which had previously been wholly in possession of the Moors. Towards the end of his life, having been taken by James king of Arragon to the island of Majorca, he met there with the most brilliant success in converting the pagan. inhabitants, but found all his happiness blighted by the personal immorality of the king. Failing to bring him to a better life, he desired to leave the island; but this the king would not permit. He even threatened with death any one who should help the holy man to make his escape. Whitt followed may be stated in the words of Buller. 'The saint, full of confidence in God, said to his companion, 'A king of the earth endeavours to deprive us of the means of re-tiring; but the King of heaven will supply them.' He then walked boldly to the waters, spread his cloak upon them, tied up one corner of it to a staff for a sail, and having made the sign of the cross, stepped upon it without fear, whilst his timorous companion stood trembling and wondering on the shore.
On this new kind of vessel the saint was wafted with such rapidity that in six hours he reached the harbour of Barcelona, sixty leagues distant from Majerea. Those who saw him arrive in this manner met him with acclamations. But he, gathering up his cloak dry, put it on, stole through the crowd, and entered his monastery. A chapel and a tower, built on the place where he landed, have transmitted the memory of this miracle to posterity. This relation,' says our author, with all desirable gravity, 'is taken from the bull of his canonization, and the earliest historians of his life. The king became a sincere convert, and governed his conscience, and even his kingdoms, by the advice of St. Raymond, from that time till the death of the saint.'
DEATH OF MR. PITT
The last months of the life of this great statesman were embittered by a succession of defeats and reverses, such as might break the proudest or the most stoical spirit that ever swayed the destinies of a great nation. The overthrow of the new coalition which he had succeeded in forming against the French ascendancy in the latter part of 1805, is supposed to have combined with the vexation arising from the impeachment of his friend, Lord Melville, to destroy him. Nevertheless, the vigour of his intellectual faculties, and the intrepid haughtiness of his spirit, remained to appearance unaltered. But he could not conceal from the public eye the decay of his health, and the constant anxiety which gnawed at his heart.
He had staked everything on a great venture. When the news came of Napoleon's defeat of the great Austrian army and the surrender of Ulm, the minister would give no credit; to the rumour; when it was confirmed, he tried to boar up, but death was in his face. The news a of the victory of Trafalgar, which arrived in a few days, seemed to revive him; and in two days more, when he dined on Lord Mayor's day in Guildhall, in returning thanks for his health being drunk, he said, 'Let us hope that England, having saved herself by her energy, may save Europe by her example.' These were the last words that he uttered in public. But Austerlitz soon completed what Uhm had begun; and the peculiar look which Pitt wore after this calamitous event, was described by Wilberforce as the Austerlitz look.
Early in December, Pitt retired to Bath, hoping that he might there gather strength for the coming session of Parliament. While there the news reached him of a decisive battle that had been fought and lost in Moravia, and that the coalition was dissolved. He sank under the blow. He came up from Bath by slow journeys, and on the 11th of January, 1806 reached his villa at Putney. On the 20th was to be the parliamentary dinner at the house of the First Lord of the Treasury, in Downing-street; and the earls were already issued. But the days of the great minister were numbered.
The villa is pleasantly situated upon Patney Heath, surrounded by a few acres of pleasant are ground; and the minister's only chance for life was, that he should spend some months in such repose as this rural retreat afforded. His colleagues in the ministry paid him short visits, and carefully avoided conversation on politics. But his spirit was not quenched even in this extremity. His friend, the Marquess Wellesley, had, a few days before Mr. Pitt's return to Putney arrived in England, after an absence of eight years in India. He wrote to Mr. Pitt, who on the 12th of January, replied from Putney Hill, acknowledging to have received, with inexpressible pleasure, the Marquess's 'most friendly and affectionate letter, requesting to see him at the first possible moment,' adding, 'I am recovering rather slowly from a series of stomach complaints, followed by severe attacks of gout; but I believe I am now in the way of real amendment.'
This was one of the last letters Mr. Pitt ever wrote. He received the Marquess with his usual kindness and good humour; he talked cheerfully, and with an unclouded mind, and spoke in the warmest terms of commendation of the Marquess's brother, Arthur, saying, 'I never met with any military officer with whom it was so satisfactory to converse. He states every difficulty before he undertakes any service, but none after he has undertaken it.' But the Marquess saw that the hand of death was upon the minister, although the melancholy truth was not known nor believed by either his friends or his opponents.
The excitement of this interview was too much for the sick man; he fainted away, and Lord Wellesley left the house, convinced that the close was fast approaching.
Lord Wellesley having learned that an amendment hostile to Mr. Pitt was to be proposed in the House of Commons, warned Lord Granville of the minister's approaching death; he received the fatal intelligence with a burst of tears, and on the first day there was no debate. It was rumoured that evening that Mr. Pitt was better; but on the following morning his physicians pronounced that there were no hopes. 'The commanding faculties,' says Lord Macaulay, 'of which he had been too proud, were now beginning to fail. His old tutor and friend, the Bishop of Lincoln, informed him of his danger, and gave such religious advice and consolation as a confused and obscured mind could receive. Stories were told of devout sentiments fervently uttered by the dying man.
But these stories found no credit with anybody who knew him. Wilberforce pronounced it impossible that they could be true. 'Pitt,' he added, 'always said less than he thought on such topics.' It was asserted in many after-dinner speeches, Grubstreet elegies, and academic prize poems, and prize declamations, that the great minister died exclaiming, 'Oh! my country!' This is a fable; but it is true that the last words which he uttered, while he knew what he said, were broken exclamations about the alarming state of public affairs. He ceased to breathe on the morning of the 23rd of January 1806, the twenty-fifth anniversary of the day on which he first took his seat in Parliament. He was in his forty-seventh year, and had been, during near nineteen years, excepting for a short interval, First Lord of the Treasury, and undisputed chief of the administration. Since parliamentary government was established in England, no English statesman had held supreme power so long. Walpole, it is true, was First Lord of the Treasury during more than twenty years; but it was not till Walpole had been some time First Lord of the Treasury that he could be properly called Prime Minister.'
With respect to the last moments of the great minister, it was told to a visitor to the house at Putney Hill, in 1817, by a person who was in the chamber a little before Mr. Pitt's death, that 'it was heated to a very high and oppressive temperature; and that the deep voice of the dying minister, as he asked his valet a question, startled the visitor who had been unused to it. He died calmly, and apparently under none of those political perturbations which, at the period, were ascribed to his last moments.'
A public funeral and a monument were voted to Pitt by Parliament. The funeral took place on the 22nd of February: the corpse, having lain in state during two days in the Painted Chamber, was borne, with great pomp, to the northern transept of Westminster Abbey. A splendid train of princes, nobles, and privy councillors followed. The grave of Pitt had been made near to the spot where his great father, Lord Chatham, lay, and near also to the spot where his great rival (Fox) was soon to lie:
The mighty chiefs sleep side by side;
Drop upon Fox's grave the tear,
'Twill trickle to his rival's bier.'

Wilberforce, who carried the banner before Pitt's hearse, described the ceremony with deep feeling. As the coffin descended into the earth, he said, the eagle face of Chatham from above seemed to look down with consternation into the dark house which was receiving 'all that remained of so much power and glory.
OPENING OF THE FIRST ROYAL EXCHANGE
In the sixteenth century, Antwerp had led the way in preparing a house specially for the daily assembling of merchants-what was then called a Byrsa or Burse, a term of mediaeval Latin, implying expressly a purse, but more largely a place of treasure. The want of such a point of daily rendezvous was felt in London as early as the reign of Henry VIII; but it was not till the days of his lion-hearted daughter that the idea was realised, through the exertions and liberality of the celebrated Sir Thomas Gresham, a London merchant, who had been royal agent at Antwerp, and ambassador at the minor Italian Court of Parma.
Sir Thomas met with innumerable difficulties in the preliminary arrangements for building his Burse. Some of the merchants preferred the old place of assembling in Lombard-street; others advocated a site between Lombard-street and Cornhill. At length we find the wardens of the twelve principal companies calling upon Gresham at his mansion in Bishopsgate-street, at eight o'clock in the morning, to make arrangements for the site. It was then settled that the houses to be removed for the site-including a 'little old house in Cornehill, inhabited by a widow, which the cytte was driven to buy' for 100 marks-should all be cleared away for the workmen 'to fall in hand with the foundation.' Thirty-eight houses-some of them cottages, a store-house, and two gardens-were demolished in order to make room for the Burse.
The simple manner in which the edifice was given to the citizens is not the least striking incident. On the 9th of February 1565-6, Sir Thomas Gresham, at the house of Alderman Rivers, in company with Sir William Garrard, Sir William Cheeton, Thomas Rowe, and other citizens, 'most frankly and lovingly promised' that within a month after the Burse should be fully finished, he would present it, in equal moieties, to the City and the Mercers' Company. In token of his sincerity, he thereupon gave his hand to Sir William Garrard, and, in the presence of his assembled friends, drank a carouse to his kinsman, Thomas Rowe. 'How rarely,' remarks Mr. Burgon, 'do ancient documents furnish us with such a picture of ancient manners!' The first stone of the building was laid by Gresham, June 7th, 1566.
On the 23rd of January 1570-1, the building was opened by Queen Elizabeth. Stow relates that 'the Queen's Majesty, attended with her nobility, came from her house at the Strande, called Somerset House, and entred the citie by Temple-bar, through Fleete-streete, Cheap, and so by the north side of the Burse, to Sir Thomas Gresham's in Bishopsgate-street, where she dined.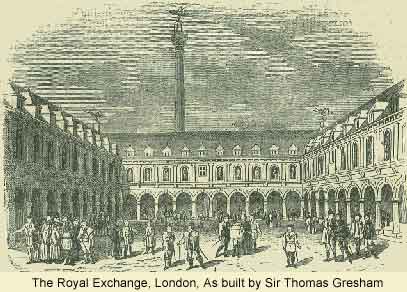 After dinner, her Majestic, returning through Cornhill, entered the Burse on the south side; and after that she had viewed every part thereof above the ground, especially the Pawn, which was richly furnished with all sorts of the finest wares in the city, she caused the same Burse by an herald and trumpet to be proclaimed the Royal Exchange, and so to be called from thence-forth, and not otherwise.'
Such is the brief account which has been transmitted to us of the event from which the Burse, as it was then called, dates its present name; by one who was probably an eye-witness of the scene he describes. The only other contemporary notice Mr. Burgon has met with of this memorable passage in the annals of the metropolis occurs in the accounts of the churchwardens of St. Margaret's, Westminster; where is recorded that the bellringers were paid 4d. 'for ringing when the Queen's Majesty went to the Bursse;' and 8d. 'for ringing when the Queen's Majesty went to Sir Thomas Gresham's and came back again.'
In the Bodleian Library is a Latin play, in five acts, entitled Byrsa Basilica, &c., being a dramatic account of the building and opening of the Ex-change, conceived in the most fantastic strain, according to the taste of the age. There is also extant a play, by Thomas Heywood, describing the building of the Burse, and referring in every page to Gresham. It is entitled, If you know not me you know nobody: or, the Troubles of Queen Elizabeth. 4to, 1606. In this play Heywood has followed Stow's narrative very faithfully till the queen comes to visit Gresham, and name the Burse; but here the poet can no longer restrain his invention. Gresham purchases a pearl which no one could afford to buy, and, in imitation of Cleopatra, drinks it, reduced to powder, in a cup of wine.
Here fifteen hundred pound at one clap goes!
Instead of sugar, Gresham drinks the pearl
Unto his queen and mistress: pledge it, lords!

That Gresham drank a carouse to the queen is not unlikely, but there is no reason for believing that the royal merchant was addicted to such royal draughts as Heywood describes. The incident was probably borrowed from the history of Sir William Capel, of whom a similar story is related by Fuller, in his Worthies.--Bwrgon's Life and Times of Sir Thomas Gresham, vol. ii. pp. 351-354.
AN ALE-TASTER IN OLD TIMES
It is noted in Dr. Langbaine's Collections, under January 23, 1617, that John Shurle had a patent from Arthur Lake, Bishop of Bath and Wells, and Vice-Chancellor of Oxford, for the office of ale-taster [to the University] and the making and assizing of bottles of hay. The office of ale-tasting requires that he go to every ale-brewer that day they brew, according to their courses, and taste their ale; for which his ancient fee is one gallon of strong ale and two gallons of small wort, worth a penny.'
WONDERS IN THE AIR
23rd January 1612 [1643], was published 'A great Wonder in Heaven, showing, &c.,'-a thin brochure now exceedingly rare. Its statement was to the effect, that on a Saturday in the by-past Christmas time, there had occurred at Keniton, in Northamptonshire, the apparition and noise of a battle in the air, a ghostly repetition of the conflict which two months before had taken place on the adjacent fields at Edgehill between the forces of the King and the Parliament. It was between twelve and one in the morning that there was:
'heard, by some shepherds and other countrymen and travellers, first the sound of drums afar off, and the noise of soldiers, as it were, giving out their last groans; at which they were much amazed, and amazed stood still, till it seemed by the nearness of the noise to approach them; at which, too much affrighted, they sought to withdraw as fast as possibly they could; but then on a sudden, while they were in these cogitations, appeared in the air the same incorporeal soldiers that made those clamours, and immediately, with ensigns displayed, drums beating, muskets going off, cannons discharged, horses neighing, which also to these men were visible, the alarum or entrance to this game of death was struck up; one army, which gave the first charge, having the King's colours, and the other the Parliament's, in their head or front of the battles, and so pell-mell to it they went; the battle that appeared to [be] the King's forces seeming at first to have the best, but afterwards to be put into apparent rout. But till two or three in the morning in equal scale continued this dreadful fight, the clattering of arms, noise of cannons, cries of soldiers, so amazing and terrifying the poor men, that they could not believe they were mortal, or give credit to their ears and eyes. Run away they durst not, for fear of being made a prey to these infernal soldiers; and so they, with much fear and affright, stayed to behold the success of the business... .
After some three hours' fight, that army which carried the King's colours withdrew, or rather appeared to fly; the other remaining, as it were, masters of the field, stayed a good space triumphing, and expressing all the signs of joy and conquest, and then, with all their drums, trumpets, ordnance, and soldiers, vanished. The poor men, glad they were gone, made with all haste to Kenton; and there knocking up Mr. Wood, a justice of the peace, who called up his neighbour, Mr. Marshall, the minister, they gave them an account of the whole passage, and averred it upon their oaths to be true.'

What follows is most remarkable of all. The gentlemen thus apprised of what had taken place:
'suspending their judgments till the next night about the same hour, they, with the same men, and all the substantial men of that and the neighbouring parishes, drew thither; where, about half an hour after their arrival, on Sunday, being Christmas night, appeared, in the same tumultuous warlike manner, the same two ad-verse armies, fighting with as much spite and spleen as formerly.
The next night they appeared not, nor all that week. . . . But on the ensuing Saturday night, in the same place, and at the same hour, they were again seen with far greater tumult, fighting in the manner above mentioned for four hours, or very near, and then vanished, appearing again on Sunday night, and performing the same actions of hostility and blood-shed. . . . Successively the next Saturday and Sunday the same tumults and prodigious sights and actions were put in the state and condition they were formerly.
The rumour whereof coming to his Majesty at Oxford, he immediately dispatched thither Colonel Lewis Kirke, Captain Dudley, Captain Waithman, and three other gentlemen of credit, to take the full view and notice of the said business; who, first hearing the relation of Mr. Marshall and others, stayed there till Saturday night following, wherein they saw and heard the fore-mentioned prodigies, and so on Sunday, distinctly knowing divers of the apparitions by their faces, as that of Sir Edmund Varney, and others that were there slain; of which, upon oath, they made testimony to his Majesty.'

HON. CHARLES TOWNSHEND
January 23, 1748, the Hon. Charles Townshend, writing to a friend, says, 'I cannot go to the Opera, because I have forsworn all expense which does not end in pleasing me.' If this were a rule generally followed, and the reserved means bestowed in judicious efforts for the good of others, what an improved world it would be!'
Charles Townshend is one of the minor celebrities of the last century: he died in 1767, at the age of forty-two. Burke, referring some years after to his services in parliament, said he could not even then speak of Charles Townshend without some degree of sensibility.
'He was the delight and ornament of this House, and the charm of every private society which he honoured with his presence. Perhaps there never arose in this country, nor in any country, a man of more pointed and finished wit, and (where his passions were not concerned) of a more refined, exquisite and penetrating judgment'

It was the good fortune of Charles to gain favour with a young and noble widow, the Countess of Dalkeith (daughter of John Duke of Argyll, and mother of Henry Duke of Bucclench). Sir Walter Scott relates the following anecdote regarding this alliance:
'When he [Charles Townshend] came to Scotland [after the marriage], the tide of relations, friends, and vassals, who thronged to welcome the bride, were so negligent of her husband, as to leave him in the hall, while they hurried his lady forwards into the state apartments, until he checked their haste by exclaiming, 'For Heaven's sake, gentlemen, consider I am at least Prince George of Denmark!'

This union introduced Mr. Townshend to the society of the then brilliant circle of Scottish literati. But, if we may depend upon the judgment of the Rev. Alexander Carlyle, these gentlemen judged his talents to be more of a showy than a solid character; and 'at the end of two months,' says this shrewd observer, 'he had stayed long enough here.' Carlyle gives the following sketch of an afternoon spent with the English stranger:
'I called on him one morning at Dalkeith, when he said I had come most à-propos, if not engaged, for that he was going to ride to Edinburgh to make some calls: and his wife being engaged to dine with the Duchess of Gordon, he would be very glad of a small party in a tavern. I agreed, and we rode to Edinburgh together. When we drew near that city, he begged me to ride on and bespeak a small dinner at a tavern, and get a friend or two if I could to join us, as he must turn to the left to call on some people who lived in that direction. I went to town directly, and luckily found Home and Ferguson in Kincaid [the bookseller]'s shop, and sent a Cady to Robertson, to ask him to meet us at the Cross Keys soon after two o'clock, who likewise came. During dinner, and for almost an hour after, Charles, who seemed to be fatigued by his morning visits, spoke not a single word, and we four went on with our kind of conversation without adverting to Mr. Townshend's absence. After he had drunk a pint of claret, he seemed to awaken from his reverie, and then silenced us all with a torrent of colloquial eloquence, which was highly entertaining. for he gave us all our own ideas over again, embodied in the finest language, and delivered in the most impressive manner. When he parted from us, my friends remarked upon his excellence in this talent, in which Robertson agreed with them, without, perhaps, being conscious that he was the most able proficient in that art.'

Charles Townshend fully appears to have been one of those persons with showy and superficial talents who make an impression on all around them, but produce no permanent good results. He could move and delight men, but not improve or guide them. In some peculiar circumstances, and at certain crises, his gift of the tongue might have proved serviceable; but, usually, such powers are only calculated to create or support delusions, by making the worse appear the better reason. Public men possessed of fascinating eloquence should in general be viewed with suspicion, and carefully guarded against, for they are apt to do great mischief. To make a pulpit orator a leader in a church, or raise a clever special pleader to a place in the cabinet council, are dangerous movements. In general, the powers which have made them famous are, at the best, useless in grave and important circumstances; often, the prestige which these powers have given, only enables them to interfere injuriously with the course pointed out by the wise. Perilous it is for a country to have a political system in which brilliant parliamentary oratory is allowed any but a moderate sway. It might be of some service to inquire how often mere oratory has been on the side of what was just, reasonable, and for the good of a state, and how often the reverse; and whether, on the whole, the affairs of nations and of individuals would not have been in a better case at this moment, if there never had existed any man capable of standing up and sawing the air, and puffing and sweating, while pouring out an ocean of exaggerated phrases calculated to work on the feelings of a multitude.
DEATH OF SIR FRANCIS BURDETT
This event took place on the 23rd of January 1844, when Sir Francis had attained his seventy-fourth. year. The strain of political sentiment which made him the idol of the populace in the reign of George III, had long given place to strong conservatism, and he necessarily became a man of little political note in his latter years. When we remember the Gracchus-like position of Sir Francis in April 1810-ordered to the Tower for a libel on the House of Commons, and standing a siege of horse and foot in his house in Piccadilly for several days before the warrant could be executed-the story of his death reads strangely. It was the fortune of this fine old English gentleman to be united to a daughter of Mr. Coutts the banker; and the pair had lived together with singular attachment and harmony for upwards of fifty years.
Towards the close of 1843, Lady Burdett's state of health excited great alarm in her family. She died on the 10th of January 1844. Her death sounded her husband's knell. She who had so long been the partner and sharer of his joys and troubles, the mother of his children, the friend of his soul, being now removed, from that instant life became an insupportable burthen to hint. Resolutely refusing food or nourishment of any kind, he died on the 23rd of the same month; and man and wife were buried side by side in the same vaults, at the same hour, on the same day, in the church of Ramsbury, Wilts.
MR. PITT AND HIS SERVANT
Obviously a good end would be served if examples of a reasonable treatment of servants, followed by good results, were occasionally presented for the consideration of masters and mistresses. Mr. Pitt, who was so able a servant of the state, was also a good master to his own domestics: that is, he did not fail to recognise good conduct in his servants, and to treat them with due consideration of their numerous duties. He was likewise very quick in the perception of qualities which recommend an individual for domestic service, of which the following is an interesting in-stance:
Mr. Pitt once obtained a servant in a very odd way. Riding on the moors with a friend, they came up with a flock of geese, driven by a boy, with a bit of red rag at the end of a long stick. 'We must ride round,' said Mr. Pitt, 'we shall never get through this immense flock.' 'Yes, but you may,' cried a sharp-looking boy, who had heard him, 'if you will only keep your horses quiet. Sh-sh-ee-ayi-ayi!' and the boy waved his stick here and there, and in a minute or two the flock opened, and, wheeling to the left and right in regular columns, made a passage through which they rode. 'That must be a clever lad,' observed Mr. Pitt; 'he manoeuvres his little army in a wonderful manner-a general could not do it better;' and he ordered the groom to inquire to whom he belonged. A day or two afterwards, he was sent for, and put in the stables. Next he was made an under-groom; then taken to town to wait on the upper servants, and afterwards made a footman.
One day, Mr. Pitt went down to Holwood, in Kent, with Mr. Dundas and three or four friends, to talk over parliamentary business: some time before the dinner-hour, the cook was seized with apoplexy, which so affected the butler and occasional valet that he fell with a fit of gout. Mr. Pitt grew anxious about the dinner, when the young man whom he had advanced from gooseherd to footman, said, 'Don't, sir, send off any express for a cook; if you. think proper, the maid shall cook the dinner. These are your intimate friends, and will take no notice: their servants as yet know nothing of the matter, for I thought they might be frightened to be where there is a dead man. Let me manage, and all will go well, without any alarm being spread.' He accordingly dressed Mr. Pitt, saw to everything, and acquitted himself so well, that Mr. Pitt soon after made him his valet; but he did not live much longer, to have his services recompensed. He was an excellent servant. Mr. Pitt would sometimes order him to precede him a day or two to a place he was about to visit. 'You will excuse me, sir,' the man would reply: 'but I mustn't go; for if I do, who will attend you when you take your physic to-morrow? You will be busy, and put it off; and nobody knows how to give it but myself.' 'Well, well,' Mr. Pitt' would answer, 'do so, then;' and would add, 'Ah! he is very anxious about me-I must let him have his own way.'