Born: Henry de Beauchamp, Earl and last Duke of Warwick, 1424, Hanley Castle; Sir Anthony Vandyck, painter, 1599, Antwerp; Edward Moore, dramatic writer, 1712, Abingdon; Rosa Bonheur, artist, 1822.
Died: Thomas Earl of Lancaster, beheaded at Pontefract, 1322; Thomas Duke of Clarence, slain in Anjou, 1421: Anne Clifford, Countess of Pembroke, 1676, Brougham; Jean Baptiste Lally, father of French dramatic music, 1687, Paris; Jonathan Edwards, Calvinistic minister, 1758, New Jersey; John Canton, electrician, 1772; J. W. von Goethe, German poet and prose writer, 1832, Weimar; Rev. David Williams, warden of Now College, 1860.
Feast Day: St. Paul, Bishop of Narbonne, 3rd century. St. Basil, of Ancyra, martyr, 362. St. Lea, widow, of Rome, 384. St. Deogratias, Bishop of Carthage, 457. St. Catharine, of Sweden, Abbess, 1381.
JOHANN WOLFGANG GOETHE
When the spirit of Goethe passed away, all Europe took note of the event, and pondered on those last words, 'Let the light enter.' He was venerable with age and honours, a wise many-sided mind, and the greatest poet of Germany. 'In virtue of a genius such as modern times have only seen equalled once or twice,' says Mr. Lewes, Goethe deserves the epithet of great: unless we believe a great genius can belong to a small mind. Nor is it in virtue of genius alone that he deserves the name. Merck said of him that what he lived was more beautiful than what he wrote: and his life, amid all its weaknesses and all its errors, presents a picture of a certain grandeur of soul, which cannot be contemplated unmoved.'
Johann Wolfgang Goethe was born in 1749, in the busy old-fashioned town of Frankfort-on-the-Maine: a child so precocious that we find it recorded that he could write German, French, Italian, Latin, and Greek, before he was eight. His age fulfilled the promise of youth: he grew up a genuine man, remarkable for endless activity of body and mind, a sage minister, a noble friend, and a voluminous writer.
He commenced his collegiate course at Leipsic in 1765, but gave himself little to prescribed studies. Jurisprudence suited him as little at Strasburg, whither he went in 1770: yet in the following year he duly became Dr. Goethe. He gave himself chiefly to literature and society. At length, in 1775, at the request of Karl August, he went to Weimar, 'where his long residence was to confer on an insignificant duchy the immortal renown of a German Athens.' He remained the Duke's counsellor, prime minister, and personal friend for more than fifty years: busying himself in acts of public utility and private benevolence, and studying and writing upon everything which came in his way.
When Napoleon and the Emperor of Russia met at Erfurt, near Weimar, in 1808, the former patronised Goethe by summoning him to a private audience. It lasted nearly an hour, and seems to have given mutual satisfaction. On Nov. 7, 1825, Goethe was honoured with a Jubilee, on the fiftieth anniversary of his residence at Weimar. His own play Iplaigenia was performed in the Theatre, and the whole town was illuminated. An anecdote will illustrate his exalted position. 'Karl August came into his study accompanied by the King of Bavaria, who brought with him the Order of the Grand. Cross as a homage. In strict etiquette a subject was not allowed to accept such an order without his sovereign granting permission: and Goethe, ever punctilious, turned to the Grand Duke, saying: 'If my gracious sovereign permits:' upon which the Duke called out: 'Du alter Kerl macho clock kein dummes Zeug!' 'Come, old fellow, no nonsense!'
He received another note-worthy honour. A handsome seal, with a motto, 'Without haste, without rest,' taken from his poems, reached him from England. The accompanying letter expressed its desires 'to shew reverence where reverence is due,' and was signed by fifteen English admirers of the 'spiritual teacher,' among whom were Carlyle, Dr. Carlyle, Sir Walter Scott, Lockhart, Wordsworth, Southey, and Professor 'Wilson.' He died in his eighty-fourth year, at least in mind still young.
His juvenile production, The Sorrows of Werther, seized upon the sentimental spirit of the time, and rendered him famous. Though a genuine and characteristic work, he outgrew its philosophy and lived to regret it. Faust is his great work, but can never be popular, as its wisdom does not lie on the surface. Hermann and Dorothea is immortal as the Vicar of Wakefield. His minor poems have widely influenced modern verse. He wrote an Autobiography and many prose works, and was by no means insignificant as a pioneer to the noble host of modern veterans in science.
His friendship and co-operation with Schiller is one of the most lovable parts of Goethe's life.
Those two great minds were essentially diverse. Yet we find them, to their eternal honour, 'brought into brotherly union only by what was highest in their natures and their aims.' When Schiller's death was concealed from him, Goethe discovered it by the shyness of his domestics. He saw Schiller must be ill, and at night was heard to weep. 'In the morning he said to a friend, 'Is it not true that Schiller was very ill yesterday?' The friend (it was a woman) sobbed. 'He is dead?' said Goethe faintly. 'You have said it,' was the answer. 'He is dead,' repeated Goethe, and covered his face with his hands.' Then he wrote with truth, doubtless, 'The half of my existence is gone from me.'
There is something in Goethe's greatness not always pleasing. He feared to marry, lest he should cripple his freedom. Not that he professed such a motive, but this is the only explanation of the fact that so many loves stopped short of marriage. The names of women in his works mostly belong to real characters. Continually in his biography we are coming upon 'traces of a love-affair;' and besides obscure cases, we have Gretchen, Käthchen, Frederica, Lotte, Lili, Bettina, Frau von Stein, &c. &e. Frederica he treated badly in his youthful days, unless the reader can excuse Hamlet's conduct to Ophelia. Bettina he only petted, and seemingly did not ill-treat. Frau von Stein he was faithful to during many years, and she was a married woman. With Christine Vulpius he lived sixteen years, in defiance of public opinion: and then, in defiance again of the same public opinion, when she was fat, ugly, and intemperate, he honourably married her. Yes, and when she died, let us thoughtfully take note, he wrote thus to 'Zeiter: 'When I tell thee, thou rough and sorely-tried son of earth, that my dear little wife has left me, thou wilt know what that means.'
Genius is often whimsical. Poet Goethe wasted as much precious time in trying to be an artist, as artist Turner wasted in vainly labouring to express himself in verse.
SUPPRESSION OF THE ORDER OF THE KNIGHTS TEMPLARS, MARCH 22, 1312
The origin of the celebrated order of Templars is due to the piety of nine French knights, who in 1118 had followed Godfrey de Bouillon to the Crusades, and there dedicated themselves to insure the safety of the roads against the attacks of the infidels who maltreated the pilgrims to the Holy City. Their numbers rapidly increased; men of every nation, rank, and riches joined themselves to the generous militia who gained such glory on the battle-field. The council of Troyes approved them, encouragements and recompenses were awarded to their devotion, and a rule was granted them. St. Bernard thus describes them in their early days:
They lived without anything they could call their own, not even their will: they are generally simply dressed, and covered with dust, their faces em browned with the burning sun, and a fixed severe expression. On the eve of a battle, they arm themselves with faith within, and steel without: these are their only decoration, and they use them with valour, in the greatest perils fearing neither the number nor the strength of the barbarians. Their whole confidence is placed in the God of armies, and fighting for His cause they seek a certain victory, or a holy and honourable death. 0 happy way of life, in which they can await death without fear, desire it with joy, and receive it with assurance!

The statutes of the order had for their basis all military and Christian virtues. The formula of the oath they took on their entrance was found in the archives of the Abbey of Alcobaza, in Arragon: it is as follows:
I swear to consecrate my words, my arms, my strength, and my life to the defence of the mysteries of the faith, and that of the unity of God. I also promise to be submissive and obedient to the Grand Master of the Order. Whenever it is needful, I will cross the seas to fight, I will give help against all infidel kings and princes: and in the presence of three enemies I will not fly but fight, if they are infidels.

At their head they carried their celebrated standard, called the Beaucẻant, which bore the motto: 'Non nobis, Domine, non nobis, sed nomini tuo, da gloriam:' and after this they marched to battle, reciting prayers, having first received the holy sacrament. It was in 1237 that the knight who carried the Beaucẻant in an action where the Mussulmans had the advantage, held it raised above his head until his conquerors, with redoubled blows, had pierced his whole body and cut off both his hands: such was their determined courage, while many authentic witnesses prove that, faithful to their oath, they respected the laws of religion and honour.
It is not fair for an impartial seeker after truth to judge the conduct of the Templars from works written after their misfortunes; seldom indeed do the proscribed find courageous apologists: we must rather look to contemporary historians, the witnesses of their virtues and exploits; and to the honourable testimony of popes, kings, and princes, who shortly after became their oppressors. They are never denounced by the troubadours, and it is well known that these bold poets were the severest censors of their age, and attacked without pity the popes, clergy, and great men: nor was the favourite proverb, 'to drink like a Templar,' ever imagined until after their abolition; whilst our own king, Edward II, who afterwards so weakly gave in to the prevailing cry, wrote at the first to the kings of Portugal, Castile, Sicily, and Arragon, praying them not to give credence to the calumnies which were spread against them.
It was in France that the storm burst out with all violence: the unscrupulous king, Philip le Bel, with his minister Marigny, had cast a covetous eye upon the wealth acquired by the knights, and determinedly used every means to obtain it. The first accusations were made by two men, the Prior of Montfaucon and Naffoclei, a Florentine, who had been banished from his country, and whom none believed to have ever been one of the order. The prior had been condemned to perpetual imprisonment by the Grand Master, for heresy and infamous conduct, so that revenge was evidently his motive.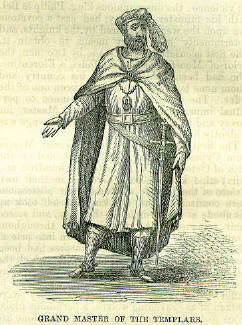 The first act was to recall the Grand Master from Cyprus upon another pretext, and on the 13th of October 1307, he, with one hundred and thirty-nine knights, were arrested in their own Palace of the Temple at Paris, their possessions were confiscated, and the king himself took up his abode at the Temple on that day, and seized their treasures. All the knights throughout France were at the same time thrown into prison. Their accusation was that new statutes had been established in place of the old ones, by which the knight on his admittance was required to deny his faith in Christ, to spit upon the cross, and to suffer other scandalous liberties: they were spoken of as 'ravening wolves, a perfidious idolatrous society, whose works and words alone are sufficient to pollute the earth and infect the air.' The inhabitants of Paris were convoked in the king's garden, the heads of the parishes and communities assembled, whilst the commissioners and monks preached against the condemned.
They were put into irons, and the Inquisitor, Guillaume de Paris, questioned them, not permitting them to employ any counsel. Warriors, who by their privileges and riches had walked beside princes, were left without the necessaries of life. The comforts of religion were even refused, under the pretext that they were heretics, and unworthy to participate in them. Life, liberty, and rewards were offered to those knights who would confess the crimes of which their order was accused: twenty-six grandees of the court declared themselves their accusers: and from all quarters archbishops, bishops, tines, chapters, and corporate bodies of the cities and villages, sent in their adhesion. After the barbarous fashion of the age, the Inquisitor commanded the trial to begin by torture: one hundred and forty were thus tried in order to wring from them a confession, and it appears that only three resisted all entreaties: the remainder attested the pretended crimes imputed to them, but throughout there is so much improbability, absurdity, and contradiction in the evidence, that it is easy to see under what constraint it was given.
The Pope, Clement the Fifth, who claimed the right of being their sole judge, called the fathers of the church to a council at Vienne. Numbers of proscribed Templars were wandering among the mountains near Lyons, and with praiseworthy resolution they chose nine knights to go and plead their cause, in spite of the instruments of torture and the still smoking fagots by which thirty-six had died in Paris alone.
They presented themselves as the representatives of from fifteen hundred to two thousand knights, under the safe-conduct of the public faith; but Clement immediately arrested and put them in chains, augmenting his guard to save himself from the despair the others might be driven to. The Council were scandalised at such a proceeding, and refused their sentence until they had an opportunity of hearing the accused; but this suited neither the Pope nor Philip, and after trying in vain to bend the just decision of the fathers, the former pronounced, in a secret consistory, the suppression of the order.
Jacques de Molay, a brave and virtuous knight, was at this time the Grand Master. Of a noble family of Burgundy, he had been received into the order in 1265, and gained himself an honourable place at the French court, so much so as to stand at the baptismal font for Robert, the fourth son of the king. During his absence in the East he was unanimously elected to his high office, and when the calumnies which began to be whispered reached his ear, he returned to the Pope and demanded an immediate examination into the conduct of the order. His own character would stand the highest test for probity and morality, his prosecutors even never imputing to him the shameful and dissolute crimes of which they so readily accused his associates: but this was no protection, for he too was loaded with chains, and severe tortures applied. His sufferings, the menaces of the Inquisitor, the assurance that the knights would be condemned to death, and the order destroyed, if they did not yield to the king's projects, the pardonable desire of sparing their blood, and the hope of appeasing the King and Pope, induced him to condescend to an acknowledgment that lie had against his own will denied his Saviour. But this he retracted very speedily, and kept stedfast to it through many sufferings and privations: the cardinals, however, refused credence to the withdrawal, and in May 1310, they read the sentence in the church of Notre Dame, condemning him to perpetual imprisonment. To the great astonishment of those present, the Grand Master and one of his companions proclaimed the retractation of their confession, accusing themselves only of the crime of having ever made it. The cardinals, taken by surprise, entrusted these two prisoners to the care of the Provost, but when the king heard of it, he called his council together, among whom there was not a single ecclesiastic, and it was decided that De Molay and the knights should be immediately burnt.
An immense pile of wood was prepared for them, when, as a last effort on the part of the king, he sent the public crier to offer pardon and liberty to any one who would avow his participation in these pretended crimes. Neither the sight of horrible preparations for death, nor the tears of their relatives, nor the entreaties of their friends, could shakE any of these inflexible souls; the offers of the king were reiterated, but cunning, prayers, and menaces, all were useless.
They had already submitted to the shame of an untrue confession, and now a noble repentance, with the feelings of virtue and truth, made them prefer death on the scaffold to a life redeemed by ignominy and untruth. The Grand Master was the first to ascend the steps, and the heroic old man addressed the multitude thus: 'None of us have betrayed either our God or our country: we die innocent: the decree which condemns us is an unjust one, but there is in heaven an august tribunal where the oppressed never implore in vain; to that tribunal I cite thee, 0 Roman Pontiff; within forty days thou shalt be there; and thee, 0 Philip, my master and my king: in vain do I pardon thee, thy life is condemned: within the year I await thee before God's throne.'
Such citations were not uncommon in the middle ages, but perhaps the deaths of the pope and king, who survived De Molay but a short time, were the occasion of the popular tradition which has been retained by historians-Justus Lipsius, for instance.
This at least is certain, that the Templars died without a groan, spewing an admirable firmness of courage, invoking the name of God, blessing Him, and calling Him to witness to their innocence.
Time has rendered them justice. The great Arnaud did not hesitate to believe them guiltless. 'There is scarcely any one,' he says, 'who now believes there was any justice in accusing the Templars of committing impiety, idolatry, and impurity.' The whole charge belonged to the spirit of the age, which, shortly after the death of Philip le Bel, degraded his minister Marigny, and gained over his wife and sister to swear that he had employed a magician to attempt the king's life, by moulding wax images of him and running them through with pins, using at the same time magical incantations. The magician was imprisoned, whereupon he hung himself in despair; his wife was burnt as an accomplice, and Marigny himself was hung.
Philip had done all he could to induce the other European sovereigns to follow his example in the suppression of the Templars: the greater part were only too ready to seize upon their vast treasures. In England sealed orders were sent to all the sheriffs, which when opened were to be executed suddenly. The Templars were imprisoned, but torture does not seem to have been used: they were finally dispersed among various monasteries to live on a miserable pittance granted by the king out of their own enormous revenues. The final decree against them was issued on the 22nd March 1312.
PETER CUMMIN AND OTHER CENTENARIANS
March 22, 1724, was buried in Alnwick churchyard, Peter Cummin, a day-labourer reputed as upwards of a hundred and twenty years old. His name could not be found in the parish register of baptisms, because all previous to 1645 were lost. In his latter years this venerable person used to live from house to house amongst the gentry of the district. It is related of him that, coming to the house of Mr. Brown, of Shawdon, near Alnwick, he looked round him, and expressed wonder at the great changes that had taken place since he was there last. He was asked how long that was ago, when, on a comparison of circumstances, the family found it was just a hundred years.
It may be added that, at Newcastleton in Roxburghshire, they point to a field in the neighbourhood, where one day about 1770, amongst those engaged in reaping, was a woman of great age, but still in possession of a fair share of strength. Chatting with some of her neighbours, she told them she had once reaped in that field before, when she was a girl: and after some discussion, this proved to have been exactly a hundred years before.
As an additional pendant to the case of Peter Cummin, the reader may take that of a noted vagrant, named James Stuart, who died at Tweedmouth, April 11, 1844, aged 116, having been born in South Carolina on 25th December 1728. A few charitable persons having combined to make the last days of this veteran comfortable, he naively remarked to an inquiring friend one day, that:
One of the most curious, though not the most extreme instances of longevity, was described in a letter by Thomas Atkins, dated Windsor, September 28, 1657, addressed to Fuller, and printed by him in his Worthies. The subject of the recital was the Rev. Patrick M'Ilvain, minister of Lesbury, near Alnwick. He was a hundred and ten years of age, having been born at Whithorn, in Wigtonshire, in 1546. Atkins heard this ancient pastor perform the service and preach, as was his custom, using neither spectacles for reading, nor notes for his sermon. 'His text was, 'Seek you the kingdom of God, and all things shall be added unto you.' In my poor judgment he made an excellent good sermon, and went cleverly through, without the help of any notes.'
It appeared that, many years before, he had exhibited the usual symptoms of decay: but latterly his eyesight had been restored, he had got a fresh crop of thin flaxen hair, and three new teeth appeared in his gums. He had always been a spare man, and very abstemious in his habits. Having married when above eighty, he had four youthful daughters living with him, besides his wife, who was only about fifty. It does not appear how long the veteran survived 1657.