Linaria Caerulea: The Blue Linnet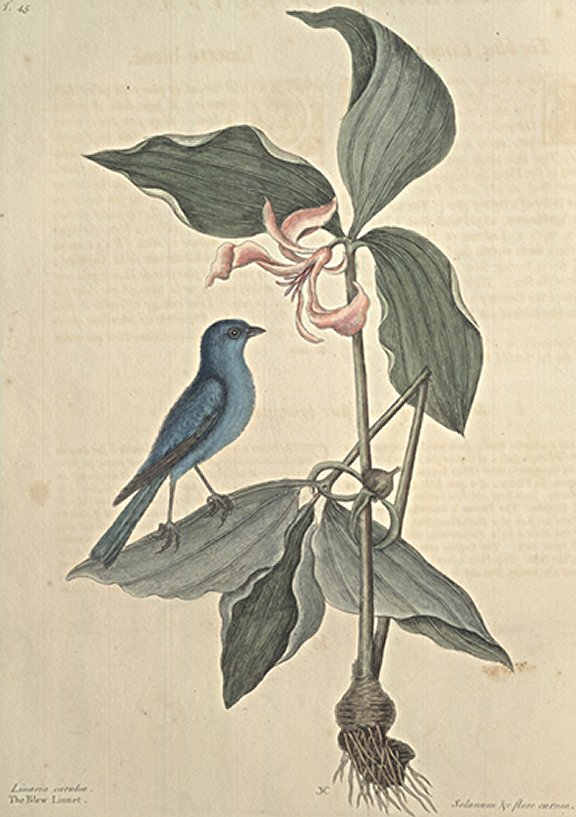 This Bird is rather less than a Goldfinch; weighing eight Penny-weight. The whole Bird appears, at a little Distance, of an intire blue Colour; but, upon a nearer View, it is as follows: The Bill black and Lead-Colour. On the Crown of the Head the blue is most resplendent and deeper than in any other Part. The Neck, Back and Belly of a lighter blue. The large Wing-Feathers are brown, edged with blue. The Tail is brown, with a Tincture of blue. There are none of these Birds within the Settlements of Carolina; I never having seen any nearer than 150 Miles from the Sea; Their Abode being in the hilly Parts of the Country only. Their Notes are somewhat like those of our Linnets.
The Spaniards in Mexico call this Bird Azul lexos, or the far fetch'd Blue-Bird.
Solanum triphylion flore hexapetalo carneo
This has a tuberous Root; from which shoots forth two or three straight Stalks, of about eight Inches high; on which are set triangularly three ribbed Leaves; from between which proceeds its Flower, of a pale Red, composed of six spreading Leaves, three large and three smaller, with Stamina of unequal Lengths. The Flower is succeeded by its Seed-Vessel, in Form and Size of a small Hazel-Nut, but somwhat channell'd, and cover'd by a Perianthium, which divides in Three, and turns back. The Capsula contains innumerable small Seeds, like Dust. This Plant I found at the Sources of great Rivers; not having seen any in the inhabited Parts of Carolina.