Mark Catesby was born in Sudbury, England in 1683. His father was a lawyer and farmer. After studying Natural History in London, Catesby travelled to Virginia with his sister, Elizabeth Catesby Cocke who was emigrating to join her husband. The death of his father had meant that Catesby could raise funds to pay for his big adventure. Catesby, his sister and her children left England in 1712.
Already an experienced botanist (which was his primary interest) Catesby could not have timed things better. A whole new continent was opening up, and back in England there was an insatiable appetite for the new exotic species being discovered.
Catesby's first trip lasted from 1712 to 1719 and included a visit to the West Indies. During this expedition Catesby had collected seeds and botanical specimens, which on his return to England made him a name amongst the scientific community.
In 1722 he embarked on a second trip, this time sponsored by members of the Royal Society. He returned in 1726, and spent the next seventeen years creating his Natural History of Carolina, Florida and the Bahama Islands. It is the first published natural history work of North America, and when completed comprised of 220 plates.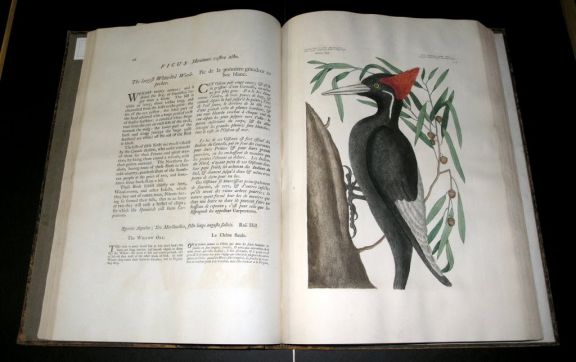 Pages from Mark Catesby's Natural History
Catesby's work was hot property, but unfortunately his fame did not last. In his last years Catesby worked as a horticulturist in various London nurseries. He married at the late age of 65, and died two years later leaving a widow, two young children and little money.
I found an anecdote that has a ring of truth about it. Not only was life harsh during the collection trips, but also Catesby preserved the smaller specimens in rum. Which the sailors on the route home were not averse to drinking, despite the other contents!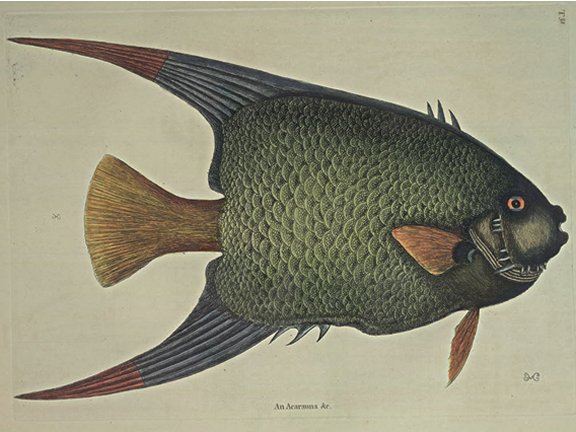 An Angel Fish painted by Mark Catesby
Personally, I prefer Catesby's art to that of Audubon, although I know I am in a minority. I also think it is great pity that there is no known portrait of Mark Catesby, and that history has largely neglected his work. So although it is in the collection, I thought that I'd show my favorite Catesby image here as well. I have sneaked it in a few projects of mine, including the navigation links on this section :) Hopefully you'll appreciate it as much as I do, along with the rest of Catesby's art I have here.