A massy bowl, to deck the jovial day,
Flash'd from its ample round a sunlike ray.
Full many a cent'ry it shone forth to grace
The festive spirit of th' Andarton race,
As, to the sons of sacred union dear,
It welcom'd with lamb's-wool the rising year.

Held in the Roman Catholic Church as the festival of Ciretumcisio Domini; observed as a feast in the Church of England on the same account.
Born: Soame Jenyns, 1704, London; Baron Franz Von Trenck, 1710; Edmund Burke, 1730, Dublin; G. A. Burger, 1748, Walmerswemde; Miss Maria Edgeworth, 1767; Edward Stanley, Bishop of Norwich, 1779; Francis Earl of Ellesmere, 1800.
Died: Louis XII of France, 1515; W. Wycherley, 1716; C. A. Helvetius, 1772, Paris; Silvio Tellico, 1854; John Britton, antiquary and topographer, 1857.
Feast Day: St. Fulgentius, bishop and confessor; St. Odilo or Olou, sixth abbot of Cluni; St. Almachus, martyr; St. Eugendus, abbot; St. Faine or Fanchea, virgin, of Ireland; St. Mochua or Moncain, alias Claunas, abbot in Ireland; and St. Medina, alias Cronan, of Balla, abbot in Ireland.
EDMUND BURKE
In the oratorical era of the House of Commons -the eighteenth century-who greater in that arena than Edmund Burke? A wonderful basis of knowledge was crowned in his case by the play of the most brilliant imagination. It is an example of 'inconsistency in expectations,' to look for life-long solidity of opinion in such a man. His early friend, Single-speech Hamilton, hit off his character as a politician in a single sentence: 'Whatever opinion Burke, from any motive, supports, so ductile is his imagination, that he soon conceives it to be right.' Goldsmith's epitaph upon him, in the poem, Retaliation, is not less true:
Here lies our good Edmund, whose genius was such,
We scarcely can praise it or blame it too much;
Who, born for the universe, narrowed his mind,
And to party gave up what was meant for mankind.
Though fraught with all learning, yet straining his throat
To persuade Tommy Townsend to lend him a vote;
Who, too deep for his hearers, still went on refining,
And thought of convincing, while they thought of dining;
Though equal to all things, for all things unfit;
Too nice for a statesman, too proud for a wit;
For a patriot too cool; for a drudge disobedient,
And too fond of the right to pursue the expedient.
In short, 'twas his fate, unemployed or in place, sir,
To eat mutton cold, and cut blocks with a razor.

Turning away from the inconstancy of Mr. Burke as a politician, let us contemplate him as a private friend in a day's journey, as delineated by Mr. Hardy in his Memoirs of Lord Clearlemont.
'One of the most satisfactory days, perhaps, that I ever passed in my life was going with him, tete-a-tete, from London to Beaconsfield. He stopped at Uxbridge whilst the horses were feeding, and happening to meet some gentlemen, of I know not what militia, who appeared to be perfect strangers to him, he entered into discourse with them at the gate way of the inn. His conversation at that moment completely exemplified what Johnson said of him: 'That you could not meet Burke for half an hour under a shed, without saying he was an extraordinary man.' He was on that day altogether uncommonly instructive and agreeable. Every object of the slightest notoriety, as we passed along, whether of natural or local history, furnished him with abundant materials for conversation. The house at Uxbridge, where the Treaty was held during Charles the First's time; the beautiful and undulating grounds of Bulstrode, formerly the residence of Chancellor Jeffries; and Waller's tomb, in Beaconsfield Churchyard, which, before we went home, we visited, and whose character-as a gentleman, a poet, and an orator-he shortly delineated, but with exquisite felicity of genius, altogether gave an uncommon interest to his eloquence; and, although one-and-twenty years have now passed since that day, I entertain the most vivid and pleasing recollection of it.'

G. A. BURGER
To the poet Burger belongs the honour of having, by two ballads, impressed the poetical mind of England, and conduced in some measure to its being turned into new channels. A translation of these ballads, which appeared in 1796, was the first publication of Scott. The ride of the spectre bridegroom with his mistress, in Scott's version of Lenore, is a splendid piece of painting:
Strong love prevailed; she busks, she bounce,
She mounts the barb behind,
And round her darling William's waist
Her lily arms she twined.

And hurry! hurry! off they rode,
As fast as fast might be;
Spurned from the courser's thundering heels,
The flashing pebbles flee.

And on the right, and on the left,
Ere they could snatch a view,
Fast, fast, each mountain, mead and plain,
And cot and castle, flew.

'Sit fast-dost fear? The moon shines clear-
Fleet goes my barb-keep hold!
Fear'st thou?' 'O no,' she faintly said;
'But why so stern and cold?

What yonder rings? what yonder sings?
Why shrieks the owlet gray?'
''Tis death bells' clang, 'tis funeral song,
The body to the clay.

With song and clang, at morrow's dawn,
Ye may inter the dead:
To-night I ride, with my young bride,
To deck our bridal-bed.

Come with thy choir, thou coffined guest,
To swell our nuptial song!
Come, priest, to bless our marriage feast,
Come all, come all along! '

Ceased clang and song; down sank the bier;
The shrouded corpse arose:
And hurry! hurry! all the train
The thundering steed pursues.

And forward! forward! on they go;
High snorts the straining steed;
Thick pants the riders' labouring breath,
As headlong on they speed.

'O William, why this savage haste?
And where thy bridal-bed?'
''Tis distant far, low, damp, and chill,
And narrow, trustless maid.'

'No room for me?' 'Enough for both;
Speed, speed, my barb, thy course!'
O'er thundering bridge, through boiling surge,
He drove the furious horse.

Tramp! tramp! along the land they rode,
Splash! splash! along the sea;
The scourge is white, the spur is bright,
The flashing pebbles flee.

Fled past on right and left how fast,
Each forest, grove, and bower!
On right and left fled past how fast,
Each city, town, and tower!

'Dost fear? dost fear? The moon shines clear,
Post fear to ride with me?
Hurrah! hurrah! the dead can ride!
'O William, let them be!

See there! see there! What yonder swings
And creaks 'mid whistling rain?'
'Gibbet and steel, the accursed wheel;
A murderer in his chain.

Hollo! thou felon, follow here:
To bridal-bed we ride;
And thou shalt prance a fetter dance
Before me and my bride.

And hurry! hurry! clash, clash, clash!
The wasted form descends;
And fleet as wind through hazel-bush
The wild career attends.

Tramp! tramp! along the land they rode,
Splash! splash! along the sea;
The scourge is red, the spur drops blood,
The flashing pebbles flee.

How fled what moonshine faintly chewed!
How fled what darkness hid!
How fled the earth beneath their feet,
The heaven above their head!

'Dost fear? dost fear? The moon shines clear,
And well the dead can ride;
Does faithful Helen fear for them?'
'O leave in peace the dead!'

'Barb! barb! methinks I hear the cock,
The sand will soon be run:
Barb! barb! I smell the morning air;
The race is well-nigh done.'

Tramp! tramp! along the land they rode,
Splash! splash! along the sea;
The scourge is red, the spur drops blood,
The flashing pebbles 'lee.

'Hurrah! hurrah! well ride the dead;
The bride, the bride is come:
And soon we reach the bridal-bed,
For, Helen, here's my home.'

In his latter days, as a professor in the university of Gottingen, Burger was inefficient, yet still much respected as the writer of the immortal Lenore. 'When Tiede became acquainted with him, he had been lately separated from his third wife. He was lean, pale, shrunken-misery was written in his features. His voice had lost its force; he could only make himself intelligible with difficulty; and yet he was obliged to speak. Now and then he would ride out, and there was something spectral about the pale man as he trotted through the streets of Gottingen on his lean white horse. One was reminded of the Ride of Death, which he had so forcibly described. Sometimes a ray of sunshine would fall on his gloomy soul, when any one succeeded in drawing him against his will into his old circle of good friends, whom he now anxiously avoided-shunning, indeed, all intercourse with mankind . . . . In unconstrained moments, Burger could appear unconstrained, sympathetic, and even cheerful. He had something amiable and child-like in his nature.'-Kopke's Reminiscences of Ludwig Tieck, 1856.
FRANCIS, EARL OF ELLESMERE
There is something in Johnson's remark, that personal merits in a man of high rank deserve to be 'handsomely acknowledged.' Sure of homage on account of birth and means, it must be unusually good impulses which lead him to study, to useful arts, or to administrative business. The second son of the Duke and Duchess of Sutherland, destined to an immense collateral inheritance, the Earl of Ellesmere devoted himself to elegant literature-in which his own efforts were far above mediocrity-to the patronage of the ennobling arts, and to disinterested duty in the public service. The benevolence of his nature led him in early life, as a member of the House of Commons, to lean to a liberal class of measures which were then little patronised, but the benefits of which were afterwards realized. At a time, moreover, when few were thinking much of the tastes and gratifications of the great body of the people, Lord Ellesmere prepared a splendid picture gallery winch he made easily accessible to the public. This amiable nobleman died on the 18th February 1857.
WILLIAM WYCHERLEY
While a literary man has his natural life, like other men, his fame has another and distinct life, which grows to maturity, flourishes a greater or less space of time, decays, and comes to an end, or in rare cases perseveres in a sort of immortality. Wycherley is one of the larger class of poets whose fame-life may be said to have died. First, his poems dropped out of notice; finally, his plays. Yet his name has still a place in literary biography, if only for one or two anecdotes which it includes, and for his having as a veteran patronised the youthful Pope.
One of Wycherloy's most successful plays was entitled The Plain Dealer; and thereby hangs one of the anecdotes: 'Wycherley went down to Tunbridge, to take either the benefit of the waters or the diversions of the place; when walking one day upon the Wells Walk, with his friend Mr. Fairbeard of Cray's Inn, just as he came up to the bookseller's, the Countess of Drogheda, a young widow, rich and beautiful, came to the bookseller and inquired for The Plain Dealer.
'Madam,' says Mr. Fairbeard,' since you are for the Plain Dealer, there he is for you,' pushing Mr. Wycherley towards her.
'Yes,' says Mr. Wycherley, 'this lady can bear plain dealing, for she appears to be so accomplished, that what would be a compliment to others, when said to her would be plain dealing'
'No, truly, sir,' said the lady, 'I am not without my faults more than the rest of my sex: and yet, notwithstanding all my faults, I love plain dealing, and never am more fond of it than when it tells me of a fault.'
'Then, madam,' says Mr. Fairbeard, 'you and the Plain Dealer seem designed by heaven for each other.'

'In short, Mr. Wycherley accompanied her on her walks, waited upon her home, visited her daily at her lodgings whilst she stayed at Tunbridge, and after she went to London, at her lodgings in Hatton Garden, where in a little time he obtained her consent to marry her.'
The story unfortunately does not end so pleasantly. The lady proved unreasonably jealous, and led her husband a rather sad life. After her death, her bequest to him was disputed at law, and, drowned in debt, he was immured in a jail for seven years!-such frightful penalties being then exigible by creditors.
LOUIS XII OF FRANCE
He was one of the few sovereigns of France who were entirely estimable. He was sober, sweet-natured, modest, laborious, loved knowledge, was filled with sentiments of honour, religion, and benevolence. He strove by economy to keep down the amount of the public burdens, and when his frugal habits were ridiculed in the theatre, he said laughingly that he would rather have the people to be amused by his stinginess than groan under his prodigality. He held as a principle that the justice of a prince obliged him to owe nothing, rather than his greatness to give much. It was rare indeed to find such. correct ideas regarding the use and value of money in those days.
The first wife of Louis XII being dead, he married, at fifty-three, a second and youthful spouse, the Princess Mary, sister of Henry VIII, and did not outlive the event three months. His widow returned to her own country, and married her first lover, Charles Brandon, Duke of Suffolk.
CORONATION OF CHARLES II AT SCONE, 1651
On the 1st of January 1651, the son of Charles I was crowned as Charles II by the Scots at Scone, the southern part of the country being occupied at the time by Cromwell with a hostile army. The extreme measure of cutting off the late king and extinguishing the monarchy was generally disapproved of in Scotland; but in taking up the young king, the Scots were chiefly animated by a desire of preserving and advancing their favourite Presbyterian church arrangements, according to the spirit of the famous Solemn League and Covenant.
Charles, who was then only twenty, being anxious to get a footing in his father's lost dominions, consented, much against his will, to accept this Covenant, which inferred an active persecution of both popery and prelacy; and the Scots accordingly received him amongst them, fought a battle for him against Cromwell at Dunbar, and now crowned him. A. sermon was preached on the occasion by Mr. Robert Douglas, who had the reputation (but upon no just grounds) of being a descendant of Mary queen of Scots.
The crown was put upon the young king's head by the Marquis of Argyle, whom ten years after he sent to the scaffold for compliances with Cromwell. The defeat of the Scots and their young king at Worcester on the 3rd September of this year put an end to Charles's adventure, and he with difficulty escaped out of the country. How he subsequently treated the Covenant and its adherents need not here be particularised.
MARCH OF GENERAL MONK FROM COLDSTREAM
On the 1st of January 1660, General Monk commenced that march from Scotland to London which was so instrumental in effecting the Restoration. He started with his little army of six or seven thousand men from the town of Coldstream, in Berwickshire-a name which has been commemorated in the title of a regiment which he is believed to have embodied at the place, or soon after. Monk had spent about three weeks at Coldstream, which was a favourable spot for his purpose, as the Tweed was there fordable; but he seems to have found it a dismal place to quarter in. On his first arrival, he could get no provisions for his own dinner, and was obliged to content himself with a quid of tobacco. His chaplains, less easily satisfied, roamed about till they obtained a meal at the house of the Earl of Hume near by.-Monk, a Historical Study, by M. Guizot, translated by J. Stuart Wortley, 1838.
UNION OF IRELAND WITH GREAT BRITAIN, 1801
On the 1st of January 1801-the initial day of the nineteenth century-Ireland passed into an incorporating union with Great Britain, and the three kingdoms were thenceforth styled the United Kingdom of Great Britain and Ireland.
The expression, 'initial day of the nineteenth century,' requires something to be said in its defense, for many persons regard the year 1800 as the beginning of the present century. The year 1801 is, in reality, entitled to this honour, because then only had the previous century been completed. To make this plain, let the reader reflect that it required the year 100 to complete the first century, the year 200 to complete the second century, and so on through all that followed. To say, then, that the year 1800 was the first of a new century, is to be led by sound, instead of fact.
DISCOVERY OF THE PLANETOIDS
On the 1st of January 1801, the Sicilian astronomer, M. Piazzi, discovered a new planet, to which he gave the name of Ceres, in honour of a goddess formerly in much esteem in Sicily. It was the first discovered of a number of such bodies of small size, which occupy the place due to one such body of large size, between the orbits of Mars and Jupiter. At present (1861), the number is over seventy.
'It was noted that between the orbits of Mercury and Venus there is an interval of thirty-one millions of miles; between those of Venus and the Earth, twenty-seven millions; and between those of the Earth and Mars, fifty millions; but between the orbits of Mars and Jupiter there intervenes the tremendous gap of three hundred and forty-nine millions of miles, to the apparent interruption of the general order, which, how-ever, is again resumed beyond Jupiter.' This wide interval, and some other considerations, having raised the suspicion of an unknown planet between Mars and Jupiter, a combination of twenty-four practical observers was formed to search for the missing link. 'On New-Year's Day 1801, ere they had well got into harness, Piazzi, one of their number [at Palermo], made an observation on a small star in Taurus, which he took for one of Mayer's. On the 2nd of January, he found that the supposed star had retrograded no less than 4' in AER, and 32' in north declination. This retrogradation continued till about the 12th, when the movement became direct, and he followed the body till it was lost in the solar rays. Illness, however, prevented his getting observations enough to establish its nature, and he considered it to be cometary.
Meantime, he had written to Bode and Oriani on the subject, but the delays of the post in that comparatively recent day, by keeping back the intelligence, precluded its being examined during that apparition. Curiosity and zeal were, however, on the alert; Bode immediately suspected the real nature of the stranger; and Olbers, Burckhardt, and Gauss computed its orbit from the slender data thus afforded. The knowledge of its having been stationary on the 12th of January, with an elongation from the sun of 4s 2° 37' 48' aided the computation, and proved it to be a superior planet. Thus was Ceres discovered on the 1st of January 1801. Its diameter, according to Sir William Herschel, is only 163 miles.'- Smythe's Cycle of Celestial Objects, i. 154.
New Year's Day Festivities
Long ere the lingering dawn of that blithe morn
Which ushers in the year, the roosting cock,
Flapping his wings, repeats his larnun shrill;
But on that morn no busy flail obeys
His rousing call; no sounds but sounds of joy
Salute the year-the first-foot's entering step,
That sudden on the floor is welcome heard,
Ere blushing maids have braided up their hair;
The laugh, the hearty kiss, the good new year
Pronounced with honest warmth. In village, grange,
And borough town, the steaming flagon, borne
From house to house, elates the poor man's heart,
And makes him feel that life has still its joys.
The aged and the young, man, woman, child,
Unite in social glee; even stranger dogs,
Meeting with bristling back, soon lay aside
Their snarling aspect, and in sportive chase,
Excursive scour, or wallow in the snow.
With sober cheerfulness, the grandam eyes
Her offspring round her, all in health and peace;
And, thankful that she's spared to see this day
Return once more, breathes low a secret prayer,
That God would shed a blessing on their heads.

As New-Year's Day, the first of January bears a prominent place in the popular calendar. It has ever been a custom among northern nations to see the old year out and the new one in, with the highest demonstrations of merriment and conviviality. To but a few does it seem to occur that the day is a memorandum of the subtraction of another year from the little sum of life; with the multitude, the top feeling is a desire to express good wishes for the next twelvemonths' experience of their friends, and be the subject of similar benevolence on the part of others, and to see this interchange of cordial feeling take place, as far as possible, in festive circumstances. It is seldom that an English family fails to sit up on the last night of the year till twelve o'clock, along with a few friends, to drink a happy New Year to each other over a cheerful glass. Very frequently, too, persons nearly related but living apart, dine with each other on this day, to keep alive and cultivate mutual good feeling. It cannot be doubted that a custom of this kind must tend to obliterate any shades of dissatisfaction or jealous anger, that may have arisen during the previous year, and send the kindred onward through the next with renewed esteem and regard. To the same good purpose works the old custom of giving little presents among friends on this day:
The King of Light, father of aged Time,
Hath brought about that day which is the prime,
To the slow-gliding months, when every eye
Wears symptoms of a sober jollity.

Charles Lamb had a strong appreciation of the social character of New-Year's Day. He remarks that no one of whatever rank can regard it with indifference. 'Of all sounds of all bolts,' says he, 'most solemn and touching is the peal which rings out the old year. I never hear it without a gathering up of my mind to a concentration of all the images that have been diffused over the past twelvemonth; all I have done or suffered, performed or neglected, in that regretted time. I begin to know its worth as when a person dies. It takes a personal colour; nor was it a poetical flight in a contemporary, when he exclaimed:
'I saw the skirts of the departing year.'

One could wish that the genial Ella had added something in recommendation of resolutions of improvement of the year to come, for which Now-Year's Day is surely a most appropriate time. Every first of January that we arrive at, is an imaginary milestone on the turnpike track of human life: at once a resting-place for thought and meditation, and a starting point for fresh exertion in the performance of our journey. The man who does not at least propose to himself to be better this year than he was last, must be either very good or very bad indeed! And only to propose to be better, is something; if nothing else, it is an acknowledgment of our need to be so, which is the first step towards amendment. But, in fact, to propose to oneself to do well, is in some sort to do well, positively; for there is no such thing as a stationary point in human endeavours; he who is not worse today than he was yesterday, is better; and he who is not better, is worse.'
The merrymakings of New-Year's Eve and New-Year's Day are of very ancient date in England. The head of the house assembled his family around a bowl of spiced ale, comically called lamb's wool, from which ho drank their health; thou passed it to the rest, that they might drink too. The word that passed amongst them was the ancient Saxon phrase, Wass hael; that is, To your health. Hence this came to be recognised as the Wassail or Wassel Bowl. The poorer class of people carried a bowl adorned with ribbons round the neighbourhood, begging for something wherewith to obtain the means of filling it, that they too might enjoy wassail as well as the rich. In their compotations, they had songs suitable to the occasion, of which a Gloucestershire example has been preserved:
Wassail! wassail! over the town,
Our toast it is white, our ale it is brown:
Our bowl it is made of the maplin tree,
We be good fellows all; I drink to thee.

Here's to [The name of some horse] and to his right ear,
God send our maister a happy New Year;
A happy New Year as e'er he did see-
With my wassailing bowl I drink to thee.

Here's to [The name of another horse], and to his right eye,
God send our mistress a good Christmas pie
A good Christmas pie as e'er I did see-
With my wassailing bowl I drink to thee.

Here's to Filpail, and her long tail,
God send our measter us never may fail
Of a cup of good beer; I pray you draw near,
And then you shall hear our jolly wassail.

Be here any maids, I suppose here be some;
Sure they will not let young men stand on the cold stone;
Sing hey O maids, come troll back the pin,
And the fairest maid in the house, let us all in.

Come, butler, come bring us a bowl of the best:
I hope your soul in heaven may rest:
But if you do bring us a bowl of the small,
Then down fall butler, bowl, and all.

What follows is an example apparently in use amongst children:
Here we come a wassailing,
Among the leaves so green,
Here we come a wandering,
So fair to be seen.

Chorus. Love and joy come to you,
And to your wassel too,
And God send you a happy New Year,
A New Year,
And God send you a happy New Year!
Our wassel cup is made of rosemary-tree,
So is your beer of the best barley.

We are not daily beggars,
That beg from door to door;
But we are neighbours' children,
Whom you have seen before.

Call up the butler of this house,
Put on his golden ring,
Let him bring us up a glass of beer
And the better we shall sing.

We have got a little purse,
Made of stretching leather skin,
We want a little of your money
To line it well within.

Bring us out a table,
And spread it with a cloth;
Bring us out a mouldy cheese,
And some of your Christmas loaf.

God bless the master of this house,
Likewise the mistress too,
And all the little children,
That round the table go!

Good master and mistress,
While you're sitting by the fire,
Pray think of us poor children,
Who are wandering in the mire.

Chorus. Love and joy come to you, &c.

The custom of wassail at the New Year was kept up in the monasteries as well as in private houses. In front of the abbot, at the upper end of the refectory table, was placed the mighty bowl styled in their language Poculum Caritatis, and from it the superior drank to all, and all drank in succession to each other. The corporation feasts of London still preserve a custom that affords a reflex of that of the wassail bowl. A double-handled flagon full of sweetened and spiced wine being handed to the master, or other person presiding, he drinks standing to the general health, as announced by the toastmaster; then passes it to his neighbour on the left hand, who drinks standing to his next neighbour, also standing, and so on it goes, till all have drunk. Such is the well-known ceremony of the Loviny Cup.
[Receipt for Making the Wassailbowl - Simmer a small quantity of the following spices in a teacupful of water, viz.:-Cardamums, cloves, nutmeg, mace, ginger, cinnamon, and coriander. When done, put the spice to two, four, or six bottles of port, sherry, or madeira, with one pound and a half of fine loaf sugar (pounded) to four bottles, and set all on the fire in a clean bright saucepan; meanwhile, have yolks of 12 and the whites of 6 eggs well whisked up in it. Then, when the spiced and sugared wine is a little warm, take out one teacupful; and so on for three or four cups; after which, when it boils, add the whole of the remainder, pouring it in gradually, and stirring it briskly all the time, so as to froth it. The moment a fine froth is obtained, toss in 12 fine soft roasted apples, and send it up hot. Spices for each bottle of wine:-10 grains of mace, 46 grains of cloves, 37 grains of cardamums, 28 grains of cinnamon, 12 grains of nutmeg, 48 grains of ginger, 49 grains of coriander seeds.-Mark Lane Express.]

Till very few years ago in Scotland, the custom of the wassail bowl at the passing away of the old year might he said to be still in comparative vigour. On the approach of twelve o'clock, a hot pint was prepared-that is, a kettle or flagon full of warm, spiced, and sweetened ale, with an infusion of spirits. When the clock had struck the knell of the departed year, each member of the family drank of this mixture 'A good health and a happy New Year and many of them' to all the rest, with a general hand-shaking, and perhaps a dance round the table, with the addition of a song to the tune of Hey tuttie taitic:
Weel may we a' be,
Ill may we never see,
Here's to the king
And the gude companie!' &c.

The elders of the family would then most probably sally out, with the hot kettle, and bearing also a competent provision of buns and short-bread, or bread and cheese, with the design of visiting their neighbours, and interchanging with them the same cordial greetings. If they met by the way another party similarly bent, whom they knew, they would stop and give and take sips from their respective kettles. Reaching the friend's house, they would enter with vociferous good wishes, and soon send the kettle a-circulating. If they were the first to enter the house since twelve o'clock, they were deemed as the first-foot; and, as such, it was most important, for luck to the family in the coming year, that they should make their entry, not empty-handed, but with their hands full of cakes and bread and cheese; of which, on the other hand, civility demanded that each individual in the house should partake.
To such an extent did this custom prevail in Edinburgh in the recollection of persons still living, that, according to their account, the principal streets were more thronged between twelve and one in the morning than they usually were at midday. Much innocent mirth prevailed, and mutual good feelings were largely promoted. An unlucky circumstance, which took place on the 1st January of 1812, proved the means of nearly extinguishing the custom. A small party of reckless boys formed the design of turning the innocent festivities of firstfootinq to account for purposes of plunder. They Kept their counsel well. No sooner had the people come abroad on the principal thoroughfares of the Old Town, than these youths sallied out in small bands, and commenced the business which they had undertaken.
Their previous agreement was, to look out for the white neckcloths,-such being the best mark by which they could distinguish in the dark individuals likely to carry any property worthy of being taken. A great number of gentlemen were thus spoiled of their watches and other valuables. The least resistance was resented by the most brutal maltreatment. A policeman, and a young man of the rank of a clerk in Leith, died of the injuries they had received. An affair so singular, so uncharacteristic of the people among whom it happened, produced a widespread and lasting feeling of surprise. The outrage was expiated by the execution of three of the youthful rioters on the chief scone of their wickedness; but from that time, it was observed that the old custom of going about with the hot pint-the ancient wassail -fell off.
A gentleman of Preston has communicated to a popular publication that for many years past he has been in the habit of calling on a friend, an aged lady, at an early hour of New-Year's Day, being by her own desire, as he is a fair-complexioned person, and therefore assumed to be of good omen for the events of the year. On one occasion, he was prevented from attending to his old friend's request, and her first caller proved to be a dark-complexioned man; in consequence of which there came that year sickness, trouble, and commercial disaster.
In the parish of Berlen, near Snodland, in the county of Kent, are the remains of the old mansion of Groves, originally the property of a family named Hawks. On part of this house being pulled down in the latter part of the eighteenth century, there was found an oak beam supporting the chimney, which presented an antique carving exactly represented in the engraving at the head of this article. The words Wass hell and Drinc hello leave no doubt that the bowl in the centre was a representation of the wassail bowl of the time when the house was built, probably the sixteenth century. The two birds on the bowl are hawks-an allusion to the name of the family which originally possessed the mansion.
'The wassail bowle,' says Warton, 'is Shakespeare's Gossip's Bowl in the Midsummer Night's Dream. The composition was ale, nutmeg, sugar, toast, and roasted crabs or apples.' The word is interpreted by Verstegan as wase hale-that is, grow or become well. It came in time to signify festivity in general, and that of rather an intemperate kind. A wassail candle was a largo candle used at feasts.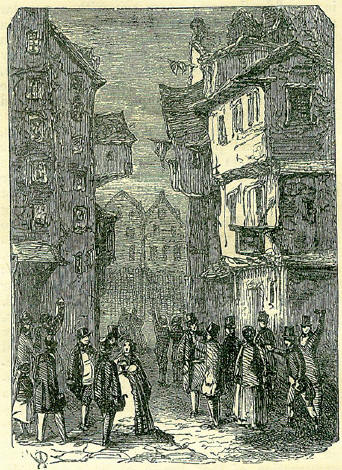 There was in Scotland a first footing independent of the hot pint. It was a time for some youthful friend of the family to steal to the door, in the hope of meeting there the young maiden of his fancy, and obtaining the privilege of a kiss, as her first-foot. Great was the disappointment on his part, and great the joking among the family, if through accident or plan, some half-withered aunt or ancient grand-dame came to receive him instead of the blooming Jenny.
It may safely be said that New-Year's Day has hitherto been observed in Scotland with. a heartiness nowhere surpassed. It almost appears as if. by a sort of antagonism to the general gravity of the people, they were impelled to break out in a half-mad merriment on this day. Every face was bright with smiles; every hand ready with the grasp of friendship. All stiffness arising from age, profession, and rank, gave way. The soberest felt entitled to take a license on that special day. Reunions of relatives very generally took place over the festive board, and thus many little family differences were obliterated. At the pre-sent time, the ancient practices are somewhat decayed; yet the First of January is far from being reduced to the level of other days.
A grotesque manorial custom is described as being kept up in the reign of Charles II, in connection with Hilton in Staffordshire. There existed in that house a hollow brass image, about a foot high, representing a man kneeling in an indecorous posture. It was known all over the country as Jack of Hilton. There were two apertures, one very small at the mouth, another about two-thirds of an inch in diameter at the back, and the interior would hold rather more than four pints of water, 'which, when sot to a strong fire, evaporates after the same manner as in an Æolipile, and vents itself at the mouth in a constant blast, blowing the fire so strongly that it is very audible, and makes a sensible impression in that part of the fire where the blast lights.'
Now the custom was this. An obligation lay upon the lord of the adjacent manor of Essington, every New-Year's Day, to bring a goose to Hilton, and drive it three times round the hall fire, which Jack of Hilton was all the time blowing by the discharge of his steam. He was then to carry the bird into the kitchen and deliver it to the cook; and when it was dressed, he was further to carry it in a dish to the table of his lord paramount, the lord of Hilton, receiving in return a dish of meat for his own mess.
At Coventry, if not in other places throughout England, it is customary to eat what are called God-cakes on New-Year's Day. They are of a triangular shape, of about half an inch thick, and filled with a kind of mince-meat. There are halfpenny ones cried through the street; but others of much greater price--even it is said to the value of a pound-are used by the upper classes.