Born: St. Proclus, patriarch of Constantinople, 412; Mary I, Queen of England, 1516, Greenwich; William Earl of Pembroke, 1580; Samuel Butler, author of Hudibras, 1612, Strensham; Peter Daniel Huet, bishop of Avranches, 1630; Charles Henault, littèrateur, 1685, Caen; John Andrew De Luc, Genevese philosopher, 1727.
Died: Mary Queen of Scotland, beheaded at Fatheringay, 1586-7; Richard Pendrell, who aided in the escape of Charles II, 1671, St. Giles's, London; Dr. George Sewel, historian of the Quakers, 1727, Hampstead; Aaron Hill, poet, 1750, Strand.
Feast Day: St. Paul, bishop of Verdun, 631. St. Cuthman of England, 8th century. St. Stephen of Grandmont, 1124. St. John of Matha, founder of the Order of Trinitarians, 1213.
EXECUTION OF MARY QUEEN OF SCOTS
The judicial murder of Mary Queen of Scots -whose life, according to the Earl of Kent, would have been the death of our religion, and whose death was calculated to be its preservation -was performed at Fotheringay Castle, on the 8th of February 1586-7. The minute accounts of the scene, which are too familiar to be here repeated, exhibit a religious dignity, resignation, and apparent serenity of conscience, that tend greatly to counteract the popular impressions regarding the guilt of the Scottish queen. One is at a loss to believe that one who had not lived well could die so well.
Heretofore, the strange conduct of Elizabeth regarding her unfortunate cousin, has not tended to exculpate her from the guilt of authorising the Fotheringay tragedy. But it now begins to appear that she really did not give the final order for the act, but that the whole affair was managed without her consent by Burleigh, Walsingham, and Davison, the signature to the warrant being forged at Walsingham's command by his secretary Thomas Harrison; so that the queen's conduct to these men afterwards was not hypocritical, as hitherto believed. The act was so far of an occult and skulking nature, that a fortnight and a day elapsed before King James, while hunting at Calder, was certified of it. It put him into 'a very great displeasure and grief,' as it well might, and he 'much lamented and mourned for her many days.'
AARON HILL
This extraordinary person-a small poet and great projector-died on the 8th of February 1750, 'in the very minute of the earthquake,' says Davies, 'the shock of which, though speechless, he appeared to feel.' Aaron Hill was of good family, fortune, and connexions, born February 10, 1685, in a house upon the site of Beaufort-buildings, in the Strand. He was for a short time at Westminster School: when fifteen years of age, he made a voyage to Constantinople, purposely to pay a visit to his relative Lord Paget, ambassador there, and who sent him, with a clerical tutor, to travel through Egypt and Palestine, and great part of the East; he subsequently travelled in Europe, with Sir William Wentworth, for two or three years.
In 1709 he published his first poem, Camillus, in honour of the Earl of Peterborough, who made him his secretary. He next wrote eight books of an epic poem, Gideon, but did not complete it. He then produced for Drury-lane Theatre his first tragedy of Elfrida, and was next appointed manager of the Italian Opera-house in the Haymarket, and wrote Rinaldo, being the libretto of the first opera that Handel composed after he came to England. For a poem in praise of the Czar Peter, he was rewarded with a gold medal. He appears to have been such a person as Swift loved to ridicule-a projector, trying various schemes, and succeeding in none. We now find him patenting an oil as sweet as that of olives, from beech-masts; next organising a company for raising plantations in Georgia; afterwards clearing the woods in the Highlands of Scotland, to furnish timber for the navy, and making potash to rival that brought from Russia. These several schemes failed. All this time he was writing turgid, declamatory tragedies, or translating plays from the French theatre: his greatest success was a translation of Voltaire's Zara, in which Mrs.T. Cibber, the excellent tragic actress, made her first appearance on the stage. He was intimate with Bolingbroke and Pope. The latter, falling into a misunderstanding with Hill, classed him with the flying fishes, 'who now and then rise upon their fins, and fly out of the profound; but their wings are soon dry, and they drop down to the bottom.' Hill rejoined by an epigram, and Pope marked him out for a place in the Dunciad; a violent controversy ensued, in which Hill appeared to no advantage; he threatened. Pope with vengeance, which led the little bard of Twickenham for some time to carry loaded pistols, and to be accompanied by his big, faithful Danish dog, Bounce.
Hill lost all his property by his schemes; but he for literary fame confidently appealed to posterity:
Yet while from life my setting prospects fly,
Fain would my mind's weak offspring shun to die;
Fain would their hope some light through time explore,
The name's kind passport when the man's no more.

It is, however, a fact worthy of the consideration of the literary class, that Aaron Hill worked much for fame, and in his lifetime enjoyed a share of it; yet, of all the writings which he issued and which had their day, there is but one little piece-an epigram-which can be said to have survived to our time:
Tender-handed stroke a nettle,
And it stings you for your pains;
Grasp it like a man of mettle,
And it soft as silk remains.

Tis the same with common natures,
Use them kindly, they rebel;
But be rough as nutmeg-graters,
And the rogues obey you well.

SEDANS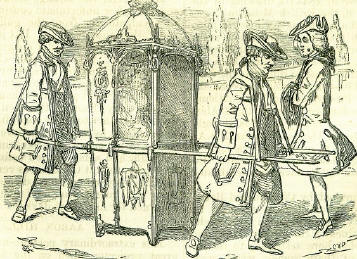 Evelyn, writing at Naples on the 8th February 1645, describes the gay appearance of the city and its inhabitants, adding, 'The streets are full of gallants on horseback, in coaches and sedans,' which last articles, he tells us, were 'from hence brought first into England by Sir Sanders Duncomb.'
It would appear that Sir Sanders introduced this convenience into England in 1634, and, obtaining a patent for it from the king, It is thus, in regard to its starting in England, prepared forty or fifty examples for public use. very nearly contemporaneous with the hackney coach, which dates from 1625. Not inconsistent, however, with this statement of the general use of sedans, may be another given on good authority, that one such convenience had previously been used by the favourite Buckingham, much to the disgust of the people, who exclaimed that he was employing his fellow-creatures to do the service of beasts.
In any community where elegant life was cultivated, the Sedan was sure of favour, being a very handy and pleasant means of getting carried from one's home either to a private or a public entertainment. In the first three quarters of the eighteenth century, when the style of dress was highly refined, and the least derangement to the hair of either lady or gentleman was fatal, the sedan was at its zenith of usefulness. Then was the gentleman, with his silk clothes and nicely arranged toupee and curls, as fain to take advantage of this careful easing as he went from house to house, as any of the softer sex. The nobility, and other wealthy persons, used to keep their own sedans, and have them very handsomely decorated. They stood in the lobby of the town-mansion, ready to be used when required. It must have been a fine sight to see several gilt sedans passing along, with a set of ladies and gentlemen of one family, through the west-end streets of London, attended by link-boys, and being one by one ushered into some luxurious mansion, where company was received for the evening. When the whole party had been duly delivered, the link-boys thrust their flambeaux into the trumpet-like extinguishers which flourished at each aristocratic door-cheek in the metropolis, and withdrew till the appointed time when their services were required for returning home.
In Edinburgh, in the middle of the eighteenth century, there were far more sedans in use than coaches. The sedan was better suited for the steep streets and narrow lanes of the Scottish capital, besides being better fitted in all circumstances for transporting a finely dressed lady or gentleman in a cleanly and composed condition. The public sedans of that city were for the most part in the hands of Highlanders, whose uncouth jargon and irritability amidst the confusions of a dissolving party, or a dismissed theatre, used to be highly amusing. Now, there is no such thing in Edinburgh, any more than in London, as a private sedan; and within the last few years the use of public ones has nearly, if not entirely ceased.
EARTHQUAKES IN ENGLAND
The last earthquake of any considerable violence in England occurred on the 8th of February 1750. Such commotions are not so infrequent in our island as many suppose; but it must be admitted that they are generally innocuous or nearly so. Even in that notoriously mobile district about Comrie in Perthshire,-where during the winter of 1839-40 they had a hundred and forty earth-quakes, being at the rate of about a shock a day at an average,-they seldom do much. harm. Still, seeing that movements capable of throwing down buildings do at rare intervals take place, it might be well to avoid the raising of public structures, as church towers and obelisks, beyond a moderate elevation. Perhaps it will yet be found that the Victoria Tower at Westminster is liable to some danger from this cause.
According to Mrs. Somerville (Physical Geography, ed. 1858), there have been 255 earthquakes put on record in England, most of them slight and only felt in certain districts. The notices of such events given by our chronicles are generally meagre, little to purpose, of no scientific value, and more calculated to raise curiosity than to gratify it. Still, they are better than nothing.
In 1101 all England was terrified 'with a horrid spectacle, for all the buildings were lifted up and then again settled as before. In 1133 many houses were overthrown, and flames issued from rifts in the earth, which defied all attempts to quench them. On the Monday in the week before Easter in 1185:
'chanced a sore earth-quake through all the parts of this land, such a one as the like had not been heard of in England, since the beginning of the world; for stones that lay couched fast in the earth were removed out of their places, houses were overthrown, and the great church of Lincoln rent from the top down-wards.' (Holinshed.)

The next earthquake of any moment occurred on St. Valentine's Eve in 1247, and did considerable damage in the metropolis: this was preceded by a curious phenomenon -for three months prior to the shock the sea ceased to ebb and flow on the English coast, or the flow at least was not perceptible; the earth-quake was followed by a season of such foul weather that the spring was a second winter. On the 12th of September 1275, St. Michael's Church, Glastonbury, was destroyed by an earthquake. John Harding, in his metrical chronicle for 1361, records
On St. Mary's Day
The great wind and earthquake marvellous,
That greatly gan the people all affraye,
So dreadful was it then, and perilous.

Twenty years afterwards another was experienced, of which Fabyan, while omitting all particulars, says, 'The like thereof was never seen in England before that day nor since;' but the very next year (1382) Harding writes:
The earthquake was, that time I saw,
That castles, walls, towers, and steeples fyll,
Houses, and trees, and crags from the hill.

This happened on the 21st of May, and was followed three days afterwards by a 'watershake,' when the ships in the harbours were driven against each other with great violence.
About six o'clock on the evening of the 17th of February 1571, the earth near Kinaston, Herefordshire, began to open:
'and a hill, called Marclay Hill, with a rock under it, made at first a mighty bellowing noise, which was heard afar off, and then lifted up itself a great height and began to travel, carrying along with it the trees that grew upon it, the sheepfolds and flocks of sheep abiding thereon at the same time. In the place from whence it removed, it left a gaping distance 40 feet wide, and 80 ells long,-the whole field was almost 20 acres. Passing along, it overthrew a chapel standing in the way, removed a yew-tree growing in the churchyard from the west to the east; with the like violence it thrust before it highways, houses and trees, made tilled ground pasture, and again turned pasture into tillage.'

Three years later, in the same month, York, Worcester, Gloucester, Bristol, Hereford, and some less important towns, felt the shock of an earthquake, which so alarmed the good people of Norton, who were at evening prayer, that they fled from the chapel, fearing the dead were about to rise from their graves; but this was nothing to the excitement created in London by a similar event which took place on the evening of Easter Wednesday (April 6), 1580. The great clock bell at Westminster struck at the sock, and the bells of the various churches were set jangling; the people rushed out of the theatres in consternation, and the gentlemen of the Temple, leaving their supper, ran out of the hall with their knives in their hands. Part of the Temple Church was cast down, some stones fell from St. Paul's, and two apprentices were killed at Christ Church by the fall of a stone during sermon-time. This earthquake was felt pretty generally throughout the kingdom, and was the cause of much damage in Kent, where many castles and other buildings were injured; and at Dover, a portion of a cliff fell, carrying with it part of the castle wall. So alarmed were all classes, that Queen Elizabeth thought it advisable to cause a form of prayer to be used by all householders with their whole family, every evening before going to bed.
About a century after, according to the compilers of chronologies, Lyme Regis was nearly destroyed by an earthquake; but the historian of Dorsetshire makes no allusion to such an event.
On the 8th of September 1692, the merchants were driven from Change and the people from their houses by a shock, and the streets of London were thronged with a panic-stricken crowd, some swooning, some aghast with wonder and amazement. This earthquake was felt in most of the home counties. Evelyn, writing from Sayes Court to Bishop Tenison, says:
'As to our late earthquake here, I do not find it has left any considerable marks, but at Mins, it is said, it has made some demolitions. I happened to be at my brother's at Wotton, in Surrey, when the shaking was, and at dinner with much company; yet none of us at table were sensible of any motion. But the maid who was then making my bed, and another servant in a garret above her, felt it plainly; and so did my wife's laundrymaid here at Deptford, and generally, wherever they were above in the upper floors, they felt the trembling most sensibly. In London, and particularly in Dover-street, they were greatly affrighted.'

Although the earthquake did little damage, it sufficed to set afloat sundry speculations as to the approaching end of the world, and frightened the authorities into ordering a strict enforcement of the laws against swearing, drunkenness, and debauchery.
The year 1750 is, however, the year par excellence of English earthquakes. It opened with most unseasonable weather, the heat being, according to Walpole, 'beyond what was ever known in any other country;' and on the 8th of February a pretty smart shock was experienced, followed exactly a month afterwards by a second and severer one, when the bells of the church clocks struck against the chiming-hammers, dogs howled, and fish jumped high out of the water. The lord of Strawberry Hill, in a letter to Sir Horace Mann, draws a lively picture of the effect created by the event, and we cannot do better than borrow his narration:
Portents and prodigies are grown so frequent,
That they have lost their name.

'My text is not literally true; but as far as earthquakes go towards lowering the price of wonderful commodities, to be sure we are over-stocked. We have had a second, much more violent than the first; and you must not be surprised if, by next post, you hear of a burning mountain springing up in Smithfield. In the night between Wednesday and Thursday last, the earth had a shivering fit between one and two; but so slight that, if no more had followed, I don't believe it would have been noticed. I had been awake, and had scarce dozed again,-on a sudden I felt my bolster lift my head. I thought somebody was getting from under my bed, but soon found it was a strong earthquake that lasted nearly half a minute, with a violent vibration and great roaring. I got up and found people running into the streets, but saw no mischief done. There has been some; two old houses flung down, several chimnies, and much earthenware. The bells rang in several houses. Admiral Knowles, who has lived long in Jamaica, and felt seven there, says this was more violent than any of them. The wise say, that if we have not rain soon we shall certainly have more. Several people are going out of town, for it has nowhere reached above ten miles from London: they say they are not frightened, but that it is such fine weather, 'Lord, one can't help going into the country!' The only visible effect it has had was in the Ridotto, at which, being the following morning, there were but 400 people.'

A parson who came into White's the morning after earthquake the first, and heard bets laid on whether it was an earthquake or the blowing up of powder mills, went away exceedingly scandalised, and said, 'I protest they are such an impious set of people, that I believe, if the last trumpet was to sound, they would bet puppet-show against judgment!' The excitement grew intense: following the example of Bishops Seeker and Sherlock, the clergy showered down sermons and exhortations, and a country quack sold pills 'as good against an earthquake.' A crazy Life-guardsman predicted a third and more fatal earthquake at the end of four weeks after the second, and a frantic terror prevailed among all classes as the time drew near.
On the evening preceding the 5th of April, the roads out of London were crowded with vehicles, spite of an advertisement in the papers threatening the publication 'of an exact list of all the nobility and gentry who have left or shall leave this place through fear of another earthquake.' 'Earth-quake gowns '-warm gowns to wear while sitting out of doors all night-were in great request with women. Many people sat in coaches all night in Hyde Park, passing away the time with the aid of cards and candles;' and Walpole asks his correspondent, 'What will you think of Lady Catherine Pelham, Lady Frances Arundel, and Lord and Lady Galway, who go this evening to an inn ten miles out of town, where they are to play brag till four o'clock in the morning, and then come back, I suppose, to look for the bones of their husbands and families under the rubbish?' However, the soldier proved a false prophet, and expiated his folly in the madhouse. On the 18th of March in this year an earthquake was felt at Portsmouth, Southampton, and the Isle of Wight. In April, Cheshire, Flintshire, and Yorkshire were startled in like manner: this was followed by an earthquake in Dorsetshire in May, by another in Somersetshire in July, and in Lincoln-shire in August, the catalogue being completed on the 30th. of September by an earthquake ex-tending through the counties of Suffolk, Leicester, and Northampton.
The great earthquake which destroyed Lisbon in 1755, agitated the waters of the three kingdoms, and even affected the fish-pond of Peerless Pool, in the City-road, London; but it produced no damage. Since then several shocks have been experienced here from time to time, but unattended with any circumstances calling for notice; the last one recorded being a slight earthquake felt in the north-western counties of England on the 9th of November 1852.