Born: John Henley (Orator Henley), preacher satirised by Pope, 1692, Melton Mowbray; Charles, Earl Stanhope, reforming statesman, and ingenious in mechanics, 1753; Frederick William III of Prussia, 1770.
Died: James II of Scotland, killed before Roxburgh, 1460; Stephen Dolet, eminent scholar and typographer, burned at Lyon, 1546; Jeremy Taylor, bishop of Down and Connor, celebrated author of Holy Living and other works, 1667, Lisburn, Ireland; John Matthias Gesner, distinguished classical scholar and editor, 1761, Göttingen; Archbishop Thomas Seeker, learned prelate, Lambeth, Palace; Sir Richard Arkwright, celebrated inventor or applier of the roller machine for spinning cotton, 1792, Crumford, Derbyshire; Christopher Anstey, author of The New Bath Guide, 1805, Chippenham; Michael Adanson, French naturalist, 1806, Paris; Eugene Sue, eminent French novelist, 1857, Annecy, Savoy; Father Ventura, Catholic controversial writer, 1861, Versailles.
Feast Day: St. Nicodemus. St. Gamaliel. The Invention of St. Stephen, or the Discovery of his Relics, 415. St. Walthen or Waltheof, confessor, and abbot of Melrose, 1160.
CHARLES, EARL STANHOPE
This nobleman merits a passing notice here as the inventor of the printing-press which bears his name. It is rather a remarkable circumstance in connection with the typographical art, that from the period of its first introduction up to the later half of the eighteenth century, no alternative took place in the form or mode of working the press. The same clumsy wooden machine which it was in the hands of Faust and Gutenberg it continued to be in those of Baskerville and Bensley. The improvements devised by Lord Stanhope have been followed by the wonderful achievements of the printing-machine, but the value of his ingenuous invention is still recognized.
Besides the printing press, the earl's engineering turn led him to the construction of various other mechanical implements, all displaying a considerable amount of practical genius. They include, among others, a machine for performing arithmetical operations, and a contrivance for the management of locks on canals. He also entered the literary arena, and published a reply to Burke's Reflections on the French Revolution, with other political treatises. As a statesman, Lord Stanhope is noted for the violence and extremeness of his democratic views, leading him, on one occasion, in a fit of republican enthusiasm, to lay aside his carriage, and cause the armorial-bearings to be erased from his plate and furniture. His eccentric character seems to have been inherited in another form by his eldest daughter, the celebrated Lady Hester Stanhope, whose mother, the earl's first wife, was the eldest daughter of Pitt, the great Earl of Chatham.
STEPHEN DOLET
The lives of the early printers are full of sorrows and vicissitudes; always men of high literary attainments, they had to wage the battle of learning against ignorance, of liberty against tradition, of the rights of law against the brutality of actual life, of the renaissance against routine. The stories of Fust, Shröeder, Etienne, and Aldus give confirmation to this statement, and that of Dolet is still more striking, as his was one of those ardent impetuous natures that are incapable of calculation and circumspection, and his life was full of trouble and sorrow, ending in the dreadful punishment of the stake.
Etienne Dolet, or according to the fashion of those days, Stephanus Doletus Aurelius, was born in the city of Orleans, on that day of the year on which he afterwards suffered death. He was said to be an illegitimate child of Francis I. He early shewed the germs of the great talent which was after-wards developed. At twelve years of age, he arrived in Paris for the sake of study, and there followed assiduously the lectures on Latin eloquence given by his compatriot Nicolas Bérauld, and especially devoted himself to the works of Cicero. From Paris he proceeded to Padua, where for three years he laboured night and day under the direction of Simon de Villeneuve, to gain a pure Latin style and the art of rhetoric. He was then inclined to return to France; but Du Bellay-Langey, one of the most learned, eloquent, and wise diplomatists of the day, offered him the post of secretary in his political mission to Venice; the opportunity was too good to refuse, his classical studies would not suffer, and as for society, the famous Rabelais was one of his companions, as surgeon to the ambassador.
In 1530, he returned to France, and though devotedly attached to literary pursuits, he did not find that they would give him a position, so he determined to study law at Toulouse. This celebrated city had besides its university many societies which had been in existence for centuries, in which various nations-French, Spaniards, and Aquitanians-discussed any subject brought before them, and on which the government cast no favourable eye. The parliament of Toulouse seized upon the pretext of some disorders committed by the students to dissolve the associations, and Dolet, who had been elected orator of the French section, was cast into prison; the first of a long series of incarcerations which made one of his enemies remark, 'that the prison was his country.' Nor need it excite our wonder when he spoke thus of the city. 'This place,' said he,
'which arrogates to itself the monopoly of the true faith, and bears aloft the torch of Catholicism, is still in the lowest rudiments of the Christian faith, and altogether given up to the ridiculous superstitions of the Turks. How otherwise can we speak of the yearly ceremony of the feast of St. George, which consists in galloping nine times round the church tower? or of the cross which on certain days is plunged into the Garonne, with vows and prayers addressed to it to be preserved from inundations? 'What are we to say in summer of the statues of the saints, bits of dried wood which children carry through the street to bring down rain after a long drought? Yet this city, so shamefully ignorant of true religion, dares to impose on all its own way of thinking, and treats as heretics those free spirits who will not submit.'

After a few days, he was released, to the great discontent of some narrow minds, who published atrocious libels against him, and even hired assassins to kill him, at the same time parading a pig, mounted on a car, through the streets, bearing a label, on which was written in large letters the name-Dolet. Amidst such animosity the place was no longer tenable, and he took refuge in Lyon, where he published his two harangues against Toulouse; but they issued from a private press, and were prefaced 'without the permission of the author.' This was all he wanted, a little vengeance, and then he returned to Paris, and his early love, Cicero, which he regretted having abandoned for such wretched rivals as the Pandects.
At the age of twenty-five, he solicited permission to print the first volmne of his Commentaries on the Latin Language, a work of immense erudition, but it was with the greatest difficulty that he obtained leave: many were of opinion that printing was an invention of the devil, and they feared the rapid extension of knowledge. His friend, Sebastian Gryphius, brought it out, with all the splendour that suited a book of those times, and with the strict correction that marked so conscientious a printer; but from this time Dolet would have his own presses, and the second volume, which appeared soon after, was of his own printing.
He had at this time taken a wife, and in 1539 his little son Claude was born, yet nothing could make him prudent; he was heaping up fagots for his funeral-pyre. He dared to attack the voluptuous character of the monks, and then published The Holy Scripture in the Vulgar Tongue. Such a man became too dangerous; he was accused of eating meat in Lent, and given up to the Inquisition.
On the 2nd of October 1542, the vicar-general pronounced the sentence of 'heretic, schismatic, scandalous defender of errors and heresies' upon him, and for fifteen months he lay in the dungeons of the holy church, from which the bishop of Tulle released him, taking care to revenge himself on thirteen of his books, which were burned. Once more free, but not for long; in nine months, two packets addressed to him were seized at the gates of Paris, containing prohibited books from the press of Geneva; he was arrested, but after three days contrived to escape into Piedmont; yet the longing to see his wife, his dear books and manuscripts, and to print some articles he had written in his exile, brought him back to Lyon, where he was immediately arrested and condemned, for a false translation of a line from Plato, to be tortured, put to the question, hung and burned, with his books, in the Place Maubert. In his prison he composed a noble canticle, in which he declares his firm adherence to the doctrines he had believed for years; but his enemies say that he recanted on the scaffold, and begged those present to read his books with much circumspection. Of the likelihood of this final concession, the reader may judge for himself.
RICHARD ARKWRIGHT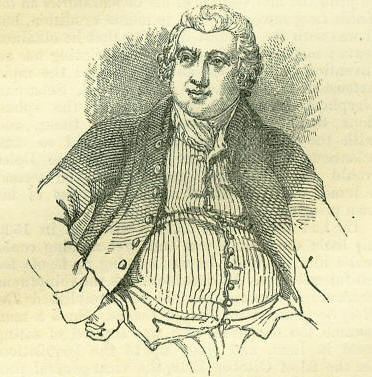 It is not uncommon to hear Arkwright's merits as an inventor questioned. It is said that at the best he merely completed other men's conceptions and reduced them to practice. To trace such assertions to their roots in fact or fancy is no easy matter. Unquestionably Arkwright held converse with many mechanicians, and what he owed to them, and what to himself, it would be impossible for us to determine. Probably Arkwright himself would have been unable to disentangle precisely the hints of others from his own ideas.
That he was a man of amazing ingenuity, energy, and originality there can be no doubt; these qualities were written out large in his prosperous career; and the claims he made as an inventor are certainly consistent with the known power and range of his faculties. Nor, even accepting the lowest estimate of Arkwright's genius, need we esteem it a slight service to mankind, that he perfected the contrivances of amateurs, and shaped them to use, transforming mechanical dreams into operative realities. Those alone who have introduced some new engine or process to the world, can duly appreciate Arkwright's merit on that score.
Richard Arkwright was born in Preston on the 23rd of December 1732, the youngest of thirteen children. His parents were poor, and little Dick was bred up a barber. When a young man, he opened shop in Bolton, where, as Carlyle observes, 'in stropping of razors, in shaving of dirty beards, and the contradictions and confusions attendant thereon, the man had notions in that rough head of his! Spindles, shuttles, wheels, and contrivances plying ideally within the same.' In 1760, he gave up the shop and commenced travelling about the country, buying fine heads of hair from women willing to sell, which, when clipped, he prepared for the wig-makers. By this traffic, and a recipe for hair-dye, he managed to accumulate a little money.
There was much talk in Lancashire, in those days, about improvements in spinning and weaving. Employment was abundant, and wages were high. Traders in linen and cotton cloths were anxious to have them produced more rapidly and cheaply, whilst, on the other hand, the makers were jealous of improvements, lest their craft should be endangered, and their gains diminished. The trader's desire for cheapness, and the worker's interest in dearness, were the stimulus and the terror of inventors. Hargreaves, the Blackburn carpenter, who contrived the spinning jenny, by means of which twenty or thirty threads could be produced with the labour formerly requisite for one, was persecuted and ruined by the populace for his pains.
The yarn spun by the jenny of poor Hargreaves could only be used for weft, being destitute of the firmness required in the long threads, or warp. It was at this point Arkwright came in. One day, while watching some workmen elongating a red-hot bar of iron between rollers, the idea suddenly suggested itself; that cotton might be treated in a similar manner. As he was no mechanic, he applied to Kay, a Warrington clockmaker, to help him, and with the aid of Kay's fingers he constructed a machine, in which, by means of a double set of rollers, one moving three times as fast as the other, cotton was spun into a firm fine thread, as fit for warp as though it had been linen. Whilst prosecuting his experiments, he gave out that he was in pursuit of perpetual motion; a ruse, Dr. Ure imagines, to avert popular animosity from his true design.
His first machine was completed at Preston in 1768; and so close had he cut into his funds, that he was unable to vote a burgess of Preston at a contested election, until the party who sought his support had given him a decent suit of clothes. To be safe from Lancashire rioters, Arkwright removed to Nottingham, where he had the happy fortune to find a partner in Jedediah Strutt, the patentee and improver of the ribbed-stocking frame. Strutt was able to indicate several useful alterations in Arkwright's spinning frame, for which a patent was secured in 1769. In the same year, they opened a mill at Nottingham, which they worked by horses. Horse-power, however, was found too costly, and Arkwright thereon advised that they should move to Cromford, in Derbyshire, and use the river to turn their mill. The suggestion was acted on; a factory was there built and opened in 1771, and through many discouragements it grew into a great success. Cromford has been justly styled 'the nursing place of the factory power and opulence of Great Britain.'
Manufacturers, at the outset, refused to buy the water-twist, as the Cromford yarn was called. To meet this difficulty, the partners wove it into cloth; but here a new attempt was made to checkmate them. There was a duty of 6d. a yard levied on calicoes imported from India, and the Excise was set on to claim 6d. on every yard of the Cromford cloth; for it was alleged to be the same kind of fabric as the Hindu, and therefore liable to pay the same duty. Parliament, however, had the grace to pass an act, in which it was obligingly conceded, that the making of calicoes was 'not only a lawful but a laudable manufacture,' and fixed the duty at '3d. per square yard on cotton printed, painted, or stained with colours;' thus placing the Cromford company on a level with other manufacturers. Arkwright's patent was repeatedly infringed, and great sums were expended for its defence in Chancery, with varying results. Yet, spite of all, large profits were realised, and Arkwright became the dictator of the cotton-market. Factories on the Cromford model were set up in other places. Mobs occasionally tore them down, sometimes with the connivance of the authorities; but where money is to be made, the enterprise of Englishmen is not to be defeated.
Arkwright died in his sixtieth year in 1792, leaving behind him a fortune of about half a million sterling. He was succeeded by his son Richard, who inherited a full share of his father's tact. He died in 1843, at the age of eighty-eight, with the reputation of the richest commoner in England. On the proving of his will, his property was sworn to exceed one million, that being merely a nominal sum, because the scale of stamp-duties goes no higher. The probate bore a stamp of £15,750.
Asthma plagued Arkwright nearly all his life, but nothing seemed to arrest his energy and devotion to work. He was a very early riser, a severe economist of time, and one who seemed to consider nothing impossible. His administrative skill was extraordinary, and would have done credit to a statesman; his plans of factory management were entirely his own; and the experience of a century has done little to improve them. He had passed his fiftieth birthday when, to retrieve the deficiency of his early education, he devoted an hour in the morning to grammar, and an hour in the evening to writing and spelling. King George knighted him in 1786, when, as high-sheriff of Derbyshire, he presented an address to his majesty, congratulating him on his escape from the knife of Margaret Nicolson.
POWEL'S PUPPET-SHOW
Jointed dolls have amused the world for ages. Originally intended to gratify children, they ended in being a diversion for adults; and puppet-shows attracted a due amount of attention in the middle ages, arriving at such a perfection in the sixteenth century, that their performances rivalled in attraction that of living actors. Readers of Cervantes's immortal work will remember the zest with which the puppet-show is described, and the reality with which Don Quixote invests the performance; and the student of our early dramatic literature will be equally familiar with the amusing close of Ben Jonson's play, Bartholomew Fair, which takes place at the performance of a drama on the adventures of Hero and Leander, acted by puppets in one of the booths there.
The great French novelist, Le Sage, produced dramas for the Theatre de la Foire; and on this being silenced in 1721, he and his fellow-labourer, Francisque, procured puppets instead of living actors, and devoted their talents to the production of puppet-plays. These became exceedingly popular in England in the early part of the last century, but none more so than those under the conduct of Robert Powel, whose performances were not restricted to London, but were given in 'the season' at Bath, &c., and at Oxford on great public occasions. He has a certain immortality from the fact of being mentioned in the pages of the Tatler and the Spectator.
The first notice of Powel's performances occurs in No. 16 of the Tatler (published May 15, 1709), describing the rivalry between his show and 'the play of Alexander the Great to be acted by the company of strollers.' To insure due attention to the wooden actors, we are told 'the puppet-drummer, Adam and Eve, and several others who lived before the flood, passed through the streets on horseback, to invite us all to the pastime, and the representation of such things as we all knew to be true; and Mr. Mayor was so wise as to prefer these innocent people, the puppets, who, he said, were to represent Christians, before the wicked players, who were to shew Alexander, a heathen philosopher.'
At ten in the morning, all the fashionables of Bath honoured the show, which seems to have been constructed on the principles of the old religious Mysteries and Moralities, with all their absurdities mixed with modern incongruities. Thus, 'when we came to Noah's Flood in the show, Punch and his wife were introduced dancing in the ark. An honest plain friend of Florimel's, but a critic withal, rose up in the midst of the representation, and made very many good exceptions to the drama itself, and told us it was against all morality, as well as the rules of the stage, that Punch should be in jest in the deluge, or indeed that he should appear at all. This was certainly a just remark, and I thought to second him, but he was hissed by Prudentia's party; upon which, really, we, who were his friends, hissed him too. Old Mrs. Petulant desired both her daughters to mind the moral: then whispered Mrs. Mayoress: 'This is very proper for young people to see.' Punch, at the end of the play, made Madam Prudentia a compliment, and was very civil to the whole company, making bows till his buttons touched the ground.'
The delight with which the appearance of Punch was greeted at all times, proper or improper, has been humorously noted in Swill's Dialogue between Mad Mullinix and Timothy:
Observe, the audience is in pain,
While Punch is hid behind the scene;
But when they hear his rusty voice,
With what impatience they rejoice!
And then they value not two straws,
How Solomon decides the cause;
Which the true mother-which, pretender.

This obtrusive minister of fun appears to have been brought forward whenever the interest of the scene flagged. He entered and seated himself in the queen of Sheba's lap, when 'Solomon in all his glory' was exhibited to gaping spectators. He fights the Duke of Lorraine, 'sells the king of Spain' a bargain
St George himself he plays the wag on,
And mounts astride upon the dragon.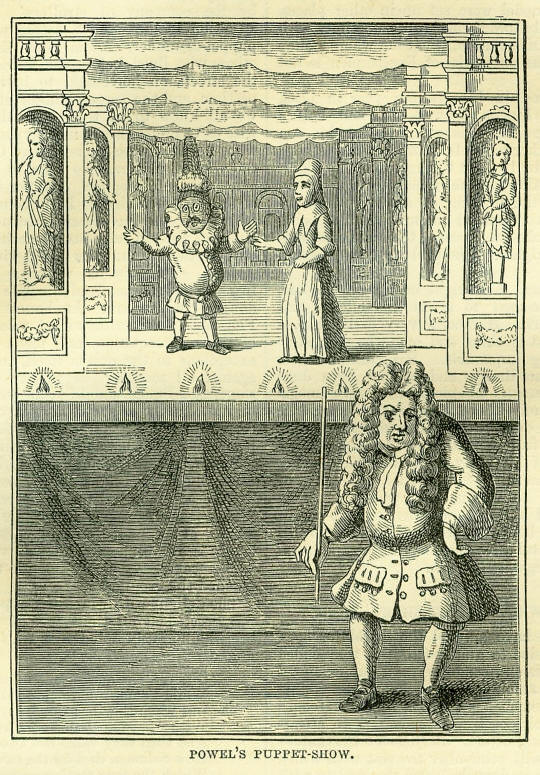 The engraving above, copied from the frontispiece to A Second Tale of a Tub, or the History of Robert Powel the Puppet-Showman, 1715, represents Punch and his wife on the stage. It will be noted that Punch partakes more fully of his Italian character than in more modern impersonations; and his wife (then called Joan) is but a simple elderly woman, without the grotesque characteristics of the Judy of the present day. The stage is furnished with a set-scene, wings, and sky-borders; the performance takes place by lamplight; and Powel, wand in hand, takes his place, like the Chorus of a Greek play, to illustrate the performance. He appears to have been humpbacked, and otherwise slightly deformed. It must be stated that this book is, in reality, a severe satire on the ministry of Robert Harley, Earl of Oxford, under the name of Powel; and was written by Thomas Burnet, son of the famous bishop. In his dedication, he alludes to the great popularity of Powers show; and asks 'what man, woman, or child that lives within the verge of Covent Garden, or what beau or belle, visitant at Bath, knows not Mr. Powel? Have England, Scotland, France, and Ireland; have not even the Oreades-the utmost limits of Caesar's conquests-been filled with the fame of Mr. Powel's mechanical achievements?
The Dutch, the most expert nation in the world for puppet-shows, must now confess themselves to be shamefully outdone. It would be trifling after this to recount to you how Mr. Powel has melted a whole audience into pity and tears, when he has made the poor starved children in the wood miserably depart in peace, and a robin bury them. It would be tedious to enumerate how often he has made Punch the diversion of all the spectators, by putting into his mouth many bulls and flat contradictions, to the dear joy of all true Teagues. Or to what end should I attempt to describe how heroically he makes King Bladud perform the part of a British prince?' So great a favourite was he in Bath, that 'he was mightily frequented by all sorts of quality, and Punch, with his gang, soon broke the strollers, and enjoyed the city of Bath to them-selves. Money coming in apace, Mr. Powel bought him several new scenes, for the diversion of his audience, and the better acting of several incomparable dramas of his own composing; such as, Whittington and his Cat, The Children in the Wood, Dr. Faustus, Friar Bacon and Friar Bungay, Robin Hood and Little John, Mother Shipton, Mother Goose, together with the pleasant and comical humours of Valentini, Nicolini, and the tuneful warbling-pig of Italian race.'
Powel set up his puppet-show in London, under the Piazza at Covent Garden. It was humorously announced by Steele, that Powel would gratify the town with the performance of his drama on the story of Chaste Susannah, which would be graced by 'the addition of two new elders.' In the Spectator (No. 14), a letter was introduced, purporting to come from the sexton of the parish of St. Paul's, Covent Garden, complaining that when he tolls to prayers, ' I find my congregation take the warning of my bell, morning and evening, to go to a puppet-show, set forth by one Powel under the Piazzas. By this means I have not only lost my two best customers, whom I used to place, for sixpence apiece, over-against Mrs. Rachel Eyebright, but Mrs. Rachel herself has gone thither also. There now appear among us none but a few ordinary people, who come to church only to say their prayers, so that I have no work worth speaking of but on Sundays. I have placed my son at the Piazzas, to acquaint the ladies that the bell rings for church, and that it stands on the other side of the garden; but they only laugh at the child!'
The literary celebrity that has thus invested Powel's show, has ,not been shared by his rivals. The Taller, however, announces, in the account of the downfall of May-fair, that 'Mrs.Saraband, so famous for her ingenious puppet-show, has set up a shop in the Exchange, where she sells her little troop under the name of jointed babies.' Penkethman, the comedian, was also proprietor of a puppet-show, and regularly attended the great fairs; where 'Crawley's Booth' was also fixed, and exhibited 'the Creation of the World, yet newly revived, with the addition of Noah's Flood,' where, according to his own advertisement, might be seen ' six angels ringing of bells, with Dives rising out of hell, and Lazarus seen in Abraham's bosom, besides several figures dancing jigs, sarabands, and country-dances (with Punch among them), to the admiration of the spectators!'
When the Scottish lords and others were executed for their share in the Rebellion of 1745, 'the beheading of puppets' made one of the exhibitions at May-fair, and was continued for some years. The last 'great' proprietor of puppets was Flockton, whose puppet-show was in high repute about 1790, and enabled him in time to retire on a handsome competence.