Born: Thomas, Earl of Arundel, collector of ancient sculptures, 1592; Emperor Nicolas of Russia, 1796.
Died: Edward I of England, 1307, Burgh-on-Sands; John Huss, burned at Constance, 1415; Dr. John Eachard, 1697, Cambridge; Bishop Compton, 1713; Dr. Thomas Blacklock, 'the blind poet,' 1791, Edinburgh; Richard Brinsley Sheridan, 1816, London.
Feast Day: St. Pantaenus, father of the church, 3rd century; St. Felix, bishop of Nantes, confessor, 584; St. Edelburga, virgin, of Kent; St. Hedda, bishop of the West Saxons, confessor, 705; St. Willibald, bishop of Aichstadt, confessor, 790; St. Benedict XI, pope and confessor, 1304.
THOMAS, EARL OF ARUNDEL-THE ARUNDELIAN MARBLES
There is such a singularity in the idea of an English nobleman of the early part of the seventeenth century interesting himself in art and its treasures, that this peer stands out in a prominence much beyond what either his rank or personal qualities would have otherwise entitled him to. It does not seem to have been from any high conception of the value of beautiful things, that he busied himself so much in collecting relics of ancient sculpture in Italy. He was travelling there-the objects struck his fancy, and he thought of getting them brought home to England. Clarendon speaks of him as a rather illiterate man. More certainly, he was a man of great formality and stateliness-unbending-even a little austere -all of them qualities that one does not naturally associate with a lover of the fine arts for their own sake. From whatever motive, however, he acted, it was undoubtedly a remarkable service he per-formed to his country, to collect so many sculptures, medals, &c., at the time when such things were yet abundant, and when as yet his country-men were so indifferent to them.
The Arundelian Marbles, as they came to be called, were all stored in and about a mansion which the earl possessed in the Strand, on the river side, between Essex House and Somerset House. His lordship's descendants acceding to the dukedom of Norfolk, the curiosities and their mansion became in time the property of that family. There is something melancholy, and a good deal that is surprising, in the ultimate history of the marbles.
An act of parliament having been obtained, empowering the then Duke of Norfolk, to let part of the site of the house and gardens to builders, at a reserved ground-rent, which was to accumulate in order to raise a fund for building a mansion-house for the family, on that part of the gardens which lay next the river-preparations were made for taking down the old buildings. The Royal Society, who had hitherto, by permission of the duke, held their meetings in Arundel House, had removed to Gresham College, taking with them the noble library which the duke had liberally presented to them.
'Arundel House,' says Mr. Theobald, 'being now about to be pulled down, great part of the furniture was removed to Stafford House, with the museum, &c. And as there were many fine statues, has-relieves, and marbles, they were received into the lower part of the gardens, and many of them placed under a colonnade there; and the upper part of the ground next the Strand let to builders, who continued the street, next the Strand, from Temple Bar towards Westminster: and also to build thereon the several streets called Arundel, Norfolk, and Surrey Streets, leading from the Strand towards the river, as far as the cross-street, called Howard Street, which ran parallel with the Strand.
When the workmen began to build next the Strand, in order to prevent encroachments, a cross-wall was built to separate the ground let to builders from that reserved for the family mansion: and many of the workmen, to save the expense of carrying away the rubbish, threw it over this cross-wall, where it fell upon the colonnade: and at last, by its weight, broke it down, and falling on the statues placed there, broke several of them. A great part of these in that sad condition, was purchased by Sir William Fermor, from whom the present Earl of Pomfret is descended. He removed these down to his seat at Easton Neston, in Northamptonshire, where he employed some statuary to repair such as were not too much demolished.
'Here these continued till the year 1755, when the countess made a present of them to the university of Oxford, for which she received their thanks in due state: and in the year following, the university celebrated a public act, where, in a set oration, and a full theatre, the countess was again complimented. Among this collection was the famous sleeping Cupid, lying on a lion's skin, strewed with roses, as emblems of silence and secrecy: Cupid having presented that flower to Harpocrates, the god of Silence, as a bribe to him to conceal the amours of his mother. Below the foot of Cupid, on the bed, is a lizard-by some supposed to be placed here as a known ingredient in love-charms: by others, as a watchful attendant to wake the sleeper on the approach of danger: and by others imagined to be an emblem of sleep itself, from its being torpid during great part of the year, and placed near a statue of Somnus on a monument at Rome. But the real design of the sculptor was rather to perpetuate his name by this symbol, which was Saurus, signifying a lizard.'
Some other of the broken statues, not thought worth replacing, were begged by Boyder Cuper, who had been gardener to the Arundel family, and were removed by him to decorate a piece of garden-ground, which he had taken opposite Somerset House water-gate, in the parish of Lambeth: this being then a place of resort for the citizens in holiday-time: in Mr. Theobald's time, 1757, it was still called Caper's, corruptly Cupid's gardens, and which Mr. Theobald describes as 'much of the same nature as Sadler's Wells and Marylebone Gardens, called also a music-house, as they had always music attending, and a large room for dancing, when the company were so disposed.' However, these 'broken statues' must have been of great merit: for Mr. Freeman, of Fawley Court, near Henley, and Mr. Edmund Waller, of Beaconsfield, happening to see the marbles, were struck with their beauty, and commissioned. Mr. Theobald to treat with Cuper for their purchase, leaving in his hands a bank-note of £100: eventually they were bought by Mr. Theobald for £75, and were sent, part to Fawley Court, and part to Beaconsfield.
The remaining statues and fragments in Arundel gardens were removed, by permission of the crown, to a piece of waste-ground in the manor of Kennington, belonging to the Principality of Wales: of which piece of ground a grant was obtained, at a small rent, for a term of years, which was renewed. Such fragments as were thought not worth removing, were buried in the foundations of the buildings in the lower parts of Norfolk Street, and in the gardens. Mr. Aislabie, who inhabited one of these houses, as Mr. Theobald was told by the duke's steward, found a broken statue in his cellar, which he carried down to his seat in Yorkshire: and upon the same authority, Mr. Theobald states, there was a sarcophagus placed in the cellar of the corner house, on the left hand, in the lower part of Norfolk Street.
The ground at Kennington, whither some of the marbles had been removed, was subsequently let for a timber-yard, and a wharf built thereon: and when the ground was cleared for rebuilding St. Paul's Cathedral, great quantities of the rubbish were taken there, to raise the ground, which used to be overflowed every spring tide: so that, by degrees, the statues and fragments were buried under the rubbish, and there lay almost forgotten for many years. About the year 1712, this piece of ground was rented by Mr. Theobald's father, who, in digging foundations for buildings, frequently met with some of the fragments: of which the Earl of Burlington hearing, his lordship went to Kennington, to inspect the remains, and prevailed upon Mr. Theobald to permit him to take his choice of a few specimens: these were conveyed to Chiswick House, where one piece of bas-relief was placed in the pedestal of an obelisk which he erected in his grounds. Mr Theobald next allowed Lord Petre to dig for fragments at Kennington, when six statues, some colossal, without heads or arms, were found lying close to each other, and were soon after sent to Worksop, the seat of the Duke of Norfolk, in Nottinghamshire.
Mr. Theo bald also found several blocks of grayish-veined marble, out of which he cut chimney-pieces and slabs for his house, the Belvedere, in Lambeth. He also found the fragment of a column, which he had conveyed to his seat, Waltham Place, in Berkshire, and there converted this fragment of precious art into a roller for his bowling-green!
These, however, were but a portion of the Arundel collection. The Duchess of Norfolk, who was divorced from the seventh duke in 1700, carried with her a fine collection of cameos, belonging to the Norfolk family, and valued at £10,000.
In 1720, a sale was made of another part of the collection at Stafford House. Mr. Charles Howard, of Greystock, had a priced catalogue of this sale, with the names of the purchasers. The amounts were : Pictures sold for £812, 17s.: prints, £168, 17s. 4d.: drawings, £299, 4s. 7d.: Japan, £698, 11s.: gilt and other plate, £462, 1s. 11¾ d.: crystal vases, £364, 3s.; agate cups, £163, 16s.: jewels and other curiosities, £2467, 7s. 10d.; medals, £50, 10s. 6d.; odd lots of plate, £170, 6s. 7d.: cabinets and china, £1256, 19s.: household furniture, £1199, 3s.: several other odd lots, £738, 13s. 2d.-total, £8852, Os.11¾d. Besides which, there still remained, in several branches of the Norfolk family, many curious pieces of plate, jewels, &c. Mr. Charles Howard possessed what was termed Archbishop Thomas à Becket's grace-cup, but which is really of Elizabethan work. Mr. Howard also possessed the high-constable's staff, which he presented to the then Earl of Strafford.
At the revolution, in 1688, Henry, then Duke of Norfolk, who was a Protestant, came over with King William, and soon after obtained an act of parliament, by which the remainder of the Arundel garden-ground was leased for a term of forty-one years: which he accordingly let to Mr. Stone, of New Inn, an attorney. The design of building a mansion was then laid aside, and the money which had accumulated for the purpose was paid over to the then duke: and thus disappeared Arundel House, never to be rebuilt: while its treasures were dispersed with little regard for their artistic value or interest.
RICHARD BRINSLEY SHERIDAN
The remark of Buffon, that Genius is Patience, was well illustrated in the case of Sheridan. It fully appears from Moore's biography, that all the brilliant passages in Sheridan's plays were very carefully elaborated, written over and over again, and not left till they were incapable of further polish. So, also, the written draughts of his speeches remain to prove that all the showy passages were written two or three times over upon small detached pieces of paper or cards, often without any material change in their form. It is certain,' says Moore, 'that even his bon mots in society were not always to be set down to the credit of the occasion: but that frequently, like skilful priests, he prepared the miracle of the moment before-hand. Nothing, indeed, could be more remarkable than the patience and tact with which he would wait through a whole evening for the exact moment when the shaft which he had ready feathered, might be let fly with effect.
'A curious instance,' adds the biographer, 'of the care with which he treasured up the felicities of his wit, appears in the use he made of one of those epigrammatic passages, which the reader may remember among the memorandums for his comedy of Affectation, and which in its first form ran thus:
He certainly has a great deal of fancy and a very good memory: but, with a perverse ingenuity, he employs these qualities as no other person does -for he employs his fancy in his narratives, and keeps his recollection for his wit:-when he makes his jokes, you applaud the accuracy of his memory, and 'tis only when he states his facts that you admire the flights of his imagination.' After many efforts to express this thought more concisely, and to reduce the language of it to that condensed and elastic state, in which alone it gives force to the projectiles of wit, he kept the passage by him patiently for some years-till he at length found an opportunity of turning it to account, in a reply, I believe, to Mr. Dundas, in the House of Commons, when, with the most extemporaneous air, he brought it forth, in the following compact and pointed form:-'The right honourable gentleman is indebted to his memory for his jests, and to his imagination for his facts.'

SHERIDAN'S FUNERAL
The brilliant assemblage at Westminster Abbey on the day of Sheridan's funeral bore testimony to the estimation in which genius was held, apart from the special merit or usefulness of the purposes to which the genius had been applied. Those who looked to the dramatic career of Richard Brinsley Sheridan recognised in him the most brilliant writer of comedy that had appeared since the days of Congreve and Farquhar. Sheridan takes rank among those who belie their school-day reputation by their after-career. Both at Dublin and at Harrow, where he received his education, he was pronounced to be an 'impenetrable dunce,' with whom neither severity nor indulgence would avail: yet this was the 'dunce' who produced: The Rivals in 1775, The Duenna and St. Patrick's Day in 1776, The School for Scandal and The Trip to Scarborough in 1777, and The Critic in 1778: and then passed through a political career which spread over the period from 1780 to 1816.
His celebrated Begum Speech, in connection with the trial of Warren Hastings, is ranked among the most brilliant orations ever known: and there can be little doubt that he might have risen to a high position among statesmen had he been true to himself. But his moral character was weak, even depraved. Though he sometimes aided the Whig party by his eloquence, he gradually degenerated into a mere amusing speaker, much enjoyed and much admired, but winning for himself very little esteem. His life, by degrees, became an ineffectual struggle against poverty. He borrowed from all who would lend to him, and had neither the will nor the power to redeem the debts.
The Prince of Wales welcomed him to Carlton House as long as his flashes of brilliant wit were ready to enliven the assembled guests: but when Sheridan began to fail in health and spirits, the doors were closed against him. The like occurred at other mansions where he had been admired but never really esteemed. He was steeped in poverty for some time before his death. Leigh Hunt mentions that Sheridan on one occasion burst into tears at the degradation of being touched by a bailiff when arrested: while all the time he was callous to the moral degradation involved in that conduct which led to the arrest. When he was dead, some of those in high places regretted that they had deserted the brilliant wit during his declining years of poverty: while others, knowing that he had not really deserved their esteem, wished, nevertheless, to honour the memory of a man of undoubted though ill-regulated genius.
A public funeral was resolved upon. The body was removed from Sheridan's house, in Saville Row, to Mr. Peter Moore's residence in Great George Street, Westminster: and on the 13th of July, a funeral procession walked from thence to the abbey. Arrived at the chief entrance at the west end of the nave, the procession was received by the dignitaries of the abbey, who preceded it to the place of sepulture in that celebrated nook of the abbey known as Poet's Corner. The pall was supported by the Duke of Argyle, the Duke of Bedford, the Earl of Lauderdale, Lord Mulgrave, Lord Holland, and the bishop of London. The chief mourner, as representing the family, was Mr. Charles Sheridan: while among the other mourners were their Royal Highnesses the Dukes of York and Sussex, the Marquis of Anglesea, the Earl of Rosslyn, the Earl of Harrington, the Earl of Bessborough, Earl Gower, the Earl of Yarmouth, Lord Sidmouth, Lord Grenville, Lord Lynedoch, Lord Erskine, Lord George Cavendish-together with Canning, Romilly, and others, who belonged rather to the aristocracy of intellect than to that of birth.
A small space was found between the monuments of Shakspeare and Addison, and close to the grave of Garrick. There lies Sheridan, under the roof of the venerable building which contains the bones of Chatham, Pitt, Fox, Canning, Chaucer, Spenser, Ben Jensen, Congreve, Addison, Rowe, Gay, Betterton, Garrick, Purcell, Handel, Newton, Johnson, Barrow, South, Camden, Usher, and many others known to fame.
THE MACARONIS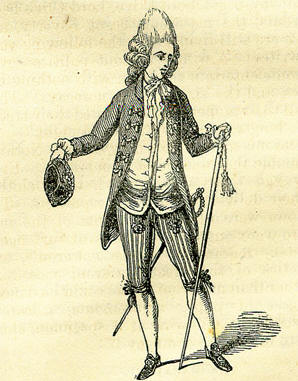 In all periods and countries there have been persons, and even groups or classes of people, who sought to attract attention by eccentricities in dress. In England, during the last two centuries, we have had gallants, bloods, bucks, beaux, fribbles, macaronis, fops, monstrosities, corinthians, dandies, exquisites, and swells. Reeves, in his God's Plea for Niniveh, gives a curious vocabulary of dandyism in his account of a 'gallant' of the seventeenth century. 'He is, indeed,' says our Puritan author, 'the buffoon and baboon of the times. His mind is wholly set upon cuts and slashes, knots and roses, patchings and pinkings, jaggings and taggings, borderings and brimmings: half-shirts, half arms, yawning breasts, gaping knees, arithmetical middles, geometrical sides, mathematical waists, musical heels, and logical toes.'
Amongst the dress-eccentricities of the eighteenth century, none was more signal than the macaronis, though their reign was short, commencing about 1770, and coming to a close about 1775. The year of their ascendant was 1772, and the engraving on the preceding page represents a macaroni of that period: distinguished by an immense knot of artificial hair behind, a very small cocked-hat, an enormous walking-stick with long tassels, and a jacket, waistcoat, and small-clothes cut to fit the person as closely as possible. Their most remarkable peculiarity was the large knot of hair, thus celebrated in a satirical song:
Five pounds of hair they wear behind,
The ladies to delight, 0,
Their senses give unto the wind,
To make themselves a fright, O.
This fashion, who does e'er pursue,
I think a simple-tony:
For he's a fool, say what you will,
Who is a macaroni.

It would appear that the macaronis originated among a number of young men, who had made the grand tour, and on their return, formed themselves into a club, which, from a dish of macaroni, then little known in England, being always placed upon the dinner-table, was called the Macaroni Club. A magazine writer of the time, evidently alluding to this origin, says: 'The macaronis are the offspring of a body, a many-headed monster in Pall Mall, produced by a demoniac committee of depraved taste and exaggerated fancy, conceived in the courts of France and Italy, and brought forth in England.'
Horace Walpole, however, writing about the same time, gives the macaronis a different pedigree, ascribing their origin to the enormous wealth, lately gained by certain persons, through Clive's conquests in India, and asserts that their boundless extravagance soon dissipated it, and brought them to poverty. 'Lord Chatham,' he says, 'begot the East India Company, the East India Company begot Lord Clive, Lord Clive begot the macaronis, the macaronis begot Poverty, and all the race are still living.' In the following year, 1773, he writes: 'A winter without politics-even our macaronis entertain the town with nothing but new dresses, and the size of their nosegays. They have lost all their money, and exhausted their credit, and can no longer game for £20,000 a night.'
The macaronis took the town by storm. Nothing was fashionable that was not a in macaroni. Even the clergy had their wigs combed, their clothes cut, and their delivery refined d in macaroni. The shop-windows were filled with prints of the new tribe: there were engraved portraits of turf macaronis, military macaronis, college macaronis, and other varieties of the great macaroni race. At balls, no other than macaroni music could be danced to: at places of public amusements, macaroni songs, of which the following is a specimen, alone were sung to divert the company:
THE MACARONI
Come listen all, and you shall hear,
Of all the beauties that appear,
And move in fashion's motley sphere,
The fat, the lean, the bony:
The boast, the glory of the age,
How young and old can now engage;
Each master, miss, and parent sage,
Is now a macaroni.

Each tries the other to outvie,
With foretops mounting to the sky,
And some you oft with tails may spy,
As thick as any pony:
Insipid gait, affected sneer,
With side-curls high above the ear,
That each may more the ass appear
Or shew the macaroni.

Each doctor's now become a prig,
That used to look so wise and big,
With stiffened and swingeing wig,
That got him all his money:
They've all thrown off the grave disguise,
Which made each quaking owl look wise,
For wig, of Whip the coachman's size,
To shew the macaroni.

The lawyer too's become a crop,
Instead of tail, a Tyburn top,
Alack-a-day! each barber's shop
Now looks but half so funny,
As when the windows once were graced,
Where stately wigs in rows were placed
But these are days of wit and taste,
Huzza, for macaroni!

The priest that once with rose and baud,
With formal wig, and hat in hand,
Sagacious phiz that might demand,
A bow from any tony:
Behold him now all debonair,
With tiny hat and tortured hair,
And while he prattles to the fair,
He shews the macaroni.

The cits that used, like Jerry Sneak,
To dress and walk out once a week,
And durst not to their betters speak,
Are all grown jolly crony;
Each sneak is now a buckish blade,
When in the Park, but talk of trade,
He thinks you mean him to degrade
Each cit's a macaroni.

Who would not live in days like these,
In days of jollity and ease,
There 's no exception to degrees,
My lord and John are cronies.
Each order and profession claim,
An equal right, an equal fame,
For nothings equal to the name
Of modern macaronis.

The periodical literature, such as it was, of the time is very severe on the macaronis. 'No hand-some fellow,' we read, 'will belong to them, because their dress is calculated to make the handsome ugly, and the ugly ridiculous. His hat, like his understanding, is very little, and he wears it in direct opposition to the manly beaver of our ancient heroes. He has generally an abundant quantity of hair, and well he may, for his head produces nothing else: if he has not a sufficient quantity of his own, he borrows it from his neighbours. His coat slouches down behind, and his shoes are reduced to the shape of slippers, on the surface of which appears a small circle of silver, which he tells us is a buckle. His manners are still more strange than his dress. He is the sworn foe of learning, and even sets simple orthography at defiance: for all learned fellows that can spell or write are either queer dogs or poor rogues. If you see him at a theatre, he will scarcely wink without his opera-glass, which he will thrust into a lady's face, and then simper, and be 'pruddigisly enteerteen'd with her confusion.''
After all, it is by no means improbable that the macaronis, eccentric fops as they certainly were, added somewhat to the progress of national refinement. Living in the days of six-bottle men, one grave charge brought against them was that they hated 'all drinking, except tea, capillaire, and posset.' In a very successful five-act drama of the day, entitled The Macaroni, the hero of the piece -the macaroni par excellence-is held up to ridicule, principally because he respects female virtue, and swears by such mild and milk-and-water oaths as, 'May I be deaf at the opera!' We now know how to appreciate these distinctions.