Born: Albert I, emperor of Germany, 1289.
Died: Philip I, king of France, 1108, Melun; Sebastian, king of Portugal, killed near Tangiers, 1578; Thomas Stukely, adventurer, 1578; Pope Urban VIII, 1644; Andrew Marvell, poet and politician, 1678, London; Benjamin Robins, celebrated mathematician and experimenter on projectiles, 1751, Madras; Augustus William Ernesti, editor of Livy, 1801, Leipsic; Anna Selina Storace, favourite singer, 1814, London; William Wilberforce, philanthropist, 1833, London; Dr. Thomas Dick, author of various scientific works, 1857, Broughty Ferry, Forfarshire.
Feast Day: St. Martha, virgin, sister of Mary and Lazarus. Saints Simplicius and Faustinus, brothers, and their sister Beatrice, martyrs, 303. St. Olaus, king of Sweden, martyr. St. Olaus or Olave, king of Norway, martyr, 1030. St. William, bishop of St. Brieuc, in Brittany, confessor, about 1234.
DISAPPEARANCE OF DON SEBASTIAN OF PORTUGAL
The students of modern European history, and the readers of Anna Maria Porter's novels, are well aware of the romantic circumstances under which Don Sebastian, king of Portugal, disappeared from the face of the earth in 1578. This enthusiastic young kind he was only two-and-twenty-chose to conduct the best military strength of his country into Marocco, in order to put down a usurping sovereign of that country; an expedition utterly extravagant and foolish, against which all his best friends counselled him in vain. He fought a desperate battle with the Moors at Alcazar, performed prodigies of valour, and was nevertheless so thoroughly defeated, that it is said scarcely fifty of his army escaped alive. A body, said to be his, was rendered up by the Moors, and interred at Belem; but the fact of his death, nevertheless, remained doubtful. His countrymen, who admired and loved him, considered him as having mysteriously disappeared, and an idea took possession of them that he would by and by reappear and resume his throne.
Strange to say, this notion continued in vigour after the expiration of the time within which the natural life of Sebastian must have been circumscribed; indeed, it became a kind of religious belief, which passed on from one generation of Portuguese to another, and has even survived to very recent times. In The Times, December 1825, it is stated as a singular species of infatuation, that many persons residing in Brazil, as well as Portugal, still believe in the coming of Sebastian. Some of these old visionaries will go out, wrapped in their large cloaks, on a windy night, to watch the movements of the heavens; and frequently if an exhalation is seen flitting in the air, resembling a fallen star, they will cry out, 'There he comes!' Sales of horses and other things are sometimes effected, payable at the coming of King Sebastian. It was this fact that induced Juliet, when asked what he would be able to do with the Portuguese, to answer: 'What can I do with a people who were still waiting for the coming of the Messiah and King Sebastian?''
THOMAS STUKELY
The romantic career of this extraordinary adventurer has furnished materials for the novelist, dramatist, and poet. He was of a good family in the west of England; and a relative, probably brother, of the Sir Lewis Stukely, sheriff of Devonshire, who arrested Sir Walter Raleigh. His father is said to have been a wealthy clothier or manufacturer of woollen cloths. This being the most lucrative trade of the period, requiring large capital to carry it on, the clothiers were considered as gentle-men, and allowed the privilege of wearing coat-armour. Stukely's place of birth is doubtful. The long popular ballad on him commences thus:
In the west of England,
Born there was, I understand,
A famous gallant in his days,
By birth a worthy clothier's son;
Deeds of wonder hath he done,
To purchase him a long and lasting praise.

But in the drama ascribed to George Peele, entitled The Battle of Alcazar, he is represented saying:
Thus Stukely, slain with many a deadly stab,
Dies in these desert fields of Africa.
Hark, friends! and, with the story of my life,
Let me beguile the torment of my death.
In England's London, lordings, was I born,
On that brave bridge, the bar that thwarts the Thames.

Other accounts say that Stukely was a natural son of Henry VIII; and again, it is stated that he was the son of an English knight, by an Irish mother of the regal race of MacMurrough, and he certainly had family connections with the principal nobility of Ireland. It is certain, also, that he was bred a merchant, and acquired an immense fortune by marrying the daughter of an Alderman Curtis. This lady, whose fortune supplied Stukely's inordinate extravagance, represented to him one day that he 'ought to make more of her.' 'I will,' he replied, 'make as much of thee, believe me, as it is possible for any man to do;' and he kept his word, in one sense at least, for having dissipated all her fortune, he stripped her of even her wearing apparel before he finally left her.
Sir Walter Scott says, that this 'distinguished gallant' ruffled it at the court of Queen Elizabeth with Raleigh, and the best of the time. And it would seem that his inordinate pride, vanity, and ambition were considered an amusement, rather than an insult to the court. His first, but abortive enterprise, was to found a kingdom for himself in Florida; and he presumed to tell Elizabeth, that he would rather be the independent sovereign of a molehill, than the highest subject of the greatest monarch in Christendom. At another time, he said, in hearing of the queen, that he was determined to be a prince before he died. 'I hope,' ironically observed Elizabeth, 'that you will let us hear from you, when you are settled in your principality.' 'I will write unto your majesty,' Stukely replied. 'And how will you address me'?' she asked. 'Oh! in the style of a prince,' the adventurer with great coolness replied. 'To our dear sister!'
Stukely, having squandered the greater part of his wealth, went to Ireland in 1563, with the apparent intention of settling in that kingdom. He soon obtained considerable influence over Shane O'Neill, the most powerful of the native chieftains, and was employed by the government to negotiate with him. When Shane defeated the Hebridean Scots at Ballycastle, Stukely was with the Irish chief, and there is every probability that it was by his generalship the victory was gained. Stukely applied for high office in Ireland, but only obtained the seneschalship of Wexford. During his Irish career, he never completely gave up his character of merchant; he still retained ships, which, under the guise of peaceful traders, committed infamous piracies. These depredations being at last traced to Stukely, he sailed to Spain, and assuming to be a person of great consequence, was well received at the Spanish court.
There did Tom Stukely glitter all in gold,
Mounted upon his jennet, white as snow,
Shining as Phoebus in King Philip's court;
There, like a lord, famous Don Stukely lived.

From Spain, Stukely went to Rome, where he was also well received; and at the great naval battle of Lepanto, gained by Don John of Austria over the Turks, he commanded one of the papal ships. And as Taylor, the Water-poet, in his Church's Deliverance, tells us:
Rome's malice and Spain's practice still concur
To vex and trouble blest Elizabeth;
With Stukely they combine to raise new stirs;
And Ireland-bragging Stukely promiseth
To give unto the pope's brave bastard son,
James Boncompagno, an ambitious boy;
And Stukely from the pope a prize hath won,
A holy peacock's tail (a proper toy):
But Stukely was in Mauritania slain,
In that great battle at Alcazar fought.

Gregory XIII, having created Stukely Baron Ross, Viscount Murrough, Earl of Wexford, Marquis of Leinster, and Duke of Ireland, supplied him with a small army of 800 men, with which our adventurer sailed from Ostia, with the intention of conquering Ireland, and annexing it to the pope's dominions. Calling at Lisbon on his way, he found Sebastian, king of Portugal, on the point of sailing with a large force for the invasion of Marocco. Being invited to join this expedition, the chivalrous spirit of Stukely at once assented-the rest is a matter of history. Though Stukely was a traitor and a pirate, his dashing, gallant, fearless career has caused him to be remembered, when many a better man has sunk into oblivion. The ballad, entitled The Life and Death of the Famous Lord Stukely, was commonly sold by pedlers in the writer's boyhood; it thus describes Stukely's last and fatal battle-field:
Upon this day of honour,
Each man did spew his banner,
Morocco and the king of Barbary,
Portugal and all his train,
Bravely glittering on the plain,
And gave the onset there most valiantly.

Bloody was the slaughter,
Or rather wilful murder,
Where sixseore thousand fighting-men were slain.
Three kings within this battle died,
With forty dukes and earls beside,
The like will never more be fought again.

Besides Peek's drama, already mentioned, there was another play published in 1605, entitled The Famous History of the Life and Death of Captain Thomas Stukely: and our hero is thus noticed in Heywood's drama of If you know not Me, you know Nobody:
That renowned battle,
Swift Fame desires to carry round the world,
The battle of Alcazar; wherein two kings,
Besides this king of Barbary,
was slain, King of Morocco, and of Portugal,
With Stukely, that renowned Englishman,
That had a spirit equal to a king,
Made fellow with these kings in warlike strife,
Honoured his country, and concluded life.

THE GOOD WILBERFORCE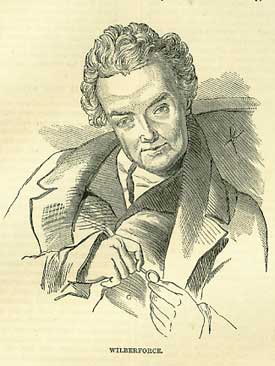 An appellation which was never more worthily bestowed. The century can boast of greater politicians and abler men; but none ingrafted himself so peculiarly in the affections of the masses-who were ever ready to trust his measures, because of the certainty they felt that he acted from the highest principles. His flow of words, so classic and pure in their arrangement, added to a remarkably sweet voice-so beautiful, that he was called 'the Nightingale of the House of Commons '-made him a very persuasive orator. Not less than forty members were influenced by his speech on Lord Melville's prosecution.
He was born in the High Street, Hull, where his ancestors had long carried on a successful trade, and educated at Rochlington, and then at St. John's College, Cambridge, where his life-long friendship with William Pitt and Dr. Milner commenced. In their company, he travelled on the continent, at which time the religious convictions he afterwards professed were fully formed, as expressed in the work he published- A Practical View of Christianity. Only a few weeks after attaining his majority, he was elected member for his native town, and for forty-five years he was never without a seat in the House, exercising there the greatest influence of any one not in office: supporting Catholic emancipation and parliamentary reform; the abolishing of lotteries and of climbing-boys; and last, not least, the great object of his life-the abolition of the slave trade.
It was through the persuasion of the venerable Clarkson that he first turned his attention to this subject; and at a dinner given by Bennet Langton, he consented to join the society which had been established for the purpose of carrying out the scheme. He brought the matter before parliament in a most eloquent speech in May 1789, declaring that 38,000 negroes were annually imported to our West Indian colonies. Year after year was the unpopular bill brought forward by its unwearied advocate, and with ever-lessening majorities. Out of the House, Granville, Sharp, Clarkson, Macaulay, Stephen, and many others were working with all their strength. The Irish members joined the cause; but seventeen years passed, and it was not until the death of Pitt that, on the motion of Mr. Fox, the immediate abolition of the slave trade was carried by a majority of 114 to 15. How enviable must have been the feelings at that moment of him who had devoted his whole energies to so sacred and humane a cause!
Four times he had been elected member for the county of York; but in the year 1807, he encountered a most powerful competition from the two great families of Fitzwilliam and Lascelles. Such a period of excitement has seldom been seen in electioneering annals. Party-spirit was at its highest; Mr. Pitt had, some little time before his death, offended the cloth-manufacturers of the West Riding; they were, in those days, hand-loom weavers, each possessing his own little freehold, and to a man they declared for the Whig interest. For fifteen days the poll was carried on at York, whither the voters had to be conveyed in wagons and coaches as best they might from the more distant places; and thousands walked many miles to vote, making the election expenses most serious for the members. A large collection was made for Mr. Wilberforce, and from the first his seat was sure. Eleven thousand votes placed him at the head of the poll, whilst the other two each numbered 10,000, the largest number of votes ever given at an election; but Lord Milton secured the triumph to the Whigs. Many were squeezed to death in the polling-booths. Riots were daily expected in Leeds, the streets were filled with the mob, and the appearance of a man with the Tory colours made the mayor order out the military. This was the last time Mr. Wilberforce stood for Yorkshire; at the next two elections, he chose the borough of Bramber, and he accepted the Chiltern Hundreds in 1825.
In 1797, he married the eldest daughter of Isaac Spooner, Esq., of Elmdon House, and found in his domestic life a happy relaxation from political fatigues. His fondness for children made him their playful and joyous companion; whilst his conversation was so pleasing and varied, that he was as much at home with deep-thinking senators as with the gravest divines, and never forgot to give the truest consolation to the poor, the sufferer, or the mourner. Though he married a lady of large fortune, his latter days were impoverished by the immense expenses of his Yorkshire elections and unfortunate speculations; whilst the loss of his younger daughter, to whom he was fondly attached, inflicted upon him a wound which he never recovered during the few months he survived her.
He had directed his funeral to be conducted in the quietest manner; but the most eminent statesmen entreated his family to allow a public ceremony in Westminster Abbey, where he rests close to his old friends, Pitt, Canning, and Fox. The large meeting which was held in York the same year, for paying a suitable tribute to the memory of one who had represented the county for thirty years, resulted in the establishment of a School for the Blind.
AQUA TUFANIA
On the 29th of July 1717, Addison, as secretary of state, addressed a letter to the Commissioners of Customs in England, requiring them to take measures for checking the introduction of a poisoned liqueur of which the British envoys at Naples and Genoa had sent home accounts. It appears from the communications of these gentlemen, that this liqueur, called Aqua Tufania, from the Greek woman who invented it, was introduced in large quantities into Italy, and also in part distilled there, and was extensively used as a poison. It was stated that six hundred persons had been destroyed by it at Naples, and there had been many punished capitally for selling and administering it. The culprits engaged in the making and sale of the liquor pretended a religious and conscientious object-they desired to keep the world in ease and quiet, by furnishing husbands with the means of getting quit of troublesome wives, fathers of unruly sons, a man of his enemy, and so forth. The Inquisitors of State, not entering at all into these views, used the strictest measures to put down the Aqua Tufania, but apparently with only partial success.
Such cases as that of the Marchioness Brinvilliers -which are far from being rare-we may remember that of Catherine Wilson in 1862-shew that when an apparently secret and safe means of murder by poison can be obtained, there is that in human nature that will put it to use. It would almost appear that, after one or two successes, a sort of fascination or mania takes possession of the experimenter; and victims are at length struck down, from hardly any motive beyond that of gratifying a morbid feeling. Indulgence in a wickedness so great, and at the same time so cowardly, certainly presents human nature in one of its least amiable aspects.
RISE IN THE PRICE OF RUE AND WORMW00D
On the 29th of July 1760, a rumour arose in London-no one could afterwards tell how-to the effect that the plague had broken out in St. Thomas's Hospital! Commerce, notoriously, has no bowels; and Adam Smith justifies it for its visceral deficiency. Next morning, the price of rue and wormwood, in Covent Garden Market, had risen forty per cent! The authorities saw the necessity of an instant contradiction to the rumour. They put an advertisement in the public journals:
'Whereas the town has been alarmed with a false and wicked report that the plague is broke out in St. Thomas's Hospital: we, the underwritten (in pursuance of an order of the grand committee of the governors, held this day), do hereby certify that the said report is absolutely without foundation; and that there are no other diseases amongst the patients than what are usual in this and all other hospitals.
(Signed.) THOMAS MILNER, M. AKENSIDE, ALEXANDER RUSSELL, JOHN HADLEY, physicians to St. Thomas's Hospital; T. BAKER, BENJAMIN COWELL, THOMAS SMITH, surgeons to the said hospital; GEORGE WHITFIELD, apothecary to the said hospital.'

It may be remarked, that the M. Akenside here named is much better remembered by the world as a poet (Pleasures of Imagination) than as a physician.
St Thomas's Hospital-a magnificent establishment, with lecture-theatres, a dissecting-room, and other accommodations for medical teaching is now, alas! no more, having been taken down in 1862, in consequence of its purchase by the Croydon, Brighton, and South-Eastern Railway Companies. By these corporations a mere angle of the hospital property was required for the railway line proposed to be extended to Charing Cross; and the governors obtained the insertion of a clause in the act, empowering them to insist on the purchase of the entire hospital by the companies, if they so pleased. It was a reasonable exaction, for the noise of the passing trains could not have failed to be hurtful to the patients. The companies bowed to the claim, but were startled when the sum of £750,000 was demanded for the hospital. On the matter being submitted, the sum of £296,000 was awarded, being considerably less, as is understood, than what might have been obtained on a reasonable private negotiation with the company. The hospital thus lost a site in which it was eminently useful, and for a compensation which may prove hardly sufficient to replace it in some one probably less advantageous. The association of the institution with rue and wormwood a century before seems to have been ominous.
LEGEND OF THE GREEN LADY OF THORPE HALL
Hard by the neat old town of Louth, in Lincolnshire, which lies nestling at the foot of the famous Wolds, and is noted for possessing one of the most beautiful parish churches in the kingdom, stands Thorpe Hall, all old mansion, charmingly situated amidst most delightful scenery, and connected with which is an old legend but comparatively little known.
It appears that the elder branch of the ancient family of Bolles, or Bolle, settled at this Thorpe Hall, and at Haugh, a small village near the town of Alford, also in Lincolnshire, many members of it lying buried in both Louth and Haugh churches. The earliest mention of any monumental inscription respecting this family, in either of these churches, is of Richard Bolle, of Haugh, who married, 1stly, a daughter of Sir William Skypwith, of Ormesby, Knight, Lincolnshire; 2ndly, a daughter of - Risbye, Esq., of Yorkshire; and 3rdly, a daughter of - Hutton, Esq., of Cambridgeshire. He served the office of sheriff of the county of Lincoln, in 4th Edward VI and 11th Elizabeth. He had by his first wife a son, Charles, and four daughters; and by his second wife, two sons. Charles Bolle, Esq., his eldest son, had four wives; he died in the lifetime of his father, in 1590, and was buried in Haugh church, where, on the outside of the chancel, is a mural monument of marble, surrounded with the arms of Bolle, and those of his four wives, with a somewhat lengthy inscription in Latin.
His only son and heir, Sir John Bolle, of Thorpe Hall, Knight, lived in the reigns of Elizabeth and James, and was celebrated as well for the gallantry with which he signalised himself as an officer in the army, in the memorable expedition against Cadiz, in 1596, as for his activity, bravery, and good conduct in Ireland. He commanded at the taking of the castles of Donolong and Lifford, during the administration of the Earl of Essex, by whom he was appointed governor of Kinsale. Queen Elizabeth conferred upon him the honour of knighthood after his return from Cadiz; and it is in connection with this gallant knight, and his exploits at this place, that the legend of The Green Lady has its origin.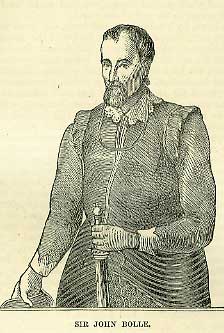 Tradition assures us that, amongst the prisoners taken at Cadiz, it fell to the lot of Sir John Bolle to take charge of a lady of extraordinary beauty, and of distinguished family and great wealth. This lady the noble knight treated with the care and tenderness which was the right of her sex, by endeavouring to soften and alleviate the heavy weary hours of her captivity. This generous care naturally evoked feelings of gratitude, and these ultimately warmed into love. This resulted in her throwing at the feet of the warrior her riches and her person, and such was her ardent passion, that, when released, she entreated him to permit her to accompany him to England as his page. But the gallant knight had a wife at home, and neither the charms of the beautiful Spaniard, nor the powerful influence of her gold, could prevail. Like a true knight, therefore, he returned whither duty and honour alike called him, and the beautiful and inconsolable lady retired to a nunnery, there to spend the remainder of her days in sorrow and seclusion.
On Sir John Bolle's departure from Cadiz, the devoted Spaniard sent, as presents to his wife, a profusion of jewels and other valuables, amongst which was her portrait, taken as she was, dressed in green; a beautiful tapestry-bed, wrought in gold by her own hands; and several casks full of plate, money, and other treasure. Some of these articles, it is said, were, at the commencement of the present century, still in possession of the family; but the portrait was unfortunately lost, or disposed of in some way, half a century before. The picture being thus in green, led to her being called, in the neighbourhood of Thorpe Hall, The Green Lady. Tradition further records the superstitious belief, that the old hall was haunted by her, and that she used nightly to take her seat in a particular tree near the mansion. It was also said that, during the life of his son, Sir Charles Bolle, a knife and fork were always laid for her at table, if she chose to make her appearance!
The compiler of this account, who was then resident in Louth, well remembers the belief in many superstitious minds, some thirty-five years ago, that The Green Lady was occasionally to be seen walking about the grounds at midnight!
But to continue with our story. It seems that the attachment of the beautiful Spaniard to Sir John was such, that it became the subject of a ballad, which was subsequently published in Percy's Reliques of Ancient English Poetry, and which was called:
THE SPANISH LADYE'S LOVE FOR AN ENGLISHMAN
Will you hear a Spanish lady,
How she wooed an English man?
Garments gay as rich as may be,
Decked with jewels, she had on.
Of a comely countenance and grace was she,
And by birth and parentage of high degree.

As his prisoner there he kept her,
In his hands her life did lye;
Cupid's bands did tye them faster
By the liking of an eye.
In his courteous company was all her joy,
To favour him in anything she was not coy.

But at last there came commandment
For to set the ladies free,
With their jewels still adorned,
None to do them injury.
Then said this lady mild: 'Full woe is me,
0! let me still sustain this kind captivity!

Gallant captain, spew some pity
To a lady in distresse;
Leave me not within this city,
For to dye in heavinesse:
Thou hast set this present day my body free,
But my heart in prison still remains with thee.

How shouldst thou, fair lady, love me,
Whom thou know'st thy country's foe?
Thy fair wordes make me suspect thee:
Serpents lie where flowers grow.'
'All the harme I wishe to thee, most courteous knight,
God grant the same upon my head may fully light.

Blessed be the time and season
That you came on Spanish ground;
If you may our foes be termed,
Gentle foes we have you found:
With our city, you have won our hearts each one,
Then to your country bear away, that is your own.

Rest you still, most gallant lady;
Rest you still, and weep no more;
Of fair lovers there are plenty,
Spain doth yield you wonderous store.
Spaniards fraught with jealousy we oft do find,
But Englishmen throughout the world are counted kind.

Leave me not unto a Spaniard,
Thou alone enjoy'st my heart;
I am lovely, young, and tender,
Love is likewise my desert.
Still to serve thee day and night my mind is prest;
The wife of every Englishman is counted blest.

It would be a shame, fair lady,
For to bear a woman hence;
English soldiers never carry
Any such without offence.'
'I'll quickly change myself, if it be so,
And like a page will follow thee, where'er thou go.

I have neither gold nor silver
To maintain thee in this case,
And to travel is great charges
As you know in every place.'
'My chains and jewels every one shall be thy own,
And eke ten thousand pounds in gold that lies unknown.

On the seas are many dangers,
Many storms do there arise,
Which will be to ladies dreadful,
And force tears from watery eyes.'
Well in troth I shall endure extremity,
For I could find in heart to lose my life for thee.

Courteous ladye, leave this fancy,
Here comes all that breeds the strife;
I in England have already
A sweet woman to my wife!
I will not falsify my vow for gold nor gain,
Nor yet for all the fairest dames that live in Spain.

0 how happy is that woman
That enjoys so true a friend!
Many happy days God send her;
Of my suit I make an end:
On my knees I pardon crave for my offence,
Which did from love and true affection first commence.

Commend me to thy lovely lady,
Bear to her this chain of gold;
And these bracelets for a token;
Grieving that I was so bold:
All my jewels in like sort bear them with thee;
For they are fitting for thy wife, but not for sue.

I will spend my days in prayer,
Love and all his laws defye;
In a nunnery will I shroud me
Far from any companye:
But ere my prayers have an end, be sure of this,
To pray for thee and for thy love I will not miss.

Thus farewell, most gallant captain!
Farewell, too, my heart's content!
Count not Spanish ladies wanton,
Though to thee my love was bent:
Joy and true prosperity goe still with thee!
The like fall ever to thy share, most fair ladye!

Shenstone had also an elegant poem on the same subject, entitled Love and Honour, concluding with the lines:
And to the cloister's pensive scene
Elvira shaped her solitary way.

Sir John died in 1606, in the forty-sixth year of his age, and was interred in the chancel of Haugh church, where a monument was erected to him, with a Latin inscription, bespeaking his accomplishments as a scholar and a soldier. His portrait, taken in 1596, when thirty-six years of age, having on the 'chain of gold' spoken of in the poem, and a curious thumb-ring, set in massive gold, with the arms of the family, bearing sixteen quarterings, elegantly engraven and emblazoned, came into the possession of the Birch family, descendants of the Bolles. Captain T. Birch, of the 1st Life Guards, lived at Thorpe Hall about 1808.