Born: Captain Maclure, Arctic voyager, 1807.
Died: Charlemagne, 814; King Henry VIII, 1547, Windsor; Sir Francis Drake, 1596; Sir Thomas Bodley, founder of the Bodleian Library, Oxford, 1612; Peter the Great of Russia, 1725; Mrs. Johnson (Stella), 1728, Dublin; J. B. Danville, 1782, Paris; Mademoiselle Clairon, actress, 1803; Sir William Beechey, painter, 1839; W. H. Prescott, historian, 1859.
Feast Day: St. Agnes, virgin and martyr. St. Cyril, patriarch of Alexandria, 444. Sts Thyrsus, Leucius, and Callinions, martyrs. St. John of Reomay, abbot, 6th century. St. Paulinus, patriarch of Aquileia, 804. B. Charlemagne, emperor, 814. St. Glastian, of Scotland, 830. St. Margaret, princess of Hungary, 1271.
ST. CYRIL
St. Cyrillus was educated at Alexandria, where his uncle Theophilus was patriarch, through whose influence St. John Chrysostom was deposed and banished from Constantinople. On the death of Theophilus in 412, St. Cyrillus was elected as his successor in the patriarchate. He is generally described as a man of revengeful disposition, and a violent persecutor of those whom he considered heretics. The story of the murder of Hypatia, the daughter of the mathematician Theon of Alexandria, has been related by Socrates, Nicephorus, and other ecclesiastical historians. Hypatia was a lady of such extraordinary ability and learning as to have been chosen to preside over the school of Platonic philosophy in Alexandria, and her lectures were attended by a crowd of students from Greece and Asia Minor. She was also greatly esteemed and treated with much respect by Orestes, the governor of Alexandria, who was a decided opponent of the patriarch. Hence the malice of Cyril, who is related to have excited a mob of fanatical monks to assault her in the street, who dragged her into a church, and there murdered her, actually tearing her body to pieces.
Cyril had a long and violent dispute with Nestorius, bishop of Constantinople, concerning the divine nature of Christ, and whether Mary was entitled to the appellation of 'Mother of God,' and other mysterious matters. Nestorius was condemned and deposed by Pope Celestine, and Cyril was appointed to carry out the sentence, for which purpose he summoned a council of sixty bishops at Ephesus; but John, patriarch of Antioch, summoned a counter-council of forty bishops, who supported Nestorius, and excommunicated Cyril. The rival patriarchs appealed to the Emperor Theodosius, who committed both Cyril and Nestorius to prison, where they remained some time under rigorous treatment. Cyril, by the influence of Pope Celestine, was liberated, and restored in 431 to his see of Alexandria, which he retained till his death in 444. His works are numerous, mostly on difficult points of doctrine, which are rendered more obscure by a perplexed style, and the barbarous Greek in which they are written. They have been published in seven vols. folio., Greek and Latin, Paris, 1638.
PETER THE GREAT IN ENGLAND
On the 28th of January 1725, died Peter I, Czar of Russia, deservedly named the Great; one of the most extraordinary men that ever appeared on the great theatre of the world, in any age or country-a being full of contradictions, yet consistent in all he did; a promoter of literature, arts, and sciences, yet without education himself. 'He gave a polish,' says Voltaire, 'to his people, and was himself a savage; he taught them the art of war, of which he was himself ignorant; from the sight of a small boat on the river Moskwa he erected a powerful fleet, made himself an expert and active shipwright, sailor, pilot, and commander; he changed the manners, customs, and laws of the Russians; and lives in their memory as the father of his country.'
His taste for everything connected with ships and navigation amounted, in early life, to a passion. When he had resolved to visit the countries of Western Europe, to learn how to improve his own barbarous subjects, he went straight to Saardam, in Holland, and there, with his companions, worked in the dockyards as a common shipwright, by the name of Pieter Timmerman; he rose early, boiled his own pot, and received wages for his labour. When well advanced in the manual art, he proceeded, in January 1698, to England, to study the theory of ship-building, and the method of making draughts and laying them off in the mould-lofts. Arriving in honorable state with his companions in three English ships, which had been dispatched for him, he was kindly received by King William, but without state ceremonial, his wish being to remain in England simply as a private gentleman; accordingly, his name never once appears in the London Gazette, then, as now, the only official paper. A large house was hired for him and his suite, at the bottom of York-buildings, now Buckingham-street, in the Adelphi,-the last house on the east side, looking on the Thames. It contained spacious apartments, in which some of the decorations that existed at the time of the imperial visit may still be seen. As the Czar came not in any public character, he was placed under the especial charge of the Marquis of Carmarthen, with whom he became very intimate. Pepys, the diarist, lived in the house opposite, the last on the west side of the street, but it has been since rebuilt. It is stated in a private letter, that they used to spend their evenings frequently together in drinking hot pepper and brandy. Peter loved strong liquors; and we learn from one of the papers of the day, that he took a particular fancy to the nectar ambrosia, a new cordial which the compounder presented to his Majesty, who sent for more of it.
The Czar sojourned in England four months. In the Postboy it is stated that, on the day after his arrival, he went to Kensington Palace, to dine with King William and the Court; but he was all the while incognito. On the Saturday following, the Czar went to the opera; and on the Friday night he was present at the last of the Temple revels. On the following Sunday, he went in a hackney-coach to Kensington Palace, and returned at night to his lodgings (in Norfolk-street), where he was attended by several of the King's servants. His movements, during the rest of the month, were a journey to Woolwich and Deptford, to see the dockyards; then to the theatre, to see the Rival Queens; or Alexander the Great; to St. James's, to be present at a fine ball; to Redriff, where a ship was building for him; and he was present at the launch of a man-of-war at Chatham.
The Czar was continually annoyed by the crowds in the streets of London, as he had been at Amsterdam, and he could not bear the jostling with becoming patience. As he was one day walking along the Strand with the Marquis of Carmarthen, a porter, with a load on his shoulder, rudely pushed against him, and drove him into the road. He was extremely indignant, and ready to knock the man down; but the Marquis interfering, saved the offender, only telling him that the gentleman whom he had so rudely run against was 'the Czar.' The porter turning round, replied with a grin, 'Czar! we are all Czars here.'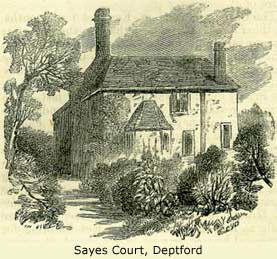 After a month's residence in London, the Czar and his suite removed to John Evelyn's house, Sayes-court, close to Deptford dockyard. It had been let by Evelyn to Admiral Benbow, whose term had just expired. A doorway was broken through the boundary-wall of the dockyard, to communicate with the dwelling-house. The grounds, which were beautifully laid out and planted, had been much damaged by the Admiral; but the Czar proved a worse tenant. Evelyn's servant wrote to him:
'There is a house full of people right nasty. The Czar lies next your library, and dines in the parlour next your study. He dines at ten o'clock, and six at night; is very often at home a whole day; very often in the King's yard, or by water, dressed in several dresses. The King is expected there this day; the best parlour is pretty clean for him to be entertained in. The King pays for all he has.'

But this was not all: Evelyn had a favourite holly-hedge, which the Czar is said to have spoiled, by trundling a wheelbarrow through it every morning, for the sake of exercise. The Czar and his retinue remained here only three weeks; but the damage done to the house and gardens was estimated at £150.
We have scarcely any evidence that the Czar ever worked in Deptford dockyard as a shipwright; he seems to have been employed in collecting information connected with naval architecture, from the Commissioner and Surveyor of the Navy, Sir Anthony Deane. Peter might be seen almost daily on the Thames, in a sailing yacht, or rowing a boat; and the King made him a present of the Royal Transport, with orders to change her masts, rigging, sails, &c., in any such way as the Czar might think proper for improving her sailing qualities. But his great delight was to get into a small decked boat from the dockyard, and taking Menzikoff, and three or four of his suite, to work the vessel with them, he being the helms-man; by which practice he said he should be able to teach them how to command ships when they got home. Having finished their day's work, they used to resort to a public-house in Great Tower-street, close to Tower-hill, to smoke their pipes, and drink beer an brandy. The landlord had the Czar of Muscovy's head painted and put up for a sign, which continued till the year 1808, when a person named Waxel took a fancy to the old sign, and offered the then land-lord of the house to paint him a new one for it. A copy was accordingly made, which maintained its station until the house was rebuilt, when the sign was not replaced, and the name only remains.
The Czar, in-passing up and down the river, was much struck with the magnificent building of Greenwich Hospital, which, until he had visited it, and seen the old pensioners, he thought to be a royal palace; and one day, when King William asked him how he liked his hospital for decayed seamen, the Czar answered,:
'If I were the adviser of your Majesty, I should counsel you to remove your court to Greenwich, and convert St. James's into a hospital.'

It being term-time while the Czar was in London, he was taken into Westminster Hall; he inquired who all those busy people in black gowns and flowing wigs were, and what they were about? Being answered They are lawyers, sir,' 'Lawyers!' said he, much astonished, 'why, I have but two in my whole dominions, and I believe I shall hang one of them the moment I get home.'
Two sham fights at sea were got up for the Czar the ships were divided into two squadrons, and every ship took her opposite, and fired three broadsides aloft and one aloes, without shot. On returning from Portsmouth, Peter and his party, twenty-one in all, stopped at the principal inn at Godalming, and, according to the landlord's bill, which is preserved in the Bodleian Library, there consumed, at breakfast, half a sheep, a quarter of lamb, ten pullets, twelve chickens, three quarts of brandy, six quarts of mulled wine, seven dozen of eggs, with salad in pro-portion: and at dinner, five ribs of beef, weighing three stone; one sheep, 56 lbs.; three-quarters of lamb, a shoulder and loin of veal boiled, eight pullets, eight rabbits, two dozen and a-half of sack; and one dozen of claret. Peter was invariably a hard-drinker, for he is known to have drunk a pint of brandy and a bottle of sherry for his morning draught; and after dinner eight bottles of sack, 'and so went to the play-house.'
The Czar had an extraordinary aversion to a crowd: at a birthday-ball at St. James's, instead of joining the company, he was put into a small room, whence he could see all that passed without being himself seen. When he went to see the King in Parliament, he was placed upon the roof of the house to peep in at the window, when King and people so laughed at him that he was obliged to retire. The Czar had a favourite monkey, which sat upon the back of his chair, and one day annoyed the King by jumping upon him, while he paid Peter a visit.
Bishop Burnet accompanied the Czar to show him the different churches in the metropolis, and to give information upon ecclesiastical matters. While residing at Deptford, Peter frequently invited Dr. Halley from the Royal Observatory, in Greenwich Park, to dine with him, and give him his opinion and advice, especially upon his plan of building a fleet. He also visited several manufactories and workshops in London, and bought a famous geographical clock of its maker, Carte, at the sign of the Dial and Crown, near Essex-street, in the Strand. The Czar was very fond of mechanism, and it is said that before he left England he could take a watch to pieces, and put it together again. The King promised Peter that there should be no impediment to his engaging and taking with him to Russia. English artificers and scientific men; and when he re-turned to Holland, there went with him captains of ships, pilots, surgeons, gunners, mast-makers, boat - builders, sail - makers, compass - makers, carvers, anchor-smiths, and copper-smiths; in all, nearly 500 persons. At his departure, he presented to the King a ruby, valued at £10,000, which he brought in his waistcoat-pocket, and placed in William's hand, wrapped up in a piece of brown paper!
The memory of Peter, among his countrymen, is held in the highest veneration. The magnificent equestrian statue erected by Catherine II; the waxen figure of Peter in the museum of the Academy, founded by himself; the dress, the sword, and the hat, which he wore at the battle of Pultowa, the last pierced with a ball; the horse that he rode in that battle; the trowsers, worsted stockings, shoes, and cap, which he wore at Saardam,-all in the same apartment; his two favourite dogs, his turning-lathe, and tools, with specimens of his workmanship; the iron bar which he forged with his own hand at Olonitz; the Little Grandsire, so carefully preserved as the first germ of the Russian navy; and the wooden hut in which he lived while superintending the first foundation of Petersburg:-these, and a thousand other tangible memorials, all preserved with the utmost care, speak in the most intelligible language the opinion which the Russians hold of the rather of his Country.
CLAIRON'S UNSEEN PERSECUTOR
Mademoiselle Clairon, the theatrical idol of Paris in the middle of the last century, relates in her Memoirs, that in her early days she attracted the affections of a Breton gentleman, whom, as he was gloomy and despotic, she found it impossible to love. He died of chagrin on her account, without succeeding even in inducing her to come and see him in his last moments. The event was followed by a series of occurrences which, notwithstanding their mysterious nature, she relates with the appearance of perfect sincerity. First, there was every night, at eleven o'clock, a piercing cry heard in the street before her house. And, in several instances, on friends speaking of it incredulously, it took place on the instant, to the consternation of all who heard it. After an interval of some weeks, the annoyance was renewed in the form of a musket-shot, which seemed to be fired against her window, and was heard by all in her apartment, but never could be traced by the police to any living agent. Then another interval took place, after which an invisible clapping of hands followed: this was followed in its turn by a strain of fine music. Finally, after two years and a-half, this strange persecution from the invisible ceased. Madame Clairon states that she afterwards received a visit from an old lady, who had attended her lover on his death-bed, and who informed her that with his latest breath he had inveighed against the object of his unfortunate passion, and threatened to pursue her as long after his death as she had pursued him during his life, being exactly two years and a-half.
The Duchess d'Abrantes, in her Memoirs, relates how she had heard Clairon give a solemn recital of these occurrences, 'laying aside all affectation and everything that could be construed into speaking for effect.' The wonder is how, if such things happen, they should so entirely fail to obtain credence; how, if they do not happen, they should be so often related as if they did, and on what, in ordinary matters, would pass as sufficient evidence.
Clairon was a great favourite with Voltaire: it would be curious to learn what he thought of her story of the invisible persecutor. She appears to have had her full share of theatrical caprices and jealousies, under one of which she prematurely withdrew from the stage, though not without a considerable fortune. Garrick, asked what he thought of her as an actress, said she was 'too much an actress;' which gives a tolerable idea of her attitudinary style. It is said she was equally an actress off the stage, maintaining a grand manner even before her domestics. She died at eighty-one, in full possession of her faculties.
W. H. PRESCOTT
America has great honour in William Hickling Prescott, author of the histories of Ferdinand and Isabella of Spain, of Cortez, and of Pizarro, who died on the 28th of January 1859, at the age of 63. The historical writings of Prescott are among the few finished and classical productions of the kind in our age, which are worthy to rank with those of Gibbon, Hume, and others, in the last century. Fortunate in having the power of devoting himself to those studies in which it was his ambition to excel, this eminent American was just as unfortunate in the deficiency of certain requisites which one would have previously said were indispensable for such a career. He had from an early period of life lost in a great measure the use of his eyes. How he contrived by patience and the use of adroit arrangements to overcome this prodigious difficulty, is detailed by himself in a manner extremely interesting:
'Having settled,' he says, 'on a subject for a particular history, I lost no time in collecting the materials, for which I had peculiar advantages. But just before these materials arrived, my eye had experienced so severe a strain that I enjoyed no use of it again for reading for several years. It has, indeed, never since fully recovered Its strength, nor have I ever ventured to use it again by candlelight. I well remember the blank despair which I felt when my literary treasures arrived from Spain, and I saw the mine of wealth lying around me which I was forbidden to explore. I determined to see what could be done with the eyes of another. I remembered that Johnson had said, in reference to Milton, that the great vet had abandoned his projected history of England, finding it scarcely possible for a man without eyes to pursue a historical work, requiring reference to various authorities. The remark piqued me to make an attempt.'
'I obtained the services of a reader who knew no language but his own. I taught him to pronounce the Castilian in a manner suited, I suspect, much more to my ear than to that of a Spaniard; and we began our wearisome journey through Mariana's noble History. I cannot even now call to mind without a smile the tedious hours in which, seated under some old trees in my country residence, we pursued our slow and melancholy way over pages which afforded no glimmering of light to him, and from which the light came dimly struggling to me through a half-intelligible vocabulary. But in a few weeks the light became stronger, and I was cheered by the consciousness of my own improvement; and when we had toiled our way through seven quartos, I found I could understand the book when read about two-thirds as fast as ordinary English. My reader's office required the more patience; he had not even this result to cheer him in his labour.
'I now felt that the great difficulty could be overcome; and I obtained the services of a reader whose acquaintance with modern and ancient tongues supplied, so far as it could be supplied, the deficiency of eyesight on my part. But though in this way I could examine various authorities, it was not easy to arrange in my mind the results of my reading, drawn from different and often contradictory accounts. To do this I dictated copious notes as I went along; and when I had read enough for a chapter-from thirty to forty and sometimes fifty pages in length-I had a mass of memoranda in my own language, which would easily bring before me at one view the fruits of my researches. Those notes were care-fully read to me; and while my recent studies were fresh in. my recollection, I ran over the whole of my intended chapter in my mind. This process I repeated at least half-a-dozen times, so that when I finally put my pen to paper it ran off pretty glibly, for it was an effort of memory rather than creation. This method had the ad-vantage of saving me from the perplexity of frequently referring to the scattered passages in the, originals, and it enabled me to make the corrections in my own mind which are usually made in the manuscript, and which with my mode of writing-as I shall explain-would have much embarrassed me. Yet I must admit that this method of composition, when the chapter was very long, was somewhat too heavy a strain on the memory to be altogether recommended.
'Writing presented me a difficulty even greater than reading. Thierry, the famous blind historian of the Norman Conquest, advised me to cultivate dictation; but I have usually preferred a substitute that I found in a writing-case made for the blind, which I procured in London forty years since. It is a simple apparatus, often described by me for the benefit of persons whose vision is imperfect. It consists of a frame of the size of a piece of paper, traversed by brass wires as many as lines are wanted on the page, and with a sheet of carbonated paper, such as is used for getting duplicates, pasted on the reverse side. With an ivory or agate stylus the writer traces his characters between the wires on the carbonated sheet, making indelible marks, which he cannot see, on the white page below. This treadmill operation has its defects; and I have repeatedly supposed I had accomplished a good page, and was proceeding in all the glow of composition to go ahead when I found I had forgotten to insert a sheet of my writing-paper below, that my labour had been all thrown away, and that the leaf looked as blank as myself. Notwithstanding these and other whimsical distresses of the kind, I have found my writing-case my best friend in my lonely hours, and with it have written nearly all that I have sent into the world the last forty years.
'The manuscript thus written and deciphered-for it was in the nature of hieroglyphics-by my secretary was then read to me for correction, and copied off in a fair hand for the printer. All this, it may be thought, was rather a slow process, requiring the virtue of patience in all the parties concerned. But in time my eyes improved again. Before I had finished Ferdinand and Isabella, I could use them some hours every day. And thus they have continued till within a few years, though subject to occasional interruptions, some-times of weeks and sometimes of months, when I could not look at a book. And this circumstance as well as habit, second nature, has led me to adhere still to my early method of composition. Of late years I have suffered not so much from inability of the eye as dimness of the vision, and the warning comes that the time is not far distant when I must rely exclusively on the eyes of another for the prosecution of my studies. Perhaps it should be received as a warning that it is time to close them altogether.'

LORD NORTH'S ADMINISTRATION
On this day in 1770 commenced the long administration of Lord North, during which the American colonies were lost to the British crown. The fatal misjudgment and obstinacy which led to such a disastrous result can scarcely be thought of in our times with patience; and, when we think of the evils inflicted on America in the vain attempt to drag her back into subjection, a feeling of indignation at all persons in administration, and particularly the chief, is apt to take possession of the mind. Yet, strange to say, the head of the cabinet which carried on the wretched contest, was undeniably one of the most amiable I breeding was so marked a part of his character and pleasant-natured men in existence. His character is brought out in a charming manner by a daughter of the minister, who wrote in compliance with a request of Lord Brougham: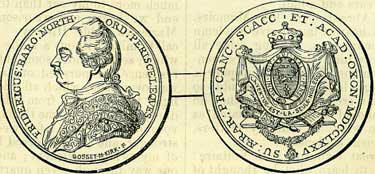 'His manners were those of a high-bred gentleman, particularly easy and natural; indeed, good that it would have been affectation in him to have been otherwise than well-bred. With such good taste and good breeding, his raillery could not fail to be of the best sort-always amusing and never wounding.
He was the least fastidious of men, possessing the happy art of extracting any good that there was to be extracted out of anybody. He never would let his children call people bores; and I remember the triumphant joy of his family, when, after a tedious visit from a very prosy and empty man, he exclaimed, 'Well, that man is an insufferable bore!' He used frequently to have large parties of foreigners and distinguished persons to dine with him at Bushy Park. He was himself the life and soul of these parties. To have seen him then, you would have said that he was there in his true element. Yet I think that he had really more enjoyment when he went into the country on a Saturday and Sunday, with only his own family, or one or two intimate friends: he then entered into all the jokes and fun of his children, was the companion and intimate friend of his elder sons and daughters, and the merry, entertaining playfellow of his little girl, who was five years younger than any of the others. To his servants he was a most kind and indulgent master: if provoked by stupidity or impertinence, a few hasty, impatient words might escape him; but I never saw him really out of humour. He had a drunken, stupid groom, who used to provoke him; and who from this circumstance was called by the children ' the man that puts papa in a passion;' and I think he continued all his life putting papa in a passion, and being forgiven, for I believe he died in his service.'

Lord John Russell, in his Life and Times of Charles James Fox (1859), remarks that Lord North had borne his elevation with modesty, and spewed equanimity in his fall. 'A trifling circumstance evinced his good humour. On the evening when he announced his resignation in the House of Commons [March 20, 1782], snow was falling, and the weather was bitterly cold. Lord North kept his carriage. As he was passing through the great-coat room of the House of Commons, many members (chiefly his opponents) crowded the passage. When his carriage was announced, he put one or two of his friends into it, and then making a bow to his opponents, said, 'Good night, gentlemen; it is the first time I have known the advantage of being in the secret.''
COMMENCEMENT OF GAS-LIGHTING
January 28, 1807, Pall Mall was lighted with gas,-the first street of any city so illuminated. The idea of using carburetted hydrogen gas for purposes of illumination first occurred to Mr. William Murdoch, a native of Ayrshire, holding a position of trust at the mines of Redruth, in Cornwall. He made his first experiments in 1792, at Redruth. Removing in 1798 to the machine-making establishment of Messrs Watt and Boulton, at Birmingham, he there followed up his experiments, and succeeded in lighting up the buildings with gas for the celebration of the Peace of Amiens. He also fitted up the works of Philips and Lee, at Manchester, with gas-lights in 1805, and there fully-proved the economical value of the scheme. Murdoch was a man of sagacious and accurate understanding, worthy to be associated with his countryman Watt. portrait of him is preserved in the hall of the Royal Society of Edinburgh.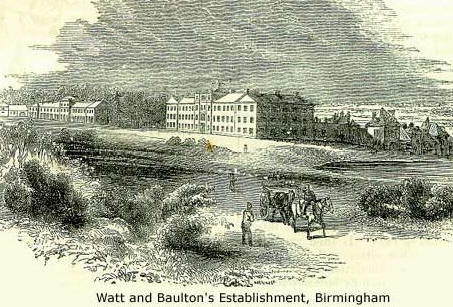 The merit of bringing gas-light into use in London belongs to a German named Winser, a man of an opposite type of intellect to Murdock, yet having the virtue of perseverance. In the pamphlets issued by this person for the promotion of gas-lighting schemes and companies, there was such extravagance, quackery, and fanaticism, as tended to retard their success. Sir Walter Scott wrote from London that there was a madman proposing to light London with-what do you think?-why, with smoke! Even the liberal mind of Sir Humphry Davy failed to take in the idea that gas was applicable to purposes of street or house lighting. Yet, Winser having succeeded after all in obtaining some supporters, the long line between St. James's Palace and Cockspur-street did blaze out in a burst of gas-lamps on the night in question, to the no small admiration of the public.
When we consider that gas-light has since been extended all over London, over nearly every town of above a thousand inhabitants in the empire, and pretty generally throughout the towns of both Europe and America, producing a marvellous saving in the expense of artificial light, it becomes curious to observe the great hesitation expressed in the scientific and popular literature of 1807-8-9 regarding the possibility of applying it economically to general use. The reader will readily find the expression of contemporary public opinion on the subject in a paper in the Edinburgh Review for January 1809, written by the present professor of Roman literature in the University of Edinburgh (Pillans).
In London, about 1810, before any company had been established, Mr. Ackermann's shop, in the Strand, was regularly lighted with gas. It is said, that a lady calling there one evening, was so delighted with the beautiful white jets she saw on the counter, that she offered any money for permission to carry them home to light her drawing-room.
Gas-lighting had a ridiculous objection to contend with, worthy to be ranked with that which insisted for years, without experiment, that the wheels of steam locomotives would go on whirling without creating any forward movement. It was generally assumed that the pipes conveying gas would be hot, and apt to produce conflagrations. People used to touch them cautiously with their hands, under the belief that a careless touch would burn them. The lamp-lighters, to a man, were opposed to the new mode of lighting.
A company being formed in 1810 (the share-holders, of course, being pitied as idiots), the system was put in practice for the first time on Westminster Bridge in the last night of the year 1812. Some districts of London had gas introduced on the streets in 1814. It then gradually found its way into other cities, and finally into other countries. It is calculated that on the capital of about twenty millions laid out on gas manufactories in this country, there is an average return of 62 per cent.-a good commentary on the objections originally made to this mode of lighting.
COURT FOOLS AND JESTERS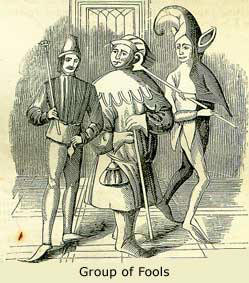 In connection with the name of Henry VIII, it may not be improper to advert to a custom of which he was a noted observer,-the custom, once universally prevalent, of keeping professional fools and jesters in palaces and other great houses. It was founded upon, or at least was in strict accordance with, a physiological principle, which may be expressed under this formula-the Utility of Laughter. Laughter is favourable to digestion, for by it the organs concerned in digestion get exercise, the exercise necessary for the process. And, accordingly, we usually find an ample meal more easily disposed of where merriment is going on, than a light one which has been taken in solitude, and under a somber state of feeling.
According to the ideas of modern society, cheerful after-dinner conversation is sufficient stimulus for the digestive organs. Our forefathers, less refined, went at once to the point, and demanded a fixed and certain means of stirring up merriment; and perhaps it may be doubted if they were not nearer to a true philosophy of the matter than we are. Anyhow, the fact is, that all through the middle ages men of means and consequence did keep officers for the promotion of laughter in their households, and especially at meals. Such officers were of two kinds. One was an imperfect-witted man, or fool, whose follies were deemed to be amusing; he wore a parti-coloured dress, including a cowl, which ended in a cock's head, and was winged with a couple of long ears; he, moreover, carried in his hand a stick called his bauble, terminating either in an inflated bladder, or some other ludicrous object, to be employed in slapping inadvertent neighbours.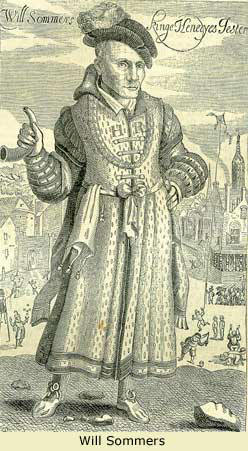 The other, called a jester, was a ready-witted, able, and perhaps well-educated man, possessed of those gifts of representing character, telling droll stories, and making pointed remarks, which we have seen giving distinction to a Charles Mathews, and occasionally find in a certain degree in private society. The fool was a very humble person, haunting kitchen and scullery, messing almost with. the dogs, and liable, when malapert, to a whipping. The jester was comparatively a companion to the sovereign or noble who engaged his services. The importance of Berclic, 'joculater' to William the Conqueror, is shown by the fact of three towns and five carucates in Gloucestershire having been conferred upon him.
And the names of Scogan, Will Somers, John Heywood, Pace, Tarleton, and Archie Armstrong, who were 'jesters' to a succession of Tudor and Stuart sovereigns of England, have all been sufficiently notable to be preserved. We introduce a correct portraiture of Somers, jester to Henry VIII, as a very fair representative of his class. It will be admitted that he is a perfectly well-arranged and respectable-looking person. It is a curious illustration of the natural need that seems to exist in a certain state of society for the services of a fun-maker, that Montezuma, Emperor of Mexico, was found by Cortez to have such an officer about his court. A pleasant volume, by Dr. John Doran, entitled The History of Court Fools, was published in 1858, and seemed a tolerably exhaustive treatise on the subject. Nevertheless, the ingenious author has since found some additional details, which he is pleased to communicate through these pages.
A Supplementary Chapter to the 'History of Court Fools.'
When the author of the last History of Court Fools wrote 'Finis' to his volume, he had not fully satisfied himself on two points,-first, the date of the existence of the earliest jester; and, secondly, whether such an individual as an official fool, or fool by right of office, was still maintained in any public court or private household. On those two points he has since arrived at a more satisfactory conclusion; and the result of his researches, on those and other points referring to the same subject, he submits to the consideration of the readers of these pages.
It can scarcely be doubted that the female official fool had precedence of the male court and household jester, When Ceres went in search of Proserpine, the Queen of Eleusis sent with her one of the merriest of her maids, named Iambe. This maid, renowned at court for her wit, frolic-some humour, power of repartee, and skill in saying smart things generally, was expressly sent with the bereaved mother to divert her sorrow by her quips and cranks, her jokes, gambols, and her laughter-compelling stories. This commission was, to the very letter, that which especially belonged to the official jester; and there is no reason to hesitate in assigning to Iambe the distinction of having been the founder of a race which is not yet extinct, and the godmother, so to speak, of satires in sharp measure which bear the name of Iambic.
With regard to existing jesters officially appointed, there are several who presume so to describe themselves, but of the genuineness or authenticity of whose pretensions much might be said, particularly in an adverse sense. It has become the fashion of clowns to travelling circuses to style themselves 'Queen's Jesters;' and there is one of these, named Wallet, whose portrait has been engraved among those of the Eminent Men of the Age, and who writes himself down as Court Jester to Queen Victoria, by her Majesty's appointment! We can only say that we should feel grateful for a sight of the Lord Chamberlain's warrant confirming this authority.
The fool by right of office must be looked for beyond the seas. The jester who figured at the Eglintoun tournament, and his brother who jokes and tumbles in the procession of Lady Godiva, may be mountebanks by profession, but they are only jesters for the nonce. The descendants of the old jesters are to be traced, however, in England as well as on the Continent. The dramatic writer, Mr. Fitzball, refers to his descent from an illegitimate son of the Conqueror, who was lord of an estate called Fitz-Follie. It has been suggested that this name may have been indicative of the calling exercised at court, by the owner of the estate. It might, indeed, have reference to the King's folly; and if the original designation was Fitz-Folle, it would serve to point to the vocation of the lucky young gentleman's mother. However this may be, we have not to go far abroad for another illustration, to see how a pedigree may improve in the persons last enrolled.
It is scarcely to be supposed that Gonella, the renowned Italian jester, of several centuries back, ever thought that among the future possessors of his name would be found a Monsignore, exercising the office, not of court fool, but of papal nuncio, at Brussels.
From Italy, as from England, the professional Merry Andrew in households has passed away. There is a relic of some of them at Mantua,-the apartments assigned to the old, comic ducal dwarfs. These rooms, six in number, and little more than as many feet square, are mere white-washed cells, long since stripped of all furniture. At the end of one of them, said to have been their kitchen, there is a raised platform, on which the jocular little men used to dine.
It is a singular fact that as the female jester had precedence, in point of date of origin, of her brother in the vocation, so has she survived that brother, and still holds her own in the court of the Sultan and the households of his great pashas. When Mrs. Edmund Hornby was 'In and about Stamboul,' in 1858, she, in company with other ladies, visited the harem of Kiza Pasha. The visitors accepted an invitation to a banquet, at which warm rye bread, covered with seeds, pleasant soups, smoking pilaufs, and pancakes swimming in honey, were among the chief dishes. The native ladies gave loose and unseemly rein to their appetites, stimulated by official female buffoons who served the dishes with accompanying jokes, the utterance of which excited the most uproarious laughter, not only from the ladies their mistresses, but also from their less witty, yet wit-appreciating, slaves.
Mrs. Hornby describes the chief jester as 'a wild and most extraordinary-looking woman, with an immensity of broad humour and drollery in her face.' The quality of the fun seems to have been of the coarsest; and the English ladies congratulated themselves on their lack of apprehension of jokes at which. the lovely Circassian, the second wife of the Pasha, 'between the intervals of licking her fingers and spoon, and popping tit-bits on our plates, laughed so complacently, which sometimes obliged the Arabs and eunuchs at the door to dive under the arras, to conceal their uncontrollable fits of mirth.' Whether the modern female Turkish jester be the descendant or not of a long line of predecessors, we are not informed. We do know, however, that when Lady Wortley Montague paid a similar visit, at the beginning of the last century, she was only amused by indifferent dancing, and by another exhibition, of which she speaks in the free and easy style of the fine ladies of her day.
This female table-jester-and this again is a singular circumstance-was of old a personage common enough at inns on the Continent. The readers of Erasmus will remember among his Colloquies one entitled 'Diversorium.' In that graphic paper we are taken to an inn at Lyons. The guests are received by handsome women, young maidens, and younger girls, all of whom also wait at table and enliven the company, whose digestion they make easy by narrating joyous stories, bandying witticisms, playing give-and-take with the visitors, and shewing themselves as ready to meet a jest by a sharp reply, as to provoke a reply by a galliard jest. The youngest of these pretty and carefully trained fools was never unequal to the task of meeting the heaviest fire of broad wit from a whole room full of revellers. These they stimulated and provoked by showers of humorous epithets and a world of pretty ways. They followed the guests to their chamber doors, laughing, jesting, and sporting; nor did they take leave of them till they had performed offices which young princesses in the Odyssey render to the guests of their royal sires, carrying off the linen of the travellers, dropping their foolery, and then seriously addressing themselves to the office of laundresses.
In the East, beyond the Bosphorus, there is still to be found in one and the same individual, in some families, a mixture of the domestic and the buffoon. These, however, probably resemble rather the impudent French or Spanish, and even some English valets of the drama, than the official jester; men whose impudent wit was tolerated, rather than solicited or expected. The male fool, by right of office, is now to be met with only in Russia. 'In St. Petersburg,' says an English lady, in her Six Years' Travels in Russia, 'they are by no means rare.' The old Russian joke of serving up dwarfs in a pie, still pleases imperial Grand Dukes. The professional Russian fools, this lady tells us, 'wear a ridiculous dress, but dwarfs usually appear in plain clothes.'
In the recently-published Life of Bishop Doyle, of Kildare and Leighlin, by Mr. Fitzpatrick, the author fixes on that Roman Catholic prelate as being the last person within these realms who kept a fool in his household. Dr. Doyle, however, who has been dead about a score of years, was, in the case cited, simply giving shelter to a village idiot, for sufferers of which class there was no public asylum in Ireland. The poor idiot did not fill, in Dr. Doyle's household, such an office as was executed in that of the late Pope Gregory XVI, by Cardinal Soglia.
In the gardens of the Vatican, the illustrious men there used to pass away the long summer evening hours, by playing at blindman's buff, Soglia being always hoodwinked, and armed with a stick. It was his object to strike at those whose aim was, of course, to evade him. On one of these occasions, the holy father stooped to remove a flower-vase which stood in peril of being shattered by the Cardinal's upraised stick, which, however, descended so rapidly as to put the papal skull in danger, but that some officials present unceremoniously pulled his holiness backward. Soglia, as concoctor of fun to the Roman court, was succeeded by Monsignore Aopi, who was also the Pope's confessor. It is, moreover, added, that Gregory took great delight in the jokes of certain Capuchins, particularly when they were tipsy. So, at least, says Della Galtina, according to whom the old court-foolery was sustained with great spirit at Rome to the very last.
It must be allowed, that the legendary saints themselves afforded the Popes good authority for this sort of buffoonery. St. Kened, for instance, though a weak, decrepit, and sickly little fellow, was an inveterate joker. When the Welsh St. David succeeded, by his prayers, in getting him strong and. straight, it was the other saint's most favourite joke, by dint of his own prayers, to get himself bent double again! And this course went on alternately, till St. David, unable to see any fun in it, gave up his task, and left the wit to his double crookedness of mind and body. The act, however, was just one which might have entered into a fool's head. In a better sort of wit, remarkable for its boldness, the religious men who hung about courts enjoyed the admiration and impunity awarded to the jesters. For example: 'What is the difference between a Scot and a sot?' asked Charles of Burgundy of Duns Scotus, as the two sat opposite each other at or after dinner. 'There is only a table between them!' answered the holy clerk, whose reply was received with unbounded applause, either for its finely small wit, or its incontrovertible truth.
Some potentates have been satisfied with less than wit; of such was the Grand Duchess Catherine of Russia, who maintained a Finnish girl on her establishment, in whose incomparable mimicry of all the great people at court her highness experienced a never-failing delight. A similar pleasure is still enjoyed by the negro king of Dahomey, concerning whom Duncan, the Life-guardsman, who travelled in Africa in 1849, states a curious circumstance. In that uncivilized monarch's dominions, it is considered highly disgraceful for a man to be guilty of drunkenness. Immunity, in this respect, is the privilege of the king's mimics and jesters only. Of these the black sovereign possesses many, and in their degradation and jollity he finds occasion for much mirth and laughter.
In England, those merry serving-men whose success was sometimes rewarded by making them lords of landed estates, were occasionally employed rather for sedative than stimulating purposes. Strutt records that it was not unusual to engage them as story-tellers to kings and princes who required to be gently talked into sleep. This office has expired, but well-qualified candidates for it survive. In our own courts, however, it was the more rattling fool who enjoyed the greater share of admiration. He spoke so boldly, when there was need for it, that honest and merry men of note, desirous to serve their royal master, borrowed the liberty, as it were, and told valuable truth under the form of an idle joke.
When Richard II was pressed by all classes of his people for reform in a government under which they were sorely oppressed, his plumed and dainty flatterers advised him to place himself at the head of his army, and destroy nobles and commons alike, who were thus unreasonable. The King was perplexed; 'but,' says John Trussell, the historian, 'there was present old Sir John Linne, a good soldier, but a shuttlebrain, of whom the King in merriment demanded, in this case, what was, as he thought, the fittest to be done. Sir John swore, 'Blood and wounds! let us charge home and kill every mother's son, and so we shall make quick despatch of the best friends you have in the kingdom.' This giddy answer,' adds Trussell, 'more weighed with the King than if it had been spoken in grave and sober sort: and thus it often happens, that wise counsel is more sweetly followed when it is tempered with folly; and earnest is the less offensive, if it be delivered in jest.'
Indeed, it may be said, that on such principle was founded the very institution of court fools. Even the grave Queen Elizabeth of York could thus listen to her Greenwich jester, William. It was otherwise with her husband, Henry VII, who neither kept fools himself, nor admired those maintained by the English nobility. This is little to be wondered at, if all the jesters of lords resembled him who was kept by Thomas Lord Derby. Henry VII was the guest of the latter, soon after his Majesty had so ungratefully executed Sir William Stanley, Lord Derby's own brother! Host and guest were standing on the leads of Latham House, viewing the country. Lord Derby was close against the parapet, the King immediately behind him. The house fool observed this propinquity, and chose to suspect the King of present, or was eager to remind him of past, treachery. Drawing near to his master, he exclaimed gruffly, 'Tom, remember Will!' This fool's bolt, so swiftly shot, reached the King's conscience, and his Majesty withdrew, in undignified hurry, into the house.
Henry's son, the eighth of the name, restored the banished official to court. Of his own Sir Merrymans, none is better known to us than Will Somers, whose effigy is at Hampton Court. This good fellow's memory was perpetuated by the establishment of the ' Will Somers Tavern,' in Old Fish-street. When tavern-tokens were allowed to be issued-a permission in existence as late as the reign of Charles II-the landlord of the above hostelry issued one, with a figure of Will Somers on it, by way of distinction. It is to be remembered, that a time ensued when a distinction was made between a jester and a fool. A dramatist like Heywood did not disdain to be the former, mingling with gentlemen and scholars; but we see that the fool, in the days of Mary and Philip, was of a lower degree. When the illustrious two, just mentioned, visited Faversham, the Chamberlain kept a book, in which he entered moneys given to the members of the royal retinue. The entry of-'To the King's and Queen's jester-2s.,' indicates the position of the fool; two shillings was the lowest sum awarded to the lowest menial in the royal train. The keeper of the bears seems to have been a more important personage than the baser fool at Queen Elizabeth's court, where her jester, Tarleton the actor, was held in some honour. When fool and bearward followed her Majesty to Canterbury, the corporation gave liberally to her retinue; but while the bearward received an angel, or ten shillings, the fool, Walter, was put off with the odd money, which, added to the angel, just made an English mark. Three and fourpence' was the sum that fell to the fool.
Let it not be considered irreverent if the words 'Shakespeare' and 'jester' be combined. They naturally occur here. There are four years, 1585-89, during which nothing certain is known of Shakespeare's whereabouts. In a letter addressed by Sir Philip Sidney, from Utrecht, 1586, to his father-in-law, Walsingham, there is a passage to this effect: 'I wrote to you a letter, by Will, my Lord of Leicester's jesting player.' In the first volume of the Shakspeare Society papers, Mr. John Bruce asks, Who was this Will, my Lord of Leicester's jesting player?' He may have been Will Johnson, Will Sly, Will Kimpe, or, as some have thought, even the immortal William himself! This knotty point cannot be unravelled here. The circumstance serves, however, to shew that 'jesting players' followed their patrons even to the tented field.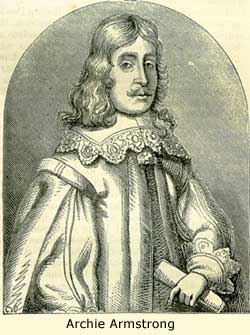 Under our first Stuart kings, the court fools revived in dignity. They were allowed serving-men to wait upon them, and some of these were pensioned for their good services. The author of Letters from the Mountains states that in some Scottish families of the olden time, down to the present century, was often to be found an individual who united in himself the offices of gamekeeper and warlock or wizard, and that in the latter capacity he in some degree resembled the court or household jester. There was a stranger combination than this in the person of the famous Archie Armstrong, official fool to James I and his son Charles. Archie was a sort of gentleman groom of the chambers to the first King, preceding him when in progress, and looking after the royal quarters. In this capacity, Armstrong was made a free citizen of Aberdeen, and held that freedom till his death. James must have loved him, at one period; for despite his hatred of tobacco, he granted a patent to Archie for the manufacture of tobacco pipes. The fool, moreover, gained no trifling addition to his salary, in bribes administered to him for presenting petitions, even those of recusants; at which last, however, James was not so well pleased as he was with Archie's jokes.
The position of Armstrong, who was on most familiar terms with his second master, Charles, is significantly indicated by his demand, when appointed to accompany that Prince to Spain. He claimed to have the service of an attendant, the same as was awarded to the gentlemen of the royal suite. The claim caused a tumult among the gentlemen in question, and Archie was fain to go abroad in less state than he thought became him. In the gloomy days that succeeded, the fool raised laughter at court, but not such. an honest laughter as used to shake the house of Charles's brother, Prince Henry, where 'sweetmeats and Coryat,' that prince of non-official jesters and coxcombs, used to finish and gladden every repast.
Although the jester was not to be found on the household list of Oliver Cromwell, there were occasions when buffoons, hired for sport, appeared at Whitehall. One of these was the marriage of the Protector's daughter, Frances, with Mr. Rich. At the festival which followed the ceremony, some of the buffoons attempted to blacken with a burnt cork the face of Sir Thomas Hillingsby, as he was dancing. The solemn old gentleman-usher to the Queen of Bohemia was so enraged at this liberty, that he drew his dagger and would have made short work with the jester's life, had not others present interfered. There was, however, very wide licence at this feast. It was there that Oliver descended to practical foolery, snatched off his son Richard's wig, and, pretending to fling it into the fire, contrived to slip it under him, and, sitting on it, affected to deplore its loss.
When Wharton, in the True Briton, compared two of the Chancellors of Charles II (Nottingham and Shaftesbury), he reckoned among the superior characteristics of the former, the absence of buffoons from his household. The last man of the next reign whom one might expect to see with a fool in his suite, was the infamous Judge Jeffries. His official jester, however, attended him on his bloody circuit. The judge loved and laughed at the fool's power of wit and mimicry; and at Taunton he tossed to the buffoon the pardon 'of a convicted victim, leaving the victim's friends to purchase it of him, if such was desired, and lay within the compass of their means!
After this, the official jester disappeared, or his calling was modified. Thus, in the early part of the last century, there was a well-known Cheshire dancing-master, named Johnson, who was hired out at parties given by the northern nobility, at which he had license to utter or enact anything that was likely to move the guests to laughter. Johnson was familiarly known as 'Lord Flame,' the name of a character played by him, in his own extravaganza, entitled Hurlothrumbo, a piece acted at the Haymarket in 1729. Johnson was among the last of the paid English jesters. The genuine ultimus scurraurm in this country is said to have been a retainer in the house of Mr. Bartlett, of Castlemorton, Worcestershire. The date of his death is not precisely known, but it would seem to have been in the last half of the last century. He is still spoken of; and 'as big a fool as Jack Hafod,' at once preserves his' name and indicates his quality. Since Hafod's days, we have only had fools for the nonce, in England. Such is he who struts in anniversary processions, Or who is only reproduced as a memorial of the past, like the dramatic jester who figures in the gay doings at Sudeley Castle, where Mr. and Mrs. Dent, the occupiers of that old residence of Katherine Parr, preside at fancy balls, in the ancient mansion, in the gallant costume of Henry and his Queen.
There is not much to be added to the history of the Court Fools of France. Of one of the most renowned of these, Triboulet, the present writer saw a capital portrait, the property of Walter Savage Landor, sold at Christie's, in 1859. It is the work of Licinio, the great rival of Titian, and is worthy of either hand. Triboulet appears to have been a man of strongly-marked but 'jolly' features; just such a man, in short, as history, but not the dramatic historians, have made him.
The most extraordinary combination of two offices that ever occurred, existed at the court of Louis XVIII, in the person of Coulon, a medical man of great skill, who ultimately abandoned all practice except with respect to the King, to whom he was at once doctor and jester. When a medical student, Coulon was wont, by his powers of mimicry, to keep a whole hospital-ward in roars of laughter. On one occasion, when officiating as assistant to the great Alibert, as the latter was bandaging the swollen legs of the suffering sovereign, Coulon so exquisitely mimicked his master behind his back, that the delighted Louis retained him thenceforward near his person. For the amusement of his royal patron, Coulon gave daily imitations.
If the King asked him whom he had met, the medical jester would at once assume the bearing, voice, and the features of the person he desired to represent. It mattered not at all what the sex or the quality might be, or whether the mimicked individuals were the King's friends or relations, or otherwise. In either case, the monarch was in an ecstasy of hilarity as he promptly recognised each personage thus presented to him.-' Coulon,' said the Duke of Orleans to him, one day, 'I happened to see and hear your imitation of me, yesterday. It was capital, but not quite perfect. You did not wear, as I do, a diamond pin in your cravat. Allow me to present you with mine; it will make the resemblance more striking.' 'Ah! your highness,' replied Coulon, fixing the pin in his own cravat, and putting on such a look of the prince that the latter might have thought he was standing before a mirror, 'as a poor imitator, I ought, properly, to wear only paste!'
His imitations, however, were so approximate to reality that he sat for portraits of Thiers and Mole; but Coulon's greatest triumph, in this way, was through a harder task. There was no efficient portrait extant of the deceased minister, Villéle Gros was regretting this. 'Aye,' said Coulon, 'no likeness of him represents the profound subtlety of his character, and his evanescent expression.' As he said this, a living Ville'le seemed to stand before the artist, who then and there took from this singular personage, the well-known portrait which so truthfully represents the once famous statesman of the old Bourbon times.
The only man who ever resembled Coulon at the court of France was Dufresnoy, the poet, playwright, actor, gardener, glass manufacturer, spendthrift, wit, and beggar. Louis XIV valued him as Louis XVIII valued Coulon, and many dramatists of his day used to 'book' his loose, brilliant sayings, and reproduce them as original. His royal protector appointed him his honorary fool; and it must be allowed that Dufresnoy had more of the old official about him than the refined and wealthy Coulon. The earlier jester, having got into debt with his washerwoman, settled the claim by making her his wife. It was a poor joke, and his wit seems to have suffered from it. He ventured, one day, to rally the Abbe Pelligrini on the soiled look of his linen. 'Sir,' said the piqued Abbe, 'it is not everyone who has the good luck to marry his laundress! 'The joker was dumb; and he stood no bad illustration of that line in Churchill, which speaks of men: 'O'errun with wit and destitute of sense.'
The combination of a serious with a jesting vocation was not at all uncommon at the court of Russia. In the household of the Czarina Elizabeth, Professor Stehlin, teacher of mathematics and history to the Grand Duke, afterwards Peter II., was also buffoon to his illustrious and imbecile pupil. This, indeed, was an office shared by all the young gentlemen of the Grand Duke's household, for they jumped to his humour, and danced to his fiddling, in his wife's bed-room, at all hours of the night, in all sorts of disguises, and to the accompaniment of most undignified figures of speech. The Czarina's own fool, Aksakoff, was a mere stolid brute, who used to place mice and hedgehogs in his mistress's way, for no better reason than that the sight of those animals terrified her to death. The selfishness of this fellow is in strong contrast with the disinterested folly of poor Bluet d'Arbères, another of the few men who have joined earnestness of life with a fool's calling. At the beginning of the seventeenth century, when the plague was devastating Paris, this heroic ex-fool to the Duke of Mantua conceived the heroically-foolish idea, that the pestilence would be stayed, if he made sacrifice of his own life by way of expiation. Under this impression, he starved himself to death.
It is certain that the Hanoverian family brought no official jesters with them to England. The reason may be found in the assertion of Palmblad, that the fashion of keeping fools was going out of German courts when Ernest Augustus was Elector of Hanover. Yet this father of our George I retained a buffoon-Burkard Kaspar Adelsburn-for two reasons; as a remnant of good old German manners, and because the fashion was dying away in France, which country he just then detested. This jester exercised great influence over the Elector; not merely in a witty, but also in a ghostly sense, for Burkard would ever and anon lecture his libertine sovereign with all the freedom and earnestness of Whitefield when belabouring a reprobate collier.
That the fashion lingered on in Germany is clear, from a letter written by Lady Featherstonehaugh, in 1753, and quoted by Lady Chattertou in the recently-published Memorials of Lord Gambier. The former lady writes from Dresden, and alludes to the court-doings of Frederick Augustus. 'In the evening,' she says, 'we were at the apartments of the Royal Family, and were much. surprised at seeing an ancient custom kept up here, and in no other court besides, except that of Prussia, of keeping buffoons. There are no less than three at this court.'
Nevertheless, when the official court fool ceased to be found in palace households, some princes began to be their own fools. This, however, is a portion of a subject which cannot here be entered upon. Sufficient for this article is the 'folly' thereof. J. D.
A surprise is felt that one of the Armstrongs that border clan remarkable only for stouthreif should have ever found his way to court, even in so equivocal a position as that of the King's Jester. The traditionary story on this point has been thus reported to us. A shepherd with the carcase of a sheep on his shoulders, was tracked by the officers of justice to a cottage in the moor-lands, where, however, they found no one but a vacant-looking lad, who sat rocking a cradle, apparently altogether unconscious of their object. Searching somewhat narrowly, they at length found that, instead of a baby, the carcase of the missing sheep occupied the cradle. No longer doubting that the rocker of the cradle was the delinquent, they seized and brought him to Jedburgh, where King James VI had just arrived to hold one of his justice aires.
Condemned to die for his crime, Archie Armstrong-for it was he-pleaded with the king that he was a poor ignorant man-he had heard of the Bible, and wished to read it through-would his Highness please respite him till this should have been, for his soul's weal, accomplished. The good-natured monarch granted the prayer, and Archie immediately rejoined with a sly look, 'Then deil tak me an I ever read a word o't, as lang as my een are open!' James saw from this that there was humour in the man, and had him brought to court.