Born: Erasmus Reinhold, astronomer, 1511, Salfeldt, Thuringia; Dr. Samuel Clarke, theological writer (The Being and Attributes of God), 1675, Norwich; James Barry, historical painter, 1741, Cork; Philip Astley, founder of Astley's amphitheatre, 1742, Newcastle-under-Lyne.
Died: Louis V, emperor of Germany, 1347; Ulrich Zwingli, Swiss reformer, killed at Cappel, 1531; Sir Thomas Wyatt, the Elder, poet and statesman, 1542, Sherborne; Thomas Stackhouse, biblical writer, 1752, Benham, Berkshire; Anne, Countess of Macclesfield, mother of the poet Savage, 1753, London; Samuel Wesley, musician, 1837.
Feast Day: Saints Tarachus, Probus, and Andronicus, martyrs, 304. St. Canicus or Kenny, abbot in Ireland, 599. St. Ethelburge or Edilburge, virgin and abbess, about 664. St. Gummar or Cromer, confessor, 774.
DEATH OF ZWINGLI
Inferior to Luther and Calvin in point of genius and mental vigour, Ulrich Zwingli, or as his name is Latinised, Zuinglius, the great Swiss reformer, is better fitted as a man to command our love and esteem. The purity and amiableness of his character are universally admitted, whilst the honour unquestionably belongs to him of being the earliest of the ecclesiastical reformers of the sixteenth century. In his death, too, he may be regarded as a martyr to his principles, having accompanied, at the desire of the council of Zurich, a body of troops, sent during a civil war between the Catholic and protestant cantons, to the relief of their countrymen at Cappel, where an action ensued, and the devoted pastor was struck down in the act of encouraging the soldiers.
The victory turned against the Protestants, and Zwingli, left dying on the battle-field, was run through by the sword of a Catholic soldier, who was ignorant of his quality, but discovered him to be a heretic from his declining, by signs, to avail himself of the offer of a confessor, and recommend his soul to the Virgin. On his body being found and recognised next day, a group of spectators assembled to gaze on the remains of the renowned pastor of Zurich. One of these who had been his colleague in his days of Catholicism, looked long and earnestly on the lifeless face, and then exclaimed: '
Whatever may have been thy faith, I am sure thou west always sincere, and that thou lovedst thy country. May God take thy soul to his mercy!

The fanatical fury of a bigoted mob was, however, incapable of any such generous appreciation, and a proposal to burn the heretical corpse was received with acclamations, and forth-with carried into execution.
When Zwingli thus met an untimely death, he had only attained the age of forty-seven. As an ecclesiastic of the Roman Catholic Church, he had manifested from the first a decided tendency to the Reformed religion, by inculcating the doctrines of primitive Christianity rather than medieval dogmas, and by referring to the Scriptures as the only authoritative tribunal in religious matters. While a preacher also in the celebrated abbey of Einsiedlen, he discountenanced greatly the superstitious notions which attracted so large a concourse of pilgrims to that celebrated shrine, and procured an erasure of the inscription over the abbey-gate, 'Here plenary remission of all sins is obtained.'
His convictions as to the errors of the established faith gained daily ground, and made rapid progress after his transference from Einsiedlen to the post of preacher in the cathedral of Zurich. Here he felt himself called upon, like Luther in a similar position, to denounce the shameless traffic in indulgences, which Samson, a Franciscan friar, was endeavouring to carry on in Zurich, under the authority of Pope Leo X. The papal emissary was obliged to quit the city, and a rebellion against the authority of the holy see having thus been inaugurated, Zwingli was not long in proceeding to shake off its authority altogether.
In a work which he published, On the Observation of Lent, he disputed with great freedom the obligation of observing particular days, and found himself arraigned in consequence, at the instance of the Bishop of Constance, before the great council of Zurich, to answer the charges of heresy and innovation. Converted, however, already by the preaching of Zwingli to a participation in his sentiments, the decision of the council was a triumphant vindication of the accused, and what may be regarded as the first sanction by state authority of the principles of the Reformation in Switzerland. Shortly afterwards the images were removed from the churches, the celebration of mass abolished, and the practice of marriage introduced among the clergy, Zwingli himself setting an example by wedding, at the age of forty, the widow of an eminent magistrate, by whom he had one son.
As a reformer, Zwingli is certainly entitled to the credit of originality as well as precedence. His views seem to have been matured without any assistance from and cooperation with others, though on after-comparison his formula of faith agreed in all essentials with that of Luther, and was nearly identical with that of Calvin. With the first of these reformers, he maintained a strenuous contest on the subject of consubstantiation, or the presence of the body and blood of Christ in the sacramental elements; but on the occasion of a discussion between them at Marburg, in 1529, the proceedings terminated by the two champions signing their mutual assent to fourteen articles of faith, and expressing a hope that their difference regarding the real presence would not interrupt their harmony, as coadjutors in the same cause. With regard to Calvin, it ought to be observed that his influence has, in reality, been very slight in Switzerland, where the reformed Helvetic church was founded by Zwingli several years before the doctrines of Calvin had been heard of There is, nevertheless, as already remarked, a close similarity between their tenets, though the characteristic doctrine of predestination is less decidedly expressed by Zwingli.
The amiability of Zwingli's character was no less conspicuous than its intrepidity and uprightness. In many points, he seems to have been in advance of his age, as we find him remonstrating in the assembly of the canton of Schweitz, against that practice which, down to the present day, has formed so unfavourable a trait of the Swiss people-their readiness to hire themselves as mercenary troops to the service of any foreign despot. In this object he so far succeeded, that a law was passed by the assembly of the canton forbidding all foreign alliances and subsidies for the space of twenty-five years. The liberality and large-heartedness of his religious views were remarkable for the sixteenth century. He maintained that no person ought to be molested for his opinions, and ventured even to express a belief in relation to the salvation of heathens, that 'all good men who have fulfilled the laws engraven on their consciences, whatever age or country they may have lived in, will partake of eternal felicity.' One special position that the ecclesiastical must in all respects be subordinated to the secular power, has been made an object of reproach to him, both by Catholics and Protestants. This sentiment contributed perhaps indirectly to his. fate, as it was in obedience to the orders of the Zurich magistrates, that he met death on the field of battle, a circumstance with which several of his enemies have thought fit to stigmatise his memory.
SPECTRE-DOGS
Neither Brand in his Popular Antiquities, nor Sir Walter Scott in his Witchcraft and Demonology, mentions spectre-dogs as a peculiar class of apparitions, yet they seem to occupy a distinct branch of English mythology. They are supposed to exist in one form or another in almost every county, and few kinds of superstition have more strongly influenced the credulous mind. To have the 'black dog on the back' has become a general phrase, though perhaps few who use it have an idea of its origin. The following anecdotes about spectre-dogs will illustrate this phrase, and shew how generally this branch of superstition is received.
According to popular psychology, the subject may be divided into three parts:
We will begin with the black-dog apparition.
In almost every county there is a popular belief in a spectral dog, which, although slightly varying in appearance in different parts, always bears the same general characteristics. It is described as large, shaggy, and black, with long ears and tail. It does not belong to any species of living dogs, but is severally said to resemble a hound, a setter, a terrier, or a shepherd-dog, though often larger than a Newfoundland. It bears different names, but is always alike supposed to be an evil spirit, haunting places where evil deeds have been done, or where some calamity may be expected. In the Isle of Man, it is called the Mauthe Doog, and, according to tradition, was accustomed to haunt Peel Castle, where it was seen in every room, but especially in the guard chamber. Here, as soon as candles were lighted, it used to go and lie down before the fire, in presence of the soldiers, who became so accustomed to its appearance, that they lest much of the awe which they first felt at its presence. But knowing its malicious character, they never ventured to molest it, till one of them, in a drunken fit, swore that 'he would try whether it were dog or devil!' He made his trial, and was instantly sobered, but rendered speechless. He lived only three days afterwards, and then 'died in agonies more than is common in a natural death.'' I heard this attested,' says Mr. Waldron, 'by several, but especially by an old soldier, who assured me he had seen it oftener than he had then hairs on his head.' Sir Walter Scott, in his Lay of the Last Minstrel, thus alludes to this tradition:
For he was speechless, ghastly, wan,
Like him, of whom the story ran,
Who spoke the spectrehound in Man.

A similar story is related of a man who lived at a village near Aylesbury, in Buckinghamshire. This man was accustomed to go every morning and night to milk his cows in a field, which was some distance from the village. To shorten his walk, he often crossed over a neighbour's field, and passed through a gap in the hedge; but one night, on approaching the gap, he found it occupied by a large, black, fierce looking dog. He paused to examine the animal, and as he looked at him, his fiery eyes grew larger and fiercer, and he had altogether such a fiend-like and 'unkid' appearance, that he doubted whether he were 'a dog or the bad spirit.' Whichever he was, he thought he would be no pleasant antagonist to encounter. So he turned aside, and passed through a gate at the end of the field. Night after night, he found the same dog in the gap, and turned aside in the same manner. One night, having fallen in with a companion, he returned homeward with him across his neighbour's field, being determined, if he found the dog in the gap, to make an attack upon him, and drive him away. On reaching the gap, there stood the dog looking even fiercer and bigger than over. But the milkman, wishing to appear valiant before his companion, put down his milk-pails, which were suspended from a yoke across his shoulders, and attempting to speak very bravely, though trembling all over, he exclaimed: 'Now, you black fiend, I'll try what ye're made of!' He raised his yoke in both his hands, and struck at the dog with all his might. The dog vanished, and the milkman fell senseless to the ground. He was carried home alive, but remained speechless and paralytic to the end of his days.
A certain spot near the writer's residence is said to be haunted at midnight by 'the black dog.' Once, at the awful hour of midnight, he happened to pass the dreaded spot, and, sure enough, he met the black-dog apparition. It was a light summer's night, and as he approached the awful apparition, he soon saw it was far too substantial 'to try what it was made of.' He knew it to be a fine black dog, half Newfoundland and retriever, belonging to a gamekeeper, who, doubtless, was near at hand watching his master's preserves. It is no uncommon manceuvre for poachers and such characters to give certain spots the reputation of being haunted.
In the adjoining county of Hertford, the same superstition prevails, and the black-dog apparition is still a dreaded bogie. Within the parish of Tring, but about three miles from the town, a poor old woman was, in 1751, drowned for suspected witchcraft. A chimney-sweep, who was the principal perpetrator of this atrocious deed, was hanged and gibbeted near the place where the murder was effected. While the gibbet stood, and long after it had disappeared, the spot was haunted by a black dog. The writer was told by the village school-master, who had been 'abroad,' that he himself had seen this diabolical dog. 'I was returning home,' said he, 'late at night in a gig with the person who was driving. When we came near the spot, where a portion of the gibbet had lately stood, we saw on the bank of the roadside, along which a ditch or narrow brook runs, a flame of fire as large as a man's hat. 'What's that?' I exclaimed. 'Hush!' said my companion all in a tremble; and suddenly pulling in his horse, made a dead stop. I then saw an immense black dog lying on the road just in front of our horse, which also appeared trembling with fright. The dog was the strangest looking creature I ever beheld. He was as big as a Newfoundland, but very gaunt, shaggy, with long ears and tail, eyes like halls of fire, and large long teeth, for he opened his mouth and seemed to grin at us. He looked more like a fiend than a dog, and I trembled as much as my companion. In a few minutes the dog disappeared, seeming to vanish like a shadow, or to sink into the earth, and we drove on over the spot where he had lain.' The same canine apparition is occasion-ally still witnessed at the same place or near it.
In Norfolk, and in some parts of Cambridgeshire, the same kind of apparition is well-known to the peasantry by the name of 'Shuck,' the provincial word for shag. Here he is said chiefly to haunt churchyards, but other lonesome places are not secure from his visitations. Thus a dreary lane, in the parish of Overstrand, is called, from his frequent visits there, Shuck's Lane. The spot on which he has been seen, if examined soon after his disappearance, is found to be scorched, and strongly impregnated with the smell of brimstone!
In some districts of the county of Lancaster, this spectre-dog bears the names of 'Trash' and 'Skriker.' Its general appearance is the same as in other parts, but its habits, and the object of its visits, seem somewhat different. It does not haunt particular spots, but appears to certain persons to warn them of the speedy death of some relation or intimate friend. Occasionally, however, it gives its warning, not by its appearance, but only by uttering a peculiar screech, from whence it is called, in the local dialect, Skriker. Its name, Trash, is applied to it, because the noise made by its feet is supposed to resemble that of a person walking with heavy shoes along a miry, sloppy road. If followed, it retreats, but always with its eyes fronting the pursuer, and either sinks into the earth with a frightful shriek, or, if the pursuer averts his eyes from it for a moment, it disappears he knows not how. If struck at with a stick or weapon, it keeps its ground, but, to the horror of the striker, his weapon passes as harmlessly through it as if it were a mere shadow.
Lyme-Regis, in Dorsetshire, has a famous story about one of these canine apparitions. About a mile from the town stands a farmhouse, which once formed part of an old mansion that was demolished in the parliamentary wars, except the small portion still existing. The sitting-room now used by the farmer, and also by his predecessors for a century or two, retains the large old-fashioned fireplace, with a fixed seat on each side under the capacious chimney. Many years ago, when the then master of the house, as his custom was after the daily toils were over, used to settle himself on one of these snug seats in the chimney-corner, a large black dog as regularly took possession of the opposite one. This dog in all essentials resembled the spectre-dog already described. For many nights, weeks, and months, this mysterious visitor, sitting vis à vis to the farmer, cast a gloom over his evening enjoyment. At length, as he received no harm from his companion, and became accustomed to his appearance, he began to look on him as one of the family circle. His neighbours, however, often advised him to drive away the fiend-like intruder; but the farmer, not relishing a contest with him, jestingly replied: 'Why should. I? He costs me nothing he eats nothing, he drinks nothing, he interferes with no one. He is the quietest and frugalest creature in the house.'
One night, however, the farmer, having been drinking too freely with a neighbour, and excited by his taunts about the black dog to an unusual degree of irritation, was determined his courage should no more be called in question. Returning home in a rage, he no sooner saw the dog on his usual seat, than, seizing the poker, he rushed with it towards his mysterious companion. The dog, I perceiving his intention, sprang from its seat, and ran up stairs, followed by the infuriated farmer. The dog fled into an attic at the top of the house, and just as the farmer entered the same room, he saw it spring from the floor, and disappear through the ceiling. Enraged at being thus foiled, he struck with the poker the ceiling where the dog had passed through, and down fell a small old-fashioned box, which, on being opened, was found to contain a large sum in gold and silver coins of Charles I's reign.
The dog was never more seen within doors, but to the present day continues at midnight to haunt a lane which leads to this house, and which has long borne the name of 'Dog Lane,' while a small inn by the roadside still invites the passing stranger by the ominous sign of 'the Black Dog,' portrayed in all his spectral frightfulness. So late as the year 1856, a respectable intelligent woman told the writer that she herself had seen the dog-ghost. 'As I was returning to Lyme,' said she, 'one night with my husband down Dog Lane, as we reached about the middle of it, I saw an animal about the size of a dog meeting us. 'What's that?' I said to my husband. 'What?' said he, 'I see nothing.' I was so frightened I could say no more then, for the animal was within two or three yards of us, and had become as large as a young calf, but had the appearance of a black shaggy dog with fiery eyes, just like the description I had heard of the 'black dog.' He passed close by me, and made the air cold and dank as he passed along. Though I was afraid to speak, I could not help turning round to look after him, and I saw him growing bigger and bigger as he went along, till he was as high as the trees by the roadside, and then seeming to swell into a large cloud, he vanished in the air. As soon as I could speak, I asked my husband to look at his watch, and it was then five minu es past twelve. My husband said he saw nothing but a vapour or fog coming up from the sea.'A case of this kind skews how even a sensible person may become the victim of self-delusion; for in all practical matters this woman was remarkably sober-minded, intelligent, and judicious; and well educated for a person of her calling that of sick-nurse, the duties of which she discharged in the writer's house for several weeks to his fullest satisfaction, shewing no symptoms of nervousness or timidity.
The foregoing examples belong to the class of fiends who have assumed the appearance of dogs. We will now give a few instances of human spirits that, as a punishment, have been transformed into similar apparitions.
Lady Howard, a Devonshire notable of the time of James I, was remarkable for her beauty, her wealth, her talents, and accomplishments. But she had many bad qualities. Amongst others, she was unnaturally cruel to her only daughter, and had a bad knack of getting rid of her husbands, having been married no less than four times. At last she died herself, and, for her misdemeanours while living, her spirit was transformed into a hound, and compelled to run every night, between midnight and cock-crowing, from the gateway of Fitzford, her former residence, to Oakhampton Park, and bring back to the place from whence she started, a single blade of grass in her mouth; and this penance she is doomed to continue till every blade of grass is removed from the park, which she will not be able to effect till the end of the world. How these particulars were communicated to our fellow living mortals we are not informed, and. we dare not venture a conjecture.
Our rustic psychologists have been rather more explicit in the following story:
There once lived in the hamlet of Dean Combe, Devon, a weaver of great fame and skill. After long prosperity he died and was buried. But the next day he appeared sitting at the loom in his chamber, working as diligently as when he was 'alive. His sons applied to the vicar, who accordingly went to the foot of the stairs, and heard the noise of the weaver's shuttle in the room above. ' Knowles,' he cried, 'come down; this is no place for thee.'' I will,' replied the weaver, 'as soon as I have worked out any quill' (the quill is the shuttle full of wool). 'Nay,'vsaid the vicar, 'thou hast been long enough at thy work; come down at once.'vSo when the spirit came down, the vicar took a handful of earth from the churchyard, and threw it in its face. And in a moment it became a black hound. ' Follow me,' said the vicar, and it followed him to the gate of the wood. And when they came there, 'it seemed as if all the trees in the wood were coming together, so great was the wind.' Then the vicar took a nutshell with a hole in it, and led the hound to the pool below the waterfall. 'Take this shell,' said he, 'and when thou shalt have dipped out the pool with it, thou mayest rest not before!' And at mid-day and at midnight, the hound may still be seen at its work.

It is difficult to understand why the industrious weaver was consigned to such a hopeless doom. Many spectral dogs, believed. to be the souls of wicked persons, are said to haunt the sides of rivers and pools, and sometimes their yelping is so dreadful, that all who hear them lose their senses.
Besides such apparitions of solitary dogs, whole packs of spectral hounds are said to be occasionally heard and seen in full cry in various parts of England. and Wales, but chiefly in mountainous districts. They are everywhere described much in the same way, but with different names. In the north, they are called 'Gabriel's Hounds;' in Devon, the 'Wisk,'' Yesk,' or ' Heath Hounds;' in Wales, 'Cron Annwn,' or ' Cwn Wybir;' and in Cornwall, the 'Devil and his Dandy dogs.' But few have ever imagined that they have seen these hounds, though popular superstition has described them as black, with fiery eyes and teeth, and sprinkled all over with blood. Generally, they are only heard, and seem to be passing swiftly along in the air, as if in hot pursuit of their prey; and, though not very high up, yet they cannot be seen, because they generally choose cloudy nights. Their yelping is said to be sometimes as loud as the note, of a bloodhound, but sharper and more terrific. Why they have anywhere received the name of Gabriel's hounds, appears unaccountable, for they are always supposed to be evil spirits hunting the souls of the dead, or, by their diabolical yelping, to betoken the speedy death of some person. Thus, Mr. Holland, of Sheffield, describes in the following sonnet the superstition as held in Yorkshire
Oft have I heard my honoured mother say
How she hath listened to the Gabriel Hounds;
Those strange unearthly and mysterious sounds
Which on the ear through murkiest darkness fell;
And how, entranced by superstitious spell,
The trembling villager not seldom heard,
In the quaint notes of the nocturnal bird
Of death premonished, some sick neighbour's knell.
I, too, remember once, at midnight dark,
How these sky-yelpers startled me, and stirred
My fancy so, I could have then averred
A mimic pack of beagles low slid bark!
Nor wondered I that rustic fear should trace
A spectral huntsman doomed to that long moonless chase.

Wordsworth, alluding to another form of this superstition, similar to the German story of the Wild. Huntsman, thus writes:
He oftentimes will start,
For, overhead, are sweeping Gabriel's Hounds,
Doomed, with their impious lord, the flying hart,
To chase for ever through aërial grounds.

Many wild and amusing stories are told respecting these aerial hounds; especially in the secluded districts of Devon and Cornwall. The following is a specimen. A herdsman was journeying home-ward. across the moors of Cornwall one windy night, when he heard at a distance the baying of hounds, which he was not long in recognising to be the dismal yelp of the Devil's Dandydogs. He was three or four miles distant from his home; and, much terrified, he hurried onward as fast as the treacherous nature of the soil and uncertainty of the path would allow; but the melancholy yelping of the hounds and the fiendish shout of the hunter came nearer and nearer. After a long run, they appeared so close upon him, that he could. not help turning round to look at them. He was horror-struck, for he could distinctly see the hunter and his dogs. The huntsman was terrible to behold. He was black, had large fiery eyes, horns, a tail, and carried in his clawy-hand a long hunting-pole. The dogs, a numerous pack, blackened the ground as far as it could be seen; each snorting fire, and yelping in the most frightful tone. What was the poor rustic to do? No cottage was near; no rock, no tree to shelter him nothing remained but to abandon himself to the fury of these hell-hounds. Suddenly, a happy thought flashed into his mind. He had been told that no evil spirit can resist the power of prayer. He fell on his knees, and at the first holy words he uttered, the hounds stood still, but yelped more dismally than ever; and the huntsman shouted, 'Bo Shrove!' which 'means,' says the narrator, 'in the old language, The boy prays!' The black huntsman then drew off his dandy-dogs, and the poor herdsman hastened home as fast as his trembling frame permitted.
This, and similar stories, strikingly illustrate the creative power of the imagination when excited by fear. The herdsman's vision existed only in his own mind, induced by the terrifying sound, which, although adapted by his imagination to his previous conceptions of the dandy-dogs, was a reality. For it has been fully and satisfactorily ascertained that the goblin-hounds, which have originated such fanciful legends in almost every county, are merely flocks of wild-geese, or other large migratory birds.
HARRY ROWE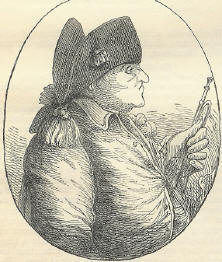 In the earlier half of October 1800, there died in the poor-house of York one Harry Rowe, a well-known character in his locality, who made a good deal of noise in the world while he lived, and caused considerable speculation among Shakspearian commentators after his death.
For Harry had many years held the distinguished post of trumpet-major to the high-sheriffs of Yorkshire, and was also the reputed author of an ably-commentated edition of Macbeth, and a musical farce, entitled No Cure, no Pay, a trenchant satire on quack-doctors, and the shameful facility with which medical diplomas and degrees were then obtained by illiterate adventurers.
Rowe was born at York in 1726. He served as trumpeter, in the Duke of Kingston's regiment of light horse, at the battle of Culloden; and, after he retired from the army, attended, in the same capacity, the sheriffs and judges at York assizes for nearly half a century. Rowe was also the master of a puppet-show, and, for many successive years, he opened his little theatre at York during the winter months, making a regular circuit to various parts of the country in the summer season. By these means he long sup-ported his poor and aged parents, never allowing them to receive any other aid than that amply provided for them by his own exertions. In his own case he was less fortunate. When overtaken by age and poverty, Rowe was forced to seek an asylum in the poor-house, where he died.
The puppet-showman had a rough, ready, caustic wit, with which he interlarded the speeches of his wooden comedians, to the great delight of the audience. And so, many actually thought that the edition of Macbeth, bearing Rowe's name on the title-page, was really written by him, to the great mystification of later commentators. In the preface, Harry is made to say: 'I am the master of a puppet show, and as, from the nature of my employment, I am obliged to have a few stock-plays ready for representation whenever I am accidentally visited by a select party of ladies and gentlemen, I have added the tragedy of Macbeth to my green-room collection. The alterations that I have made in this play are warranted, from a careful perusal of a very old manuscript in the possession of my prompter, one of whose ancestors, by the mother's side, was rush-spreader and candle-snuffer at the Globe playhouse, as appears from the following memorandum on a blank-page of the manuscript:
This day, March the fourth, received the sum of seven shillings and fourpence, for six bundles of rushes, and two pair of candle snuffers.

The work cleverly satirises Johnson's, Steevens's, and Malone's editions of Shakspeare, and was written, as well as No Cure, no Pay, by Dr. Andrew Hunter of York, a skilful physician and able man of letters. The profits were given to Rowe, to support him in a long and painful illness; and, when unable to manage his wooden company, the old trumpet-major sold the works of the charitable but satirical physician, in all parts of the city of York, as his own composition.