Parus Bahamensis: The Bahama Titmouse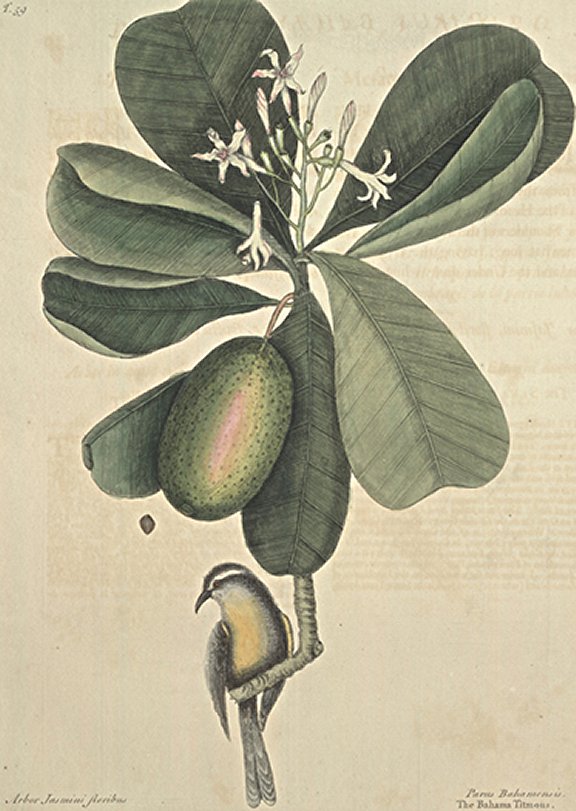 The Bill of this Bird is black, and a little bending; the Upper-Part of the Head, Back and Wings brown. A white Line runs from the Bill over the eyes to the Back of the Head. The Breast is yellow, as are the Shoulders of the Wings. The Tail is somewhat long, having the Upper-part brown, and the Under dusky white.
Arbor Jasmini, floribus albis, foliis Cenchranmidea, fructu ovali, feminibus parvis nigris mucilagine involutis: The Seven Years Apple
This Shrub grows from six or ten Feet High, with a Stem seldom bigger than ones Wrist, having a wrinkled light-colour'd Bark. The Leaves grow in Clusters, and are about the Bigness of those of our common Laurel, having, a wide Notch or Indenture at the End, which is broadest. These Leaves are very thick and stiff, and usually curl up as the Figure represents. The Flowers grow in Bunches; are monopetalous; and in Form and Size resemble our common Jessamin; white in Colour with a faint Tincture of Red. The Fruit hangs by a Foot-stalk of an Inch long, of an Oval Form, the Outside being shaded with Green, Red and Yellow. When ripe, it is of the Consistence of a mellow Pear, containing a pulpy Matter, in Colour, Substance and Taste not unlike the Cassia fistula. For nine Months I observ'd a continual succession of Flowers and Fruit, which ripens in seven or eight Months. I know not for what Reason the Inhabitants of the Bahama Island (where it grows) call it the Seven Years Apple.